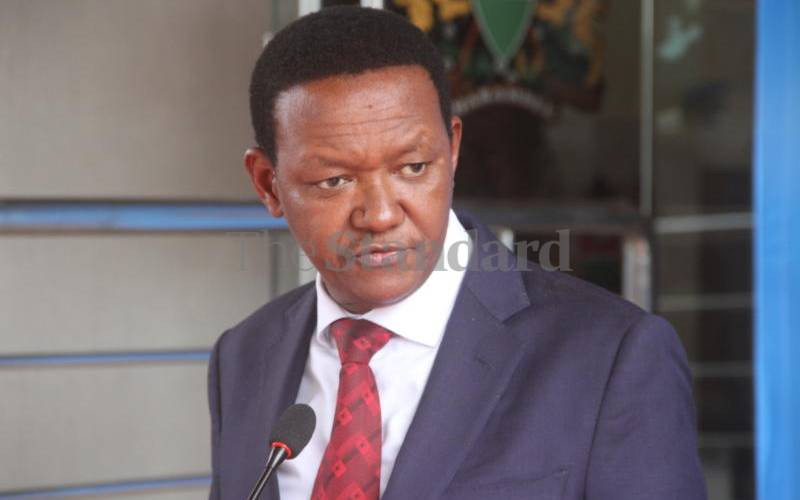 Foreign Affairs Cabinet Secretary Alfred Mutua has defended State officers' abroad trips saying they boost the country's economy.
Mutua, who was briefing on Kenya's foreign brief and diplomatic standing on Tuesday, September 26 in Nairobi said in the case of President William Ruto for instance, he [Ruto] has used the international tris to "seek greater economic opportunities for Kenyans."
"In the last one year our foreign policy has been guided by the need to empower the Kenyan people," said Mutua.
The Foreign Affairs CS also clarified that Kenya is neither inclined to the West or East, as has been speculated by foreign policy experts.
"Many of you have asked whether our policy is East or West-leaning. I have previously said that our policy is world leaning for the benefit of our people," he said.
In July this year, Ruto capped the number of days members of the Executive can be out of the country to 45 days a year, whilst also suspending all non-essential travel.
Mutua also said that the government is creating an online platform that will link Kenyans to opportunities around the world.
The CS said the portal; Kazi-Majuu, will open employment opportunities to Kenyans as well as boost revenue collection for the government.
"KaziMajuu portal is being created and will have publication of links to verified jobs from around the globe."
According to the CS, in the last year, the country has collected about Sh500 billion as revenue from diasporas through investments and consumption.
"By offering more opportunities, Kenya will be able to collect more and thus boost the stability of the country's exchange rate," noted Mutua.
Additionally, the State Department for Diaspora Affairs and its counterpart in the Ministry of Labour have developed a joint Global Labour Strategy that will ensure seamless and strategic migration of Kenyans once opportunities present themselves abroad.
The government through the Central Bank of Kenya has also launched DhowCSD, an online platform that will enable Kenyans to easily invest in government securities when abroad.
Mutua says that all these reforms come as a result of the frequent trips by State officials abroad as they seek greater economic opportunities for the citizenry.
Related Topics