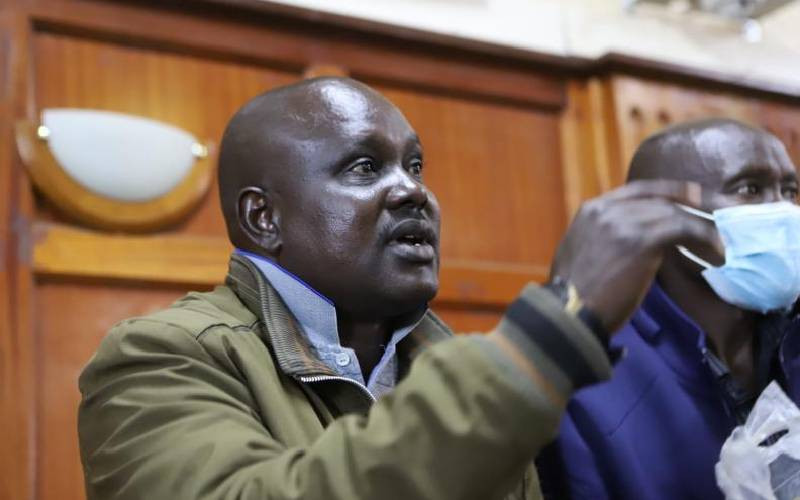 A ballistics expert testifying in a murder case facing former Mlolongo OCS Stephen Lelei and his colleague Fredrick Leliman has said none of their pistols were used in deaths of Jacob Mwenda and Elizabeth Nduku.
Lawrence Nthiwa, a firearms examiner told the court that the single bullet collected at the scene did not match either the pistol of Lelei or Leliman who is already serving a death sentence after being involved in the murder of Willy Kimani, his client Josephat Mwenda and taxi driver Joseph Muiruri.
Appearing before Machakos High Court Justice Margaret Muigai, Nthiwa said upon conducting tests on five pistols and four rifles submitted by Independent Policing Oversight Authority (IPOA), the results turned negative.
Mwenda and Nduku died on May 27, 2016 under unclear circumstances. Police in Mlolongo said they might have been hit by a stray bullet as they pursued a suspected robber whom they killed.
IPOA opened an inquiry and recommended Lelei and Leliman be charged. Sergeant Richard Nyakundi, a witness, told court that there were altercations on the arms movement book during his tenure.
"On the arms movement book there were different altercations of writings. In different dates you could find a date written in blue ink and again altered with black ink," he said.
He said while stationed at Mlolongo Police Station, he was assisting the officer in charge of the armoury.
"Occasionally the officer in charge of armoury could request me to assist him. I performed this duty when instructed by my boss," he stated.
He told the court that once he issued a firearm he recorded every detail in the arms movement book.
"In some instances, firearms were issued without my knowledge because I only issued once instructed. In the arms movement book, there are different records made by people who I do not know."
Related Topics