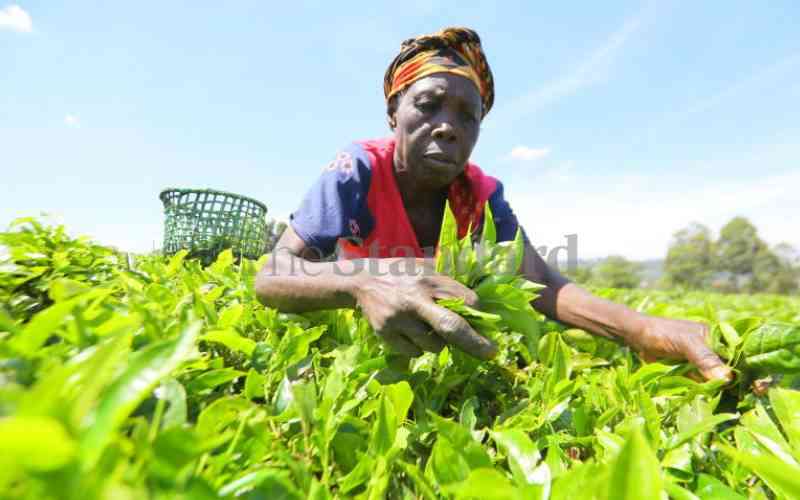 Smallholder tea farmers are set to get increased bonuses for their output this year due to improved prices.
Various factories across the country that are managed by Kenya Tea Development Agency (KTDA) have declared higher bonus payments, in part helped by a favourable foreign exchange rate as the shilling has significantly weakened against the dollar this year.
In Central Kenya, Kagwe Factory (Kiambu) declared a bonus of Sh44 per kg, an increase of Sh9 compared to last year's payment.
Gachege Factory (Kiambu) declared a bonus payment of Sh40 per kg from the delivery of 18 million kg of green leaf.
Ikumbi Tea Factory in Murang'a declared Sh44 per kg, while in the year ending June 30, the growers had delivered 18.9 million kg of green leaf.
In Gusii, KTDA recorded this year's bonus pay at an increased rate of up to 38 per cent.
The farmers who will get the highest bonus pay are those from Nyansiongo Tea Factory Company, who will be paid Sh36.50, up from Sh27 that they earned last year.
Nyankoba Tea Factory farmers will be the second-highest beneficiaries.
Farmers are to pocket Sh35 per kilo, while those who sell their green leaves to Kebirigo and Sang'anyi factories will be the lowest paid in the rank at Sh30 per kilo, up from Sh24 in the last financial year.
Other factories include Tombe, whose growers will be paid Sh31.50 per kilo, while those of Gianchore Sh31 and Sh30.
This comes even as in Kericho, some 17,000 smallholder tea farmers who are members of Momul Tea factory are expected to earn a Sh1.2 billion bonus this year.
According to the factory's chairman, Isaiah Langat, the bonus is from the sale of 28.9 million kilogrammes of green leaves delivered to the factory during the 2022-23 financial year.
Former Kenya Tea Development Agency Chairman David Ichoho said the move to have a reserve price at the Mombasa Auction contributed largely to earning farmers better returns.
"The sub-sector also gained from the market explorations in Iran, Russia, Pakistan with plans to venture in the African countries that have a good population of 1.2 billion," he said at Thika Greens Golf Course Resort in Gatanga, where the directors at Gachege and Kagwe factories declared their annual bonuses.
The sub-sector had been crumbling under multiple challenges such as low prices and limited profitability, due to declining demand and low productivity.
These, coupled with the high cost of production and poor agricultural practices, made it difficult for smallholder farmers to produce quality teas that can fetch competitive prices in the global markets. In April last year, the Agriculture Ministry formed the National Technical Working Committee on the Design, Development and Implementation of the Tea Industry Price Stabilisation Framework.
The ministry then, under Peter Munya, noted that price stabilisation was one of the critical reforms agenda for the tea industry envisaged under the Tea Act, 2020.
The objectives of the task force committee were to develop a robust price stabilisation framework for the tea industry in Kenya; evaluate the resource requirements and possible sources to support the tea industry price stabilisation framework; and evaluate plausible sustainability options for the tea industry price stabilisation framework.
Related Topics