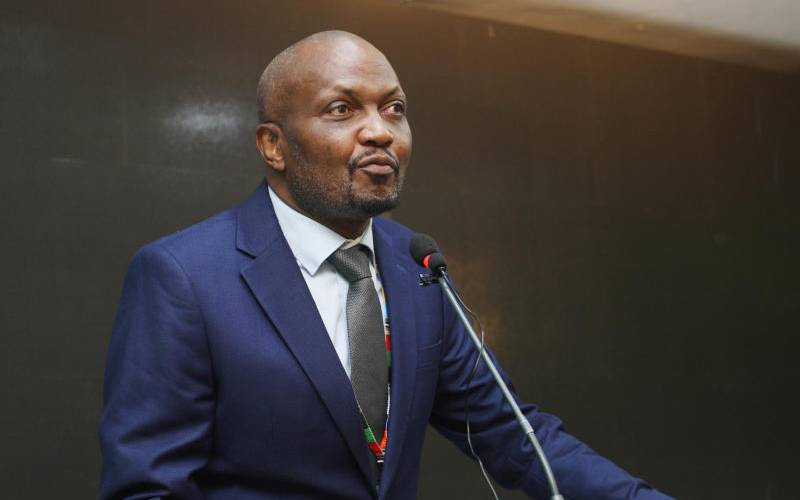 Trade Cabinet Secretary Moses Kuria has hinted at a possible increase in fuel prices until February 2024, quashing the hopes of many even more.
This follows this month's fuel prices review by the Energy Petroleum and Regulatory Authority (EPRA), announcing a whooping Sh16 increase in the price of petrol.
Kuria, in a post on X on Friday, September 15, asked Kenyans to get used to the occasional increase in fuel prices as it will likely be the trend for the next five months.
"Global Crude Prices are on an upward trajectory. For planning purposes expect pump prices to go up by Sh10 every month till February," he wrote.
His remarks come hours after EPRA announced new fuel prices with Super Petrol retailing at Sh211.64, diesel at Sh201, and Kerosene at Sh202.13 per litre in Nairobi.
This is the first time in history that fuel prices have crossed the Sh200 mark.
Kenyans weigh in on the new fuel prices pic.twitter.com/9WWLk0xJPJ
— The Standard Digital (@StandardKenya)
September 15, 2023
Matatu fares
The hike in pump prices has attracted divided opinions from experts and Kenyans in general who in the first year of the Kenya Kwanza administration have experienced a rise in taxes every so often.
Kenyans can expect to dig deeper into the pockets for matatu fares, as the fee is expected to increase across the country.
Meru Matatu Owners Association chairperson Joseph Bundi said that the new fuel prices have forced them to hike fares, despite times being tough.
"Times are tough, yes and we are trying to be understanding as much as possible. However, if we do not increase fare prices, then our drivers will just park their cars," said Bundi.
Their counterparts in Nairobi have also announced an increase in fare by between Sh30 to Sh50 during peak and off-peak hours.
Another matatu operator in Nyamira County expressed his frustration with the government saying: "Fuel is one of the things that influence how the economy runs. They keep on increasing the prices by more than Sh20 but when reducing it, they do so by one shilling only. Those who believed in the bottom-up approach feel betrayed."
However, supporting the government's move, Dominic Kirui, an X user, said that Kenya is not immune as the spike in fuel prices is happening globally.
"Fuel prices are hiking everywhere even in the US. Yesterday in Houston prices hiked to their highest this year. Stop blaming it on President William Ruto," posted Kirui.
Political analyst Mutahi Ngunyi however cautioned President Ruto against the spike in fuel prices.
According to Ngunyi, the increase in prices of fuel is 'bad' for Ruto's politics considering the majority of those who voted him in, did so trusting that his economy would be favourable.
"Your economics is bad for politics. How does EPRA increase Kerosene prices by 33 per cent and diesel by 20 per cent? The poor use Kerosene to cook and matatus use diesel to move. The poor are hurting and all headlines this week are about more taxes. Do not lose the plot my friend (Ruto)," posted Ngunyi.
Energy Cabinet Secretary Davis Chirchir however disagrees with Ngunyi saying that the increase in fuel prices is purely beyond the government's control.
He averred that the rise in the prices is influenced by international landing costs.
"Fuel pump prices increased due to the weighted average cost of imported refined petroleum products. As a matter of fact, other neighbouring countries are paying more than Kenya," said Chirchir while appearing before the National Assembly Committee on Energy on Friday.
Humour and Pain
One year into Ruto's administration, Kenyans continued to lament at the hands of the Kenya Kwanza government as the cost of living and taxes became unbearable.
And in true Kenyan fashion, netizens derived humour in the new fuel prices, and from CS Kuria's earlier statement suggesting that the price of commodities is cheaper in Ruiru in Kiambu County.
X user Brian Mbunde wrote: "Unaweza jaza gari full tank utokee Forbes."
Fuel prices in Ruiru.Source: Moses Kuria pic.twitter.com/2WGolVCj9N
— Timoshenko (@Kianangih)
September 15, 2023
Related Topics