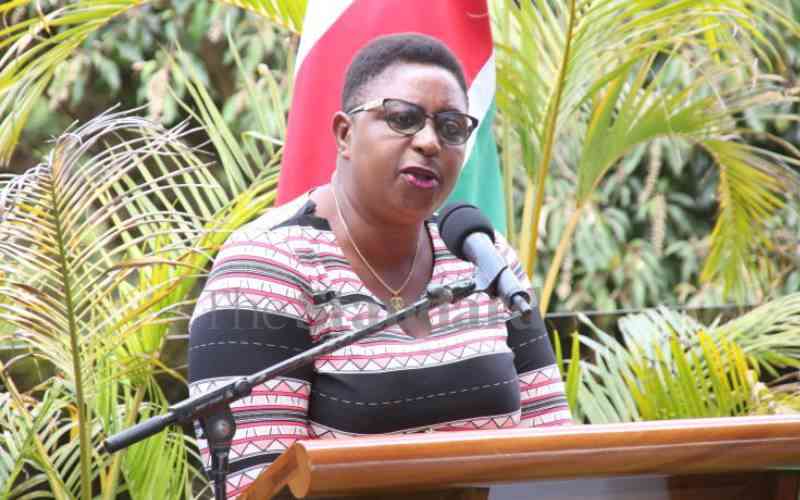 The fate of a working group appointed by Public Service, Gender and Affirmative Action Cabinet Secretary Aisha Jumwa on two-thirds gender rule now hangs in the balance for not observing the same rule.
The CS appointed 17 members and six secretariat officials to work on realisation of the two-thirds gender principle.
However, Nairobi lawyer Charles Mugane challenged the appointments, arguing that Ms Jumwa failed to factor in the role of men.
In his case filed on Wednesday, Mugane said the CS initiated an all-women affair as she appointed one man as a member of the working group and two men in the secretariat.
"The appointments of the members of the Working Group and its Secretariat, notwithstanding their gender composition, is invalid, null and void ab initio as it contravenes the mandatory constitutional provisions of the Constitution which underpin the substantive and procedural constitutional and statutory requirements for public service appointments," argued Mugane.
Further, the lawyer argued that the appointments failed to adhere to transparency and that the Gender Ministry did not advertise for the positions.
"The Public Service Commission Act goes further to define "merit" to mean that the person has the abilities, aptitude, skills, qualifications, knowledge, experience, and personal qualities relevant to the carrying out of the duties in question; has potential for development; and meets the criteria of appointment," added Mugane.
Jumwa appointed Veronica Nduva and Daisy Amdany as co-chairs. She also listed President Ruto's women rights advisor Harriet Chiggai, Faith Nziku Kasiva, Anne Nderitu, Tecla Tum, Angela Wambugu, Mercy Jelimo, Beatrice Kamau, Rahab Muhia, Mitchelle Oyuga, Lucy Mitei, Sarah Muhoya, Ruth Makuthu, Beth Michoma and Stellah Ruttoh as members.
Franklin Mukhwanja was the only man in the group.
Related Topics