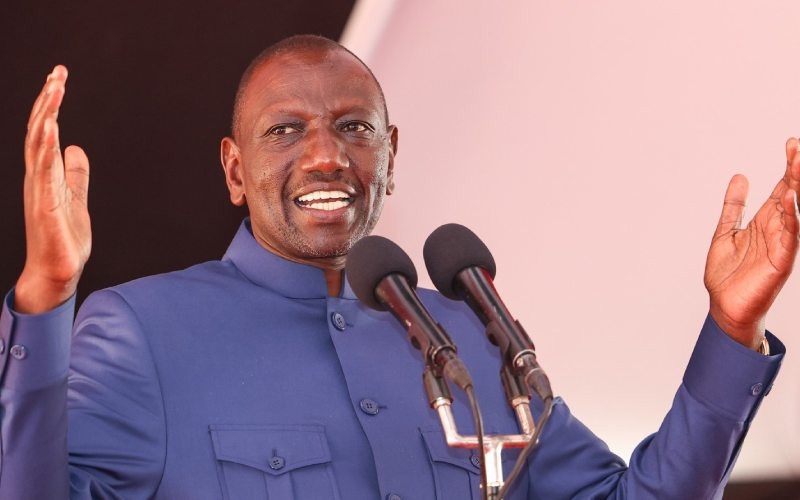 President William Ruto has urged opposition leaders not to sabotage the country's economic stability.
The President made the sentiments at an interdenominational Church Service at Mwatunge Grounds, Taita Taveta County on Sunday, July 23.
Without mentioning names, President Ruto said that some leaders were funding demonstration activities, which have resulted in the destruction of property, injuries, and even loss of life.
"I would like to ask our leaders, all of them not to sabotage our country and the economy. Because you protect your children we protect, employ them, take them to good schools and others even to parliament then you pay the children of other Kenyans to go for demonstrations," The president says.
"Whatever you want done to your child, do it to other people's children too. If it is throwing stones, start with your wife and children. You cannot be protecting your children and then use other people's children to cause chaos and destruction."
While urging the youth to avoid being misused by politicians, the president has lauded the police for what he terms as 'being firm and professional'.
He adds that protesters attacked law enforcement officers with stones, teargas, guns, and pangas. Therefore, the president says that many police officers are in hospitals nursing injuries from stones, teargas, and pangas.
"Let me speak to our young people. Don't accept to be given money to go for demonstrations. Attacking police officers with stones including guns is not acceptable. The police must be firm,"
"I want to thank them [police] for being firm and professional. Anyone causing chaos by throwing stones and teargas at the police, destroying a police station and other Kenyans' property must face the law. Security agencies must enforce the rule of law professionally, firmly, and in accordance with the law. We are a peaceful nation and all of us must be law-abiding." He adds.
A number of Kenyans have sustained injuries and even lost lives as a result of the ongoing anti-government protests across the country.
However, the government is yet to issue an official communique on the state of deaths and injuries from the faceoff between police and demonstrators
Related Topics