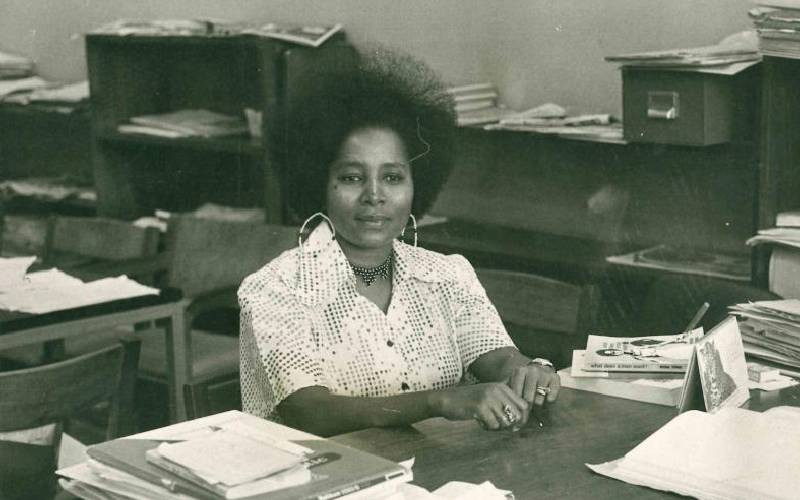 They locked her in a police cell together with men. The State then stripped her of her birthrights and ultimately chased her out of her motherland. For decades, Kenya disowned one of her most prolific playwrights and poets, Prof. Miceere Mugo, condemning her to a life in exile.
But when the don's fortunes changed, even close relatives who would not ordinarily associate with her during her travails stood in attention. America who organised a literary symposium in honour in Kenya, described her as eminent Kenyan scholar.
The conscience of the nation was pricked by one of Miceere's comrade in the struggle for Kenya's second liberation, Prof Anyang' Nyongo' when he told the Senate in May 2015 of this honour being bestowed to a scholar Kenya had shunned.
"Prof Mugo had also distinguished herself in the struggle for the second liberation and for that matter, she was often incarcerated in police cells. I remember at one time, she was even incarcerated in Central Police Station with a six-month-old girl, which was quite an arduous experience," Prof Nyong'o told the House.
According to Prof Nyong'o' Mugo's bravery enabled her to stand against authoritarianism at a time when it was thought to be an anathema for anybody from the Agikuyu community to stand against Jomo Kenyatta's regime. She stood to be counted among other braves such as Ngugi wa Thiong'o and Koigi Wamwere, who too went against the grain and stood for human rights and democracy inspiring the likes of Prof Nyong'o and Prof Willy Mutunga.
And the floodgates of flattery where opened and garnished accolades gushed forth.
Surprisingly, Nominated Senator Beth Mugo informed the Senate that her namesake, was her relative. "I'm proud to be associated with her, not only as a woman leader, but she is my sister-in-law. I share a name with her; her husband is my husband's younger brother. I have admired Prof. Micere Mugo from way back; even when she had a lot of difficulties with the former administration, she never lost herself…. and kept in touch with her family."
Kakamega Senator Boni Khalwale explained why at one point Mugo had described herself as a child of the universe during an interview with CNN instead of stating that she was a Kenyan.
During the debate, the idea of immortalising Mugo by giving her a corner at Uhuru Gardens alongside other academic giants was mooted.
But by the time she died last weekend, Mugo was destined, just like the famous character in her seminal play, The Trial of Dedan Kimathi, never destined to find a place at Uhuru Park. Like Kimathi and other heroes and heroines, Miceere was tried by the State and found undeserving of any state honour.
Related Topics