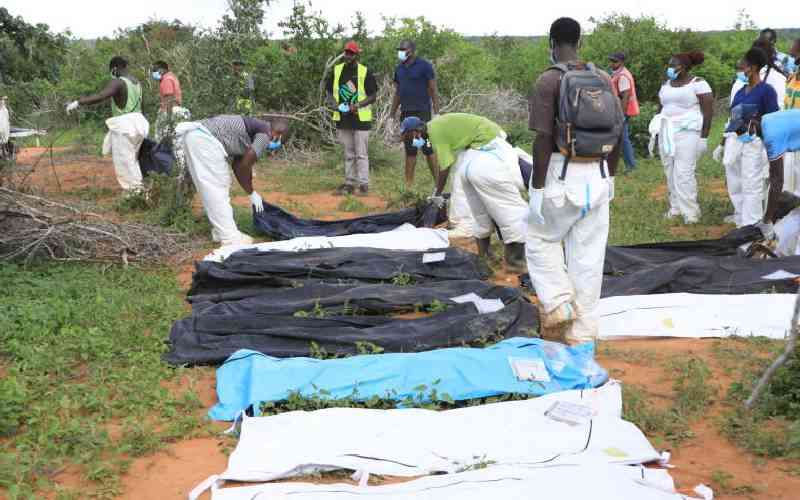 Twenty-two new mass graves have been identified in Shakahola forest.
Interior Cabinet Secretary Kindiki Kithure on Sunday said the graves were discovered by homicide detectives who have been combing the 800-acre piece of land raising the number from 10 graves that had been reported.
Kindiki said the detectives are set to embark on third phase of exhumation starting tomorrow amid concerns that there could be more people still buried in secret graves.
The CS spoke AT Sagana on Sunday during a Church service at KAG church in Ndia Constituency.
He said all the bodies that have been exhumed have undergone postmortem process.
"It is sad reality but we shall leave no stone unturned until we establish the truth. So far over 242 people have died and these deaths are more than what the country has gone through in the hands of terrorists for the last five years," Kindiki said.
Earlier on while speaking before the Ad hoc Committee on the Proliferation of Religious organisations Kindiki said it is regretted that such cruelty may have been done in the name of religion.
So far 34 people have been arrested in connection to the cult deaths.
The detectives had suspended the exhumation exercise to allow for postmortem to be conducted.
Some 129 bodies were exhumed in the second phase.
Last week chief government pathologist Johansen Oduor said they did postmortem of 16 bodies completing the second phase of the autopsy and so far analysed all the 243 bodies.
Oduor said their investigations had established that most of the victims were either forcefully starved, hit by a blunt object, or strangled to death.
He said the degree of decomposition on the exhumed bodies has limited many aspects of the postmortem.
Homicide director Martin Nyuguto said some of the families who had turned up for postmortem will have to wait for two months for the DNA results.
Related Topics