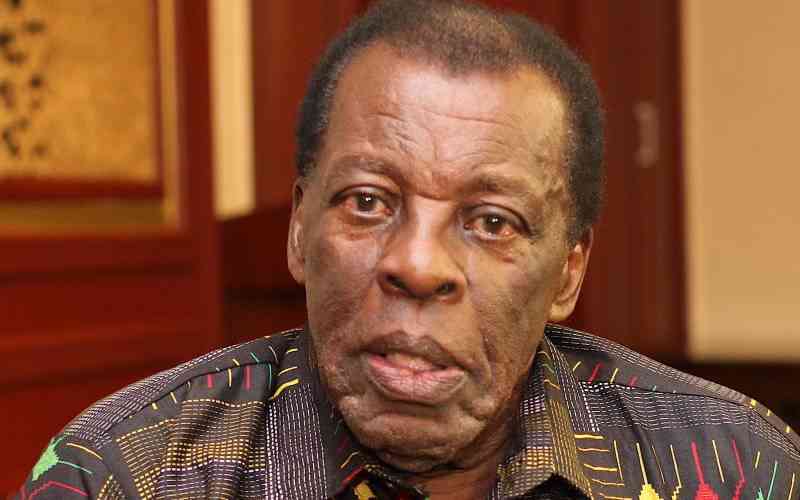 "There is nothing as good as freedom. And there is nothing as bad as being colonised."
Those are the words of Leonard Mambo Mbotela, a veteran journalist and presenter, who, in the last five decades, has seen it all before and after independence.
The 83-year-old was forced into a controversial military coup at gunpoint in 1982 when the late President Daniel Moi was in power.
The humble, jovial, and soft-spoken but firm father of three has entertained, broken news, and informed that he needs no introduction in most places in the country since many identify his voice the moment he speaks.
Mbotela witnessed the transformation of Kenya from a colony of the British Empire, where Kenyans were slaves of the colonial masters, into an independent republic.
It was during this era that Kenyans were treated as subjects of Britain; racism was rampant, and their human rights were violated since there was no law to protect them.
"When Kenyans attained self-rule on June 1, 1963, the day we celebrate Madaraka Day, the Duke of Edinburg, the late Prince Philip, was the one who presented the instruments of power to Mzee Jomo Kenyatta on behalf of Queen Elizabeth the Second, symbolising that Kenya was free from British colonization," Mbotela said, adding, "up until now, Kenya has been a free state. No one will take that away from us."
Mbotela, who has worked at The East African Standard (currently Standard Group), Voice of Kenya (VoK), Kenya Broadcasting Corporation (KBC), and the Presidential Press Unit, attended the ceremony in 1963 at Uhuru Gardens, Langata, together with his father, James Mbotela, to witness Kenya's glory moment.
He was 23 then and trying to get a foothold in life.
"We have made great strides development-wise since we gained independence on December 12, 1963. You can't compare life back then and now," Mbotela said.
Leonard has witnessed all five Kenyan presidents ascend to power and tells of how life has transformed through his eyes.
He added that though the country still faces numerous challenges, the gains are many, and he was confident that soon things will be much better for Kenyans.
"The development of a country largely depends on the president at that particular time. 'Ikiwa ni Rais amelala kama maziwa lala, hatuwezi kuwa na maendeleo yoyote'. "You cannot expect development from a sleeping president," he said, adding, "President Jomo Kenyatta loved development. In his addresses, he always castigated the colonialists who thought Kenya would not establish itself. He encouraged citizens to work hard to develop our country."
He explains that when Jomo Kenyatta died on August 22, 1978, the late Moi, then his vice president, succeeded him and vowed to 'kufuata nyayo"—follow in the footsteps of his predecessor.
"Moi led us well in education. He built schools and universities. He built several girls' schools. He improved agriculture and several other sectors," said Mbotela.
He added that Moi loved his country so much and wanted to see it prosper economically.
"Mwai Kibaki took over from Moi. He led us well and will be largely remembered for the construction of roads and for ensuring that Kenya's economy was good. Nobody complained," he said.
He said that Kenya's previous president, Uhuru Kenyatta, also led the country well, contributing heavily to road infrastructure development. "Politically, you cannot be 100 per cent blameless, however, well you have performed; those who don't like you will always blame you," Mbotela told The Standard.
"Now we have President William Ruto. He is also leading us well, and we thank him. 'Lakini mwananchi ni mwananchi. Hawezi kosa kulalamika hapa na pale'. But Ruto has said he will try to move our country forward," Mbotela said. "
Career
Mbotela started his career at the East African Standard, where he worked as a linotype machine operator for a year before he joined the VoK.
"I went to see the head of Swahili programs, who by then was called Simeon Desanjo, and Stephen Kikumu, who was the head of radio news. I did a voice test and was told to report to work the following day," he explains, adding, "I couldn't believe it. I cried tears of joy. That is how I joined VoK on November 22, 1964. "
He added that, though the salary wasn't so good, he was happy since he had gotten something he loved so much.
"Without praising myself, I presented in such a way that I was even better than those I found at VoK," he said.
In 1967, he was taken to BBC London for further training and got several promotions.
"I retired when I was a controller of radio programs in 1997. From there, I went to the Presidential Press Unit," he said.
Mbotela, who still hosts the Je, Huu Ni Ungwana TV and radio program that has spanned over five decades, said that one of his most memorable moments was when Mzee Jomo Kenyatta died in Msambweni, Kwale district.
"I was chosen by the VoK CEO, the late James Kangwana, and told to go and provide live coverage from State House," he said, adding, "I also commentated during Mzee's state funeral. His son, Uhuru Kenyatta, commended me, saying, "You commentated so well during my father's funeral. We have remained friends to date."
He said that under Jomo Kenyatta, you wouldn't hold political protests. He didn't want to hear anyone meddling with the self-rule that Kenya had attained.
"Kenyatta could even point at a minister who had erred, using his walking stick to the extent of throwing it at them. I witnessed such an incident, but it was good luck that it did not hit the minister. He ducked it," Mbotela said.
Freedom of the press
According to Mbotela, back in the day, there was no such thing as freedom of the press. The media was monitored. Stories would be scrutinized, edited, and changed before they were published. Others were 'killed'.
He weighs in on the 1982 coup incident. "Those who are saying that I have asked for compensation following the 1982 attempted coup are alarmists. There has not even been a single day when I have asked for compensation. Maybe if the current government can remember what happened during that period, they will give me something small. Anything that can help me" he says.
"I can say press freedom has grown tremendously. Back then, several journalists were arrested and put in cells. Others were taken to detention because they wrote true stories and did major exposés," says Mbotela.
He takes pride in mentoring journalists. "I listen to the radio and watch TV presenters and news readers. I call them a lot and tell them where they need to change or polish. Many of them have advanced because of my mentorship.
I have also been writing a book. Some challenges caused its delay, but God willing, it will be out before the year ends, and you will see it," says Mbotela.
Related Topics