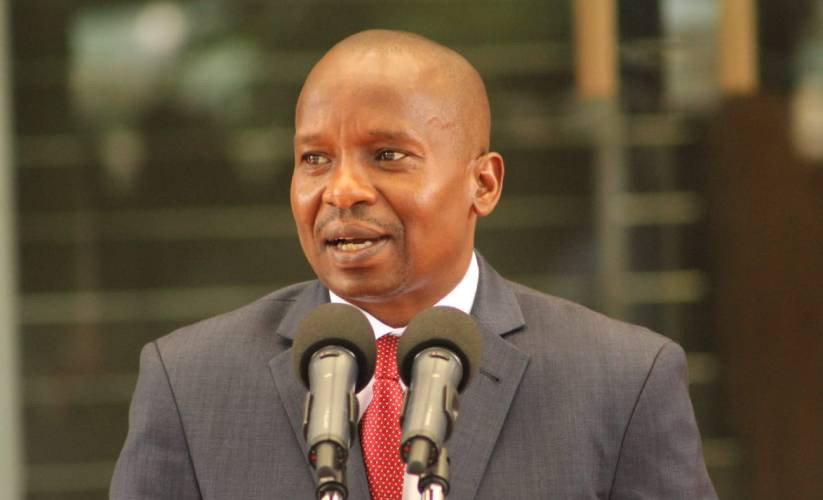 Interior Cabinet Secretary Kithure Kindiki has vowed to clear the backlog of passports at the Immigration Department within the next twenty-one (21) days.
Kenyans who apply for passports will get the documents within seven days.
This was said on Wednesday, May 31, in Nairobi when the Interior CS was issuing his ministry's three-month accountability report.
Kindiki revealed that the backlog is currently at over 42,000 passports that have not been printed, causing discomfort among Kenyans who had applied for the travel documents.
"I pledge that the issue will be resolved within three weeks. We have had an unavailability of booklets and a breakdown of the printer. We will restore the broken equipment within the next seven days," Kindiki said.
While appealing for patience, the CS stated that his ministry has taken urgent measures to correct the backlog impasse and at the same time issued a stern warning to corrupt officials at the Immigration department who have been demanding bribes from Kenyans to issue them with passports.
"After we clear this, anyone who applies for a new passport must get it within seven days and if classified as urgent, they should get them within 24 hours after application," he added.
On the Shakahola massacre, Kindiki further noted that they are working on finding more graves at the Forest once they resume exhumation on Monday, June 5.
He also warned religious leaders of violence extremism, adding that the government is investigating other leaders.
At the same time, Kindiki listed five key points in his accountability report that have rocked the security docket which includes the rise in violent cultural and religious extremism, political inciters, war on drugs, terrorism and bandits.
The CS said security agencies had made great strides in fighting terror gangs and bandits that had ravaged and caused mayhem in several counties in the Rift Valley.
Related Topics