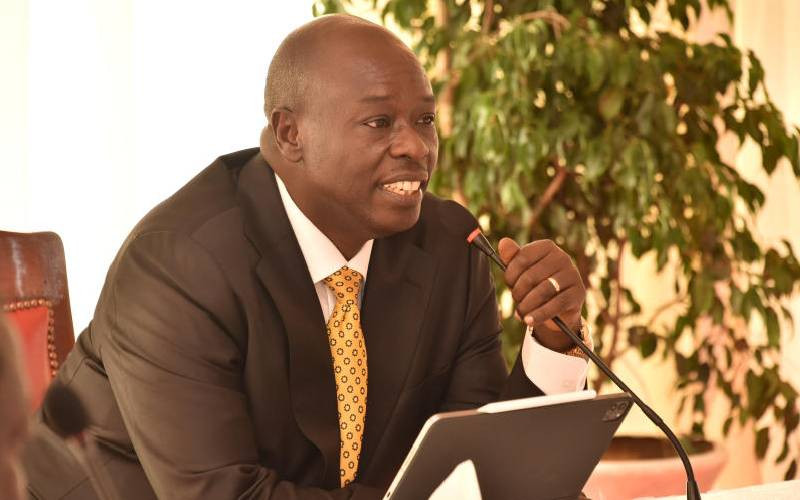 Deputy President Rigathi Gachagua has cautioned youth in Mt Kenya region to desist from joining the Mungiki sect, warning that government will be tough on them. According to the Deputy President, the criminal gang was regrouping for the purposes of undermining the government.
Speaking at Thika yesterday during the celebrations of retirement of Archbishop Julius Njoroge of African Independent Pentecostal Churches of Africa (AIPCA) Gachagua said government was aware of the plans and would deal with the members swiftly and decisively.
"They are trying to revive the criminal gang to intimidate us, I beseech the youth not to be used to undermine and threaten government, they should desist because it will be rough," Gachagua warned.
He further accused the ring leaders of setting the children to be killed by the security agencies sending an appeal to the church and elders to caution the youth before they clash with authorities.
"Any attempt to recreate their activities will be met with swift and decisive action. We will not allow them threaten our women, rape our children, extort money from businesses and farmers," Gachagua reiterated.
He accused the ring leader of taking advantage of the state of joblessness and using poor youth to radicalise them into extorting money and taking it to him for his own expediency.
"The sect leader has nine posh homes from Lavington, Kitengela, Nyahururu which are as a result of extortion," claimed Gachagua.
Banditry fight
On his part, Interior Cabinet Secretary Kithure Kindiki issued a stern warning to leaders who are allegedly trying to revive the sect.
"The government will not allow the nation to slide back to where it was 20 years ago when Mungiki and other proscribed groups terrorised the country. Any attempts will be dealt with the same ruthlessness as the fight against banditry or terrorism," he said at a church service at ACK Cathedral Siakago Mbeere in Embu County.
Government has raised concerns of Mungiki resurgence days after former Mungiki leader Maina Njenga, now a bishop, was arrested by police over claims of illegal possession of bhang and a gun.
However, Kikuyu Council of Elders (KCA) chairperson Wachira Kiago has refuted claims of resurgence of the Mungiki sect and has called on the State to furnish elders with the information of the existence of the group for them to counsel the youth to avert deaths.
"We have consulted widely and unfortunately, we have not heard of any plans of Mungiki regrouping. We don't want a situation where government will label our youth as Mungiki and start killing them.
"That will not only bring hatred and fear in families but will also create a bad image of our communities amongst other communities and may send shivers to investors wishing to invest in our region," Kiago told The Standard.
He however said elders were ready and have been counseling the youth citing a peaceful elections past year as a result of their efforts.
"That is why we insist that as we talk to our children on keeping off from criminal gangs, government should not use that as a pretext to deal with those that do not agree with it's ideologies," Kiago said.
"We are pained that there was a period that our children were labelled and killed like animals," he said.
Related Topics