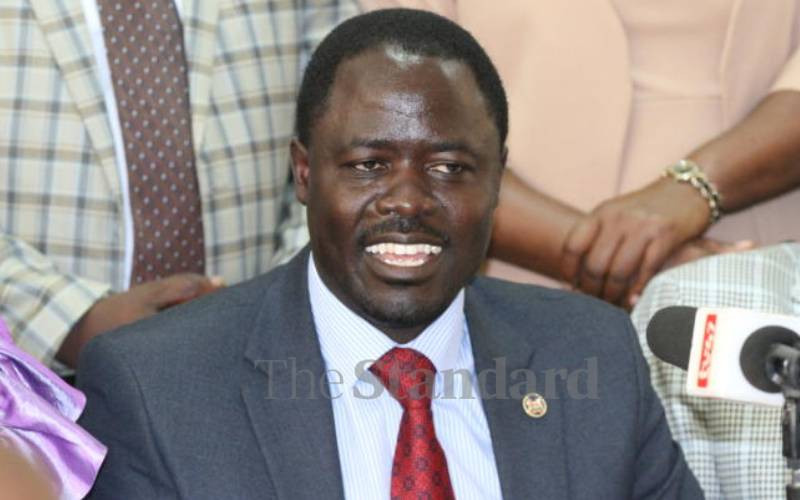 Citizens will be free to apprehend individuals identifying as homosexuals if the Family Protection Bill becomes law.
The Bill sponsored by Homa Bay Town MP Peter Kaluma proposes that homosexuals will have limitations in their rights to privacy, assemble, demonstrate and picket.
"Those gay prides will never happen here when we pass the law," said Kaluma.
The MP says the proposed law will allow persons to budge into other people's privacy either in hotels or residential areas if there are signs that a person is a homosexual.
"We give the citizens' rights to undertake a search in your property and arrest… If we don't give the citizens the liberty to undertake arrest and action this thing will continue," he added.
Speaking to The Standard, the MP who termed homosexuality as "something that is destroying the country," continues to explain that if "straight" Kenyans see somebody wearing something identifying themselves as gay or flying the rainbow flag, then they have a right to apprehend that person and take them to a police station.
Kaluma says this will be the surest way of ensuring surveillance on homosexual activity in private residences and public spaces such as hotels and lodging.
The MP who broke down the transgender and homosexual law argues that such practices are campaigns from Western countries and should not be imposed on Africa.
Furthermore, he accused the Judiciary of being manipulated by the West to promote homosexuality and what he called the "LGBTQ pervasion" in Africa.
In February, the Supreme Court ruled that the LGBTQ community have a right of association, a decision that Kaluma says will be reversed once the Bill becomes law.
Kaluma's fight against homosexual rights comes after a motion by Nyali MP Mohamed Ali calling for a total ban on discussion, publication and dissemination of information or material on LGBTQ. The motion set in play the push for legislation around LGBTQ.
Kaluma is optimistic that Bill will sail through Parliament without opposition. "This Bill will pass in unanimity. The line is drawn on this one. It's about saving the country."
The Bill also prohibits the inclusion of Comprehensive Sexuality Education (CSE) topics such as abortion, homosexuality, LGBTQ issues, and masturbation in pre-primary, primary, and secondary school curricula.
Starting today, the Bill will move to the Justice and Legal Affairs Committee for prepublication scrutiny before being tabled in Parliament.
Related Topics