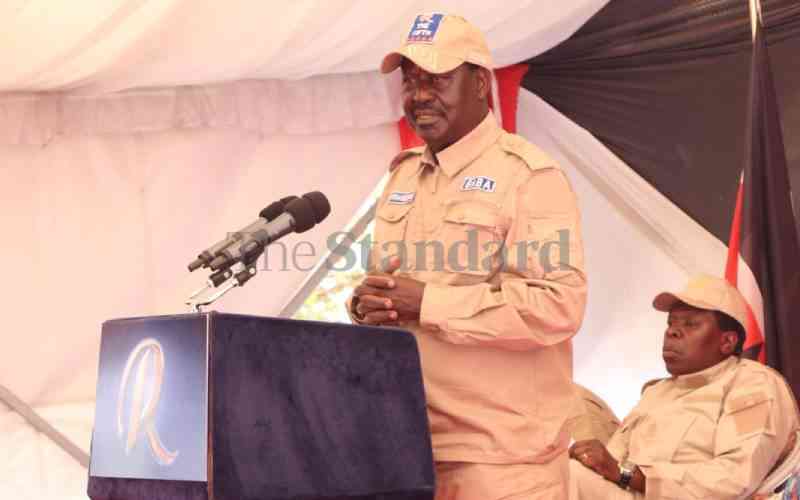 The Kenya Union of Journalists (KUJ) has faulted Azimio leader Raila Odinga's calls to boycott services from Radio Africa Group.
A day after the first wave of demonstrations across the country, Raila announced that mass action will now take place two times a week - Monday and Thursday. This will be effective from next week.
The call for boycott against Radio Africa products, especially the Star newspaper has clearly not sat well with the Kenya Union of Journalists.
In a statement hours after Raila's remarks, KUJ Secretary General Erick Oduor expressed shock saying, "No Mr Odinga, you are wrong on this one,"
Below is the full statement by KUJ.
"The Kenya Union of Journalists (KUJ) is beyond comfort by remarks made by Azimio la Umoja One Kenya Coalition leader Raila Odinga, calling for boycott of Radio Africa Group products, mainly the Star newspaper.
This is very unfortunate, with the remarks coming from a leader who understands the importance of free and independent press in promoting good governance and transparency in public process, which he is fighting for.
The boycott call and derogatory remarks, do not only puncture independence of the media, but put at risk the lives of journalists working with the Star newspapers who will soon become victims of assault by overzealous Azimio supporters all over the country. We call upon Mr Odinga and Azimio La Umoja fraternity to respect the freedom of the media and use appropriate channels to file complaints if actions of journalists violate Code of Conduct for Practice of Journalism in Kenya.
Mr Odinga as a leader must desist from making statement that will set up men and women who are working under very difficult environment to check the government and all leaders holding various positions in the country for the common good of the Kenyan society." Said Oduor.
The Media Council of Kenya (MCK) Chief Executive Officer David Omwoyo condemned the move by Raila Odinga saying his sentiments are meant to undermine media freedom and to control the narrative in their favor.
"The Council takes such sentiments against a media house as part of efforts to manipulate public opinion and limit freedom of the press which are both fundamental components of a healthy democracy," says Omwoyo.
"Such attacks undermine the freedom of the press and are attempts to undermine the role of the press in freely informing the electorates based on editorial judgments."
He said that the public, political formations, or leaders aggrieved by the media coverage should report their complaints to MCK.
The Kenya Editors Guild (KEG) in a statement also called out Odinga for his remarks saying that they undermine democratic principles and threaten an already overly vulnerable media.
KEG said the move by Odinga is an attack on the media and media freedom, an act they say exposes journalists to harm and in the process subvert democracy.
"We wish to remind Mr Odinga that as an influential leader with a huge following in our country, his utterances are taken seriously and where they potentially affect the safety and security of journalists then they become most unhelpful," reads the KEG statement.
KEG says that Kenya has laws with clearly defined channels available to those aggrieved of media excesses where they exist and calls upon leaders to use them.
Related Topics