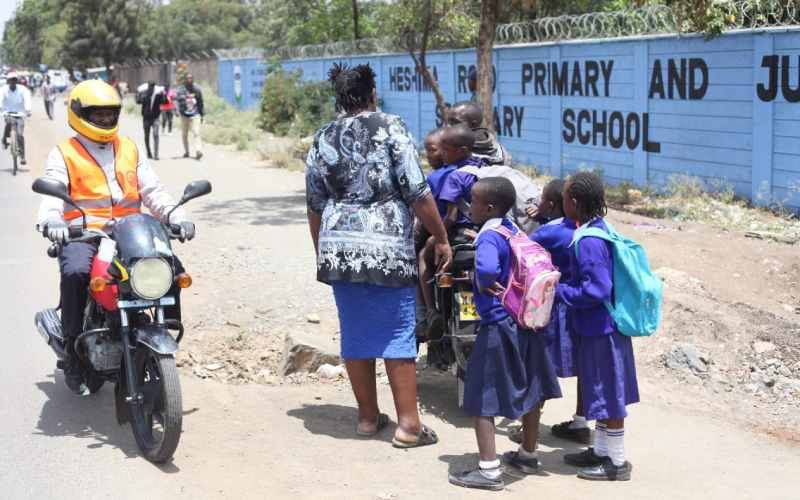 Learning was disrupted across the country as parents were either reluctant to take their children to school or were called upon by various school administrations to withdraw the children from school, over Azimio's demonstrations.
Most learners did not report to school on Monday, March 20, after the half-term break while some boarding schools postponed the reopening date following the protests that disrupted operations on major roads in Nairobi.
At Moi Avenue Primary School, there were only six children who reported to the school.
At Jamhuri High School, only a few students were in school after the school re-scheduled the opening day from Monday to Tuesday, March 21.
"The students were supposed to resume on Monday but so many parents requested we postpone the opening date. We wrote to all parents informing them that the students should report on Tuesday," said the principal.
However, a few students whose parents did not receive the communication from the school reported back.
The Standard spotted about five students who were in school on Monday.
At the University of Nairobi, students' attendance was low although normal operations went on as usual.
At Heshima Primary School, parents were withdrawing children from school in fear of chaos.
Most of the parents arrived at the school on foot and on motorcycles to ferry children back home. "We were called by the class teacher to collect the children from school after protests were witnessed. The school feared chaos could worsen after movements increased near the school," said Beatrice Lodenyi, a parent at the school.
Justus Musyoki, another parent who rushed to pick up his child said the boy had reported to school at about 6:30am but the school later informed them to withdraw them at about noon.
"I was in the house when the teacher called to come to school. They told us to they feared chaos could erupt later in the day. It's better for us to stay with them at home because should something bad happen while they're in school, parents would blame the school management," said Musyoki.
The situation was similar at Our Lady of Mercy Primary School in Nairobi, where parents were called to pick up their children from school after the protests started.
In schools where children reported on Monday morning, only a few went back with some pupils reporting very late.
"We have a population of 800 learners but today just about 400 made it. Even so, many more reported to school late up to 9am," said Beatrice Osaka, the headteacher at Morrison Primary School in Nairobi.
However, she said the school didn't bar parents from taking their children to school and that teachers reported to school as usual to receive pupils who arrived in the morning.
"As teachers, we don't have the authority to tell parents not to bring their children to school but they're at liberty to assess the situation and decide to bring them or not," said Ms Osaka.
Donholm Primary School headteacher, Johnson Nzioka, said about 60 per cent of the 2,2257 learners reported back on Monday after the midterm break.
"Those who came were here early and all teachers were present. We are following the Ministry's guidelines in opening and closing schools. Learning will go on even as we hope that the situation will normalise," said Nzioka.
According to Nzioka, majority of the learners who did not attend school come from estates far from the school such as Pipeline and the parents feared for the children's security.
Nzioka who doubles as the national chairperson of the Kenya Primary Schools Heads Association (KEPSHA) urged school heads not to bow to parents' pressure not to allow children to go to school.
"We are following the guidelines but we're also telling the headteachers not to force parents to release the children to school. What we can assure them is that teachers are in school to handle the children," Nzioka added.
"I hope things will be normal and all children will be back to school. It's our wish we don't have any time lost this term. We have learnt from COVID-19 and we hope nothing else would cause such a disruption to necessitate another crash program in schools," said the KEPSHA chair.
Related Topics