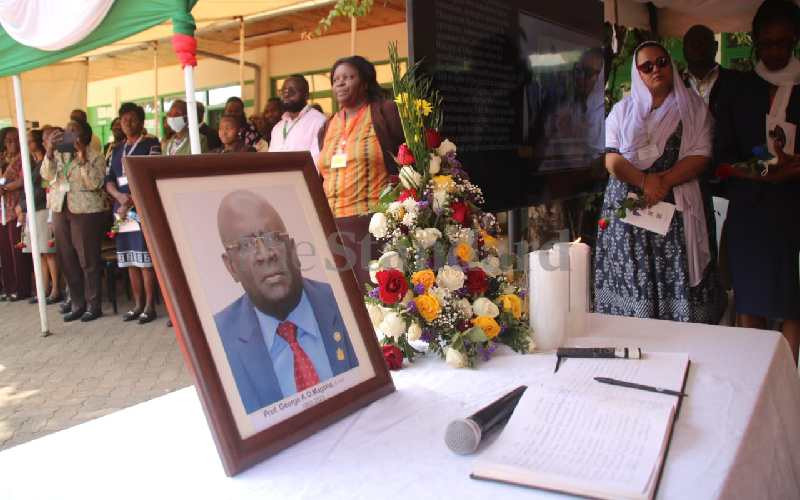 A requiem was held for Prof George Magoha at the Kenya National Examination Council grounds, Nairobi. The former CS for education died a fortnight ago. Below is the main eulogy:
George Albert Omore Magoha was a legendary academic, surgeon, administrator, educator and public servant. Magoha projected the image of a no-nonsense conservative in public, aided by his height and sturdy body build. His authoritative, booming voice expressed his dislike for lethargy, mediocrity, tribalism and corruption.
A soft and an empathetic soul inside and away from public glare, he was often compelled to portray himself as a firm man with a voracious appetite for success in order to get things done. He was a man of integrity who was always conscious of the propriety of his demeanor. Always dressed formally, he described himself as a ''worker" and a "technocrat."
His life was undergirded by a strong believe in the power and potential of the triad of health, education and faith, and not necessarily in that order. Underneath his commanding persona was a deeply religious man who promoted Christian values at both the family and national levels. He had close association with the church in Nairobi, Nigeria, Gem and wherever else he went.
He even prayed in the office. This is one scientist who loved to quote the Bible and kept reminding his colleagues that he was doing "God's work." He contributed to church fundraisers and helped build many churches. He also never shied away from cracking jokes during his numerous public appearances but was reluctant to laugh to his own jokes, which further fueled his non-nonsense demeanour. Prof. George Magoha believed that education could change people's lives. It's no surprise that his academic life towers over his medical practice, although the two were always intertwined. He taught medicine for many years, beginning at the junior level, and rising to the very top, a full professor of medicine, and leaving a track record of enviable pathbreaking research in a branch of medicine known as urology, before assuming the helm of Kenya's education docket as Cabinet Secretary for Education.
EARLY LIFE AND EDUCATION
Prof. George Magoha was born in Kisumu, Kenya on July 2, 1952. In 1960, he began his primary education at Jina Primary School in Yala.
George was a committed and practicing Catholic. He was baptized at St. Peters Clavers Catholic Church, Yala on August 10th. He went on to receive his First Holy Communion in November on the 25th of November 1961 and was subsequently confirmed. He did, however, move to Nairobi at a young age to live with his older brother John Obare and his wife Agatha Christine Obare. Magoha attended Dr. David Livingstone Primary School in Nairobi in 1964 and continued his secondary education at Starehe Boys' Centre and School in 1967. Magoha, clearly a brilliant boy, passed his O-Level exams and enrolled at Strathmore School for his A-Level education in 1971 which he passed.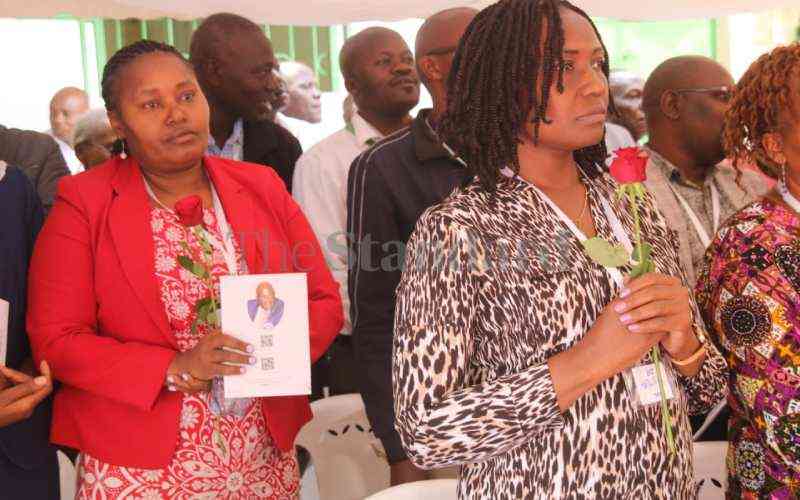 Thereafter, he received a scholarship to study human medicine at the University of Zambia but as fate would have it, he ended up at University of Lagos in 21 Celebrating the life of Prof. George Albert Omore Magoha Nigeria. He later joined the Royal College of Surgeons in Ireland and the Royal Postgraduate Medical School in London, UK, where he specialized in urology.
FAMILY LIFE
Prof. George Magoha met Barbara in 1979 at the college of Medicine, University of Lagos where she was a second-year medical student and he was training in surgery for the Fellowships of the Nigerian National Postgraduate Medical College and the West African College of Surgeons.
They courted for four years as they completed their studies and qualifications. On May 15, 1982, Barbara and George got married in a Catholic Church wedding ceremony presided over by Rev. Prof. D. Schuyler, the then University of Lagos Catholic Chaplain. They were blessed with their only child, Dr. Michael Magoha in the same year. George was a committed husband, father and grandfather who valued family at the core of everything. He ardently supported various Church projects and supervised each project personally. Prior to his demise, he ardently attended Mass at Our Lady of Guadalupe Parish in Nairobi.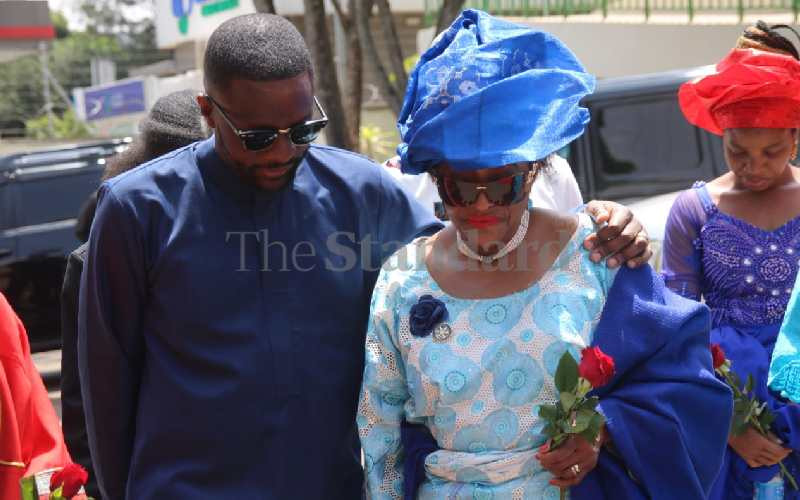 THE ERUDITE SCHOLAR
Prof. George Magoha was a respected human health researcher with solid medical training. He has a substantial body of work and research in the field of urology. His pioneering research was instrumental in the discovery of drugs and treatment. He valued science's role in disease management and prevention. His Research Interests Included: Cancer of the prostate: Magaha investigated the Epidemiology and Clinical Behaviour of Prostate Cancer in Black Africans in a study.
He collaborated with other researchers at the Universities of Lagos and Dakar to discover why prostate cancer is more common in Africans Cancer of the Testicular System: He conducted extensive research on Testicular Cancer to determine why the disease is uncommon among black Africans. The Cancer of the Penis: Magoha conducted research on penile cancer in Africans. He wanted to know if there was a link between this type of cancer and circumcision in adolescents and adults.
22 Celebrating the life of Prof. George Albert Omore Magoha HIV Prevention and Circumcision: His most recent study focused on HIV prevention. He collaborated on a study with the University of Manitoba in Canada and the University of Washington in the United States. This study, conducted at the Lumumba Health Centre in Kisumu, sought to determine the effect of circumcision on the incidence of HIV. THE
MAKING OF A DEDICATED PUBLIC SERVANT
Prof. George Magoha, an incurable performer, had learned to separate his work and social life during his many years in public service. Magoha began his medical career modestly as an intern at Lagos University Teaching Hospital in 1978. He became a resident surgeon at the same hospital the following year and served with the utmost integrity and fidelity to ethics for three years.
This provided him with new opportunities. From 1981 to 1985, he worked as a senior resident and clinical lecturer in surgery at Lagos University Teaching Hospital. Magoha was a consultant surgeon and urologist at the First Foundation and Shoreman Medical Centres, as well as the Motayo Clinic and The Duro-Soleye Hospital by 1986. He returned home and began working as a lecturer in surgery at the University of Nairobi (UoN) in 1988. His ascension through the ranks was steady but quick. The following year, he was appointed as a senior lecturer in surgery at the University's Department of Surgery.
He became an associate professor of surgery at the same university in 1996 before being promoted to full professor in 2000. He went on to hold senior positions at UoN, including chair of the Academic Department of Surgery at the University of Nairobi's College of Health Sciences from 1989 to 2000. Magoha was appointed Dean of the Faculty of Medicine at the University of Nairobi's College of Health Sciences in 2000. He rose to the position of Principal of that College in less than two years.
Magoha was appointed Deputy Vice-Chancellor in charge of Administration and Finance in 2002, before ascending to the position of university Vice Chancellor (VC) in 2005, becoming the first VC of a Kenyan public university to be appointed competitively.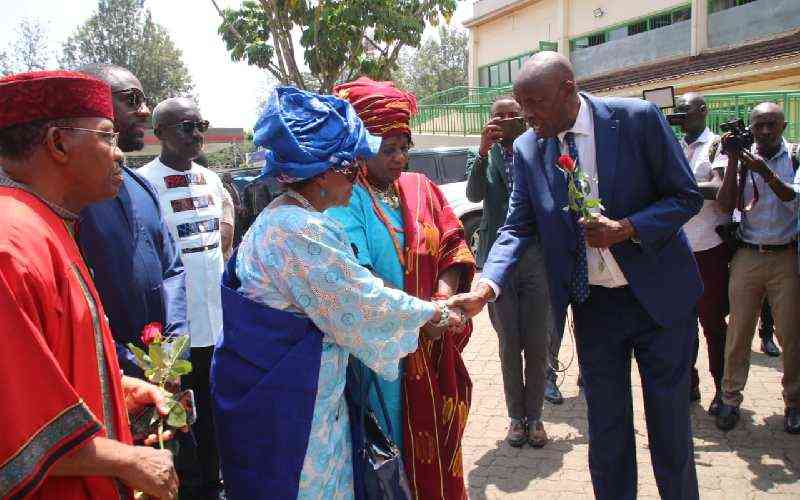 MAGOHA THE VICE CHANCELLOR
Prof. George Magoha was zealous about internal efficiency. As VC of The University of Nairobi, Magoha transformed the institution into a public university that relied on selffunding programs rather than government funds. He took over a financially constrained institution, which was facing difficulties in meeting its payroll obligations. Magoha oversaw the growth of private revenues through the University of Nairobi Enterprise and Services (UNES), the university's income-generating arm.
Prof. George Magoha knew what he needed to do first to effect positive change: Establish structures for the change he desired to see. His first major responsibility as VC was to create the University's first-ever Corporate Strategic Plan. The university operated without a clear plan, leaving major development activities to chance. His second goal was to build a strong leadership team to assist him in delivering. Magoha looked inward and realized he had a good team.
However, there was a problem: employees worked in silos and thus frequently failed to achieve harmony. Duplication of duties and 23 Celebrating the life of Prof. George Albert Omore Magoha overlapping roles were common. He hired experts from professional organizations to train his employees in financial management, human resource management, performance contracting, time management, student management, and corporate governance. He also redrew the University's flag. UNES facilitated the growth of self-sponsored students, who provided a lifeline for the University. During his tenure, the University implemented stringent performance measurement tools. Employees were evaluated based on their performance.
However, the university did not simply change. Magoha introduced a new management style that prioritized consultation. In order to put an end to the constant student strikes, he reinstated the student union and led the university back to its former glory. To supplement the annual government capitation and UNES' income-generating effort, Magoha embarked on a spirited fundraising campaign. He had already raised USD 300,000 (about KSh. 25 million at the time) from a Korean medical institution while serving as Dean of the University of Nairobi's Faculty of Medicine in 2000, which funds were used to construct the Administrative Block at the university's College of Health Sciences. He had also obtained $ 4.42 million (about Kshs 200 million) from the Canadian Fund for Innovation (CFI) in 2002, which was used for the construction of the University of Nairobi Institute of Tropical and Infectious Diseases (UNITID) and a cutting-edge laboratory at Kenyatta National Hospital.
He drew upon this fundraising background when he became Deputy Vice Chancellor in charge of Administration and Finance, raising KSh. 150 million for the construction of the Joseph Maina Mungai Memorial Complex in honour of the late Professor Joseph Maina Mungai's distinguished service to the Faculty of Medicine and the university. Prof. George Magoha's most notable development projects at the University of Nairobi include the 22-story UoN Towers.
He made certain that it was completed on time and within budget. The University paid Sh2.3 billion for the Tower through internal funding and donations. Its completion demonstrated Magoha's rich legacy of service delivery efficiency. The iconic tower's successful completion provided much-needed space for the university community, including lecture theaters, the VC's suites, the Senate Boardroom, the Council Meeting Room, and a fully operational helipad.
MAGOHA THE CABINET SECRETARY
When his term as VC came to an end, President Uhuru Kenyatta identified him as the warrior needed to spearhead reforms in administration of national examinations. He appointed him Chairman of the Kenya National Examinations Council at a time when the country was faced with the challenge of exam leakage and grades falsification. He dismantled the cartels that were profiteering from the national examinations. Prof Magoha's hands-on administration buried the ghosts of examinations cheating.
Impressed by his dedication and patriotism, on March 26, 2019, President Uhuru Kenyatta appointed Magoha as Cabinet Secretary for Education. This appointment was the icing on the cake for Prof. Magoha's transformative journey in the education sector. During his vetting in Parliament, Prof. Mogoha emphatically declared his nonpartisan approach to civic duties, even daring Members of Parliament to veto his appointment if they thought it was a political favour, and not a result of meritocracy. 24 Celebrating the life of Prof. George Albert Omore Magoha He further revealed that it did not matter if he got the job or not because the position "looked for him".
He also tabled a CV that was larger and more complicated than some of the laws they were debating. As it were, the legislators, enthralled by his display of bold leadership, resoundingly endorsed his appointment that sent him to the 10th floor of Jogoo House. His appointment to the Ministry soon set him on the path of an incredible record of successful implementation of formidable government reforms that will remain engrained in Kenya's education history. One of Prof. George Magoha's first assignments was to steer an unrivaled stakeholder engagement process that cleared the way for a successful roll out of the CBC, which had hitherto ran into severe headwinds. It was during his regime that the Covid-19 pandemic threatened to derail the education reforms but his solid leadership ensured he steered the ship with caution that eventually restored the hitherto disrupted academic calendar in January 2023.
During the Covid-19 period, Prof. Magoha led from the front during the supply of Sh1.9 billion desks to schools to ease social distancing in institutions, a project delivered by local artisans as part of the government's economic stimulus measures. Prof Magoha also delivered on the construction of 10,000 classrooms in secondary schools at a meager cost of Sh788,000 for each, a project that set tongues wagging since many people regarded the cost as being too low. He set a new management style of making personal visits to schools to check on the progress of government projects in the sector.
Undeniably, his record of delivering a 100 per cent transition from primary to secondary school in three successful years of his reign will be envied for many years to come. Magoha, as an academic, openly discussed the role of good education in transforming lives and the advantages of an effective education system in Kenya. He expected students to work hard in order to achieve greatness. Above all, he did not believe that school grades should limit human potential. He once chastised parents for their mindless pursuit of "stupid A's", a term he used to describe falsified academic grades. Magoha was a hands-on CS who frequently visited schools to check on the progress of government projects in the sector.
He was totally obsessed with the policy of 100 per cent transition and his image hunting for students in hovels and shanties and taking them to high school will forever remain the metaphor for patriotism. His approach threw the Ministry's status quo off-balance. A new order was established: regular performance measurements, performance targets, and fiscal prudence when allocating funds for government projects. DEMISE Prof. George Magoha died peacefully on Tuesday 24th January 2023 at the Nairobi Hospital surrounded by his family and loved ones.
Eternal peace grant him Oh Lord.
Amen
Related Topics