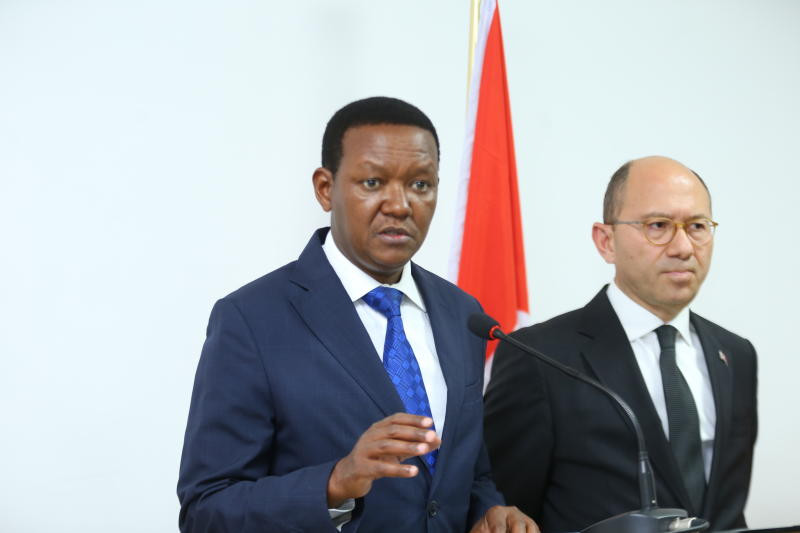 Cabinet Secretary for Foreign and Diaspora Affairs Alfred Mutua says the Kenya's government will offer help to Turkey, which was hit by an earthquake on Monday, 6th February.
Speaking at a press briefing, Mutua said Kenya shares the pain and devastating loss coming in the backdrop of a challenging period of Covid19 and the resultant global economic slowdown.
"We join the international community in praying and condoling with our brothers and sisters in the two countries. I call upon Kenyans who are able to join hands in extending material support that would alleviate human suffering such as food stuffs, clothing, financial, medical stuff among others.
We will soon be communicating collection points. We are coordinating with other Government agencies to be able to send a search and rescue specialist teams to the two nations to assist in the ongoing operations," said Mutua.
The CS further added that Kenya will be sending foodstuff to Turkey.
"We shall help Turkey with coffee, tea, groundnuts and other fast moving goods that can help them during this time. They (Turkey) have also asked us to support them with rescue experts and nurses and we shall try to do that," said Mutua.
According to Mutua, no Kenyan is reported to be affected so far, adding that there are 1137 registered Kenyans living in Turkey
"We haven't got any report of injured, dead Kenyan so far, Kenyans there can call emergency number +905385020960 to be helped," said Mutua.
Turkish President Recep Tayyip Erdogan declared a state of emergency for 3 months in ten provinces affected by devastating earthquake. So far, the death toll passed 5,000.
The quake, which was centered in Turkey's southeastern province of Kahramanmaras, sent residents of Damascus and Beirut rushing into the street and was felt as far away as Cairo.
More than 7,800 people were rescued across 10 provinces, according to Orhan Tatar, an official with Turkey's disaster management authority.
The region sits on top of major fault lines and is frequently shaken by earthquakes. Some 18,000 were killed in similarly powerful earthquakes that hit northwest Turkey in 1999.
The U.S. Geological Survey measured Monday's quake at 7.8, with a depth of 18 kilometers (11 miles). Hours later, another quake, likely triggered by the first, struck more than 100 kilometers (60 miles) away with 7.5 magnitude.
The second jolt caused a multistory apartment building in the Turkish city of Sanliurfa to topple onto the street in a cloud of dust as bystanders screamed, according to video of the scene.
Thousands of buildings were reported collapsed in a wide area extending from Syria's cities of Aleppo and Hama to Turkey's Diyarbakir, more than 330 kilometers (200 miles) to the northeast.
Related Topics