Former police Sergeant Fredrick Ole Leliman has been sentenced to death for the murder of lawyer Willie Kimani, Josephat Mwendwa and taxi driver Joseph Muiruri in 2016.
According to Judge Jessie Lessit, the murder of the three was premeditated.
In her judgement, Justice Lessit ruled that the three were brutally tortured and sentenced Leliman's other convicts; Stephen Cheburet, Sylvia Wanjiku and Peter Ngugi to 30, 24 and 20-year prison sentences respectively.
Leliman, the mastermind behind the murder described by Lessit as 'most foul', maliciously planned and orchestrated the killing of the three to silence a probe into his conduct by the Independent Policing Oversight Authority (IPOA).
This after Kimani's client, Mwenda - a boda boda rider- accused the senior cop of shooting him in the arm for no reason at a traffic stop in 2015.
Mwenda had filed a complaint with IPOA accusing Leliman of shooting him after arresting him over an allegation that he was gambling.
After the shooting, Leliman took Mwendwa to the hospital and subsequently pressed charges in a bid to silence him. He accused Mwenda of being in possession of 14 stones of bhang, resisting arrest and gambling. The trumped-up charges, however, flopped.
As IPOA launched an investigation into Mwenda's claims, the officer arrested the boda boda rider a second time on December 13, 2015, claiming that he had committed a traffic offence.
Fearing for his life, Mwedwa, sought help from the International Justice Mission (IJM) which came on board and tasked lawyer Kimani with the case.
Plot
Leliman's first attempt to silence Mwenda was to plant an informer by registering two Airtel SIM Cards using a lost identification card to communicate with Peter Ngugi, a vendor turned informer, to monitor the boda boda rider.
During the first hearing of the case at Mavoko magistrate's court on February 16, 2016, Leliman and Ngugi communicated 15 times as the case proceeded.
After the hearing, officers who claimed to be from the Directorate of Criminal Investigations (DCI) accosted Mwenda and his co-accused. Mwenda's then- lawyer, however, intervened and insisted to know why DCI officers were interrogating his client.
As this was happening, the star witness at the hearing, Leliman, who was now seated in a car, a grey Toyota NZE, acknowledged the harassment as the DCI officers interrogated Mwenda.
Upon being pressed, one of the officers, only identified as Muthee, confiscated their identification cards and informed the lawyer that they were being interrogated over an alleged robbery committed in Meru.
He said that he would photocopy the documents and send their particulars to Meru. Muthee reportedly then stepped out and returned 45 minutes later; apologized and released Mwenda and the co-accused.
After foiling the attempted kidnapping, the lawyer in a move that now puts IPOA, the Inspector-General of police and the judiciary on spot, wrote a letter seeking to have Mwenda to be protected by the state.
He also launched a complaint against Leliman.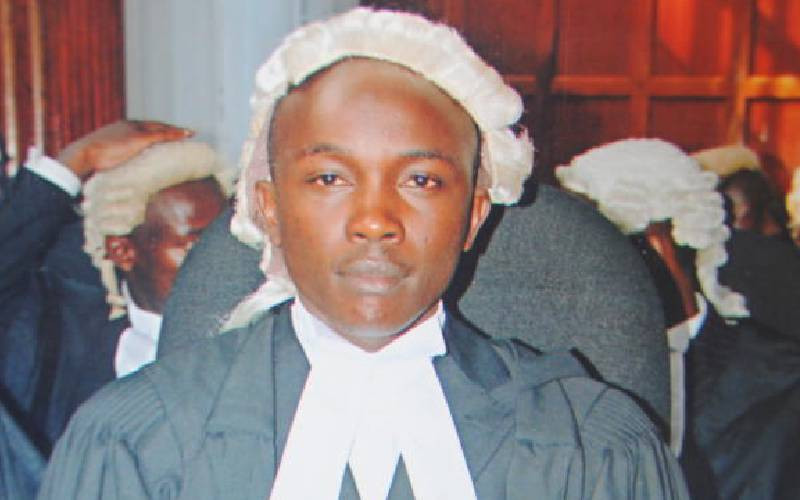 The lawyer, however, never got a response to the letter dated February 24, 2016.
The lawyer, again, wrote to the Witness Protection Agency (WPA), seeking his client's protection. The agency's director, however, responded indicating that the deceased would be assessed for suitability.
IPOA, meanwhile, summoned Leliman to record his side of the story on March 16, 2016.
The prosecution led by Special Prosecutor Nicholas Mutuku, assisted by Prosecution Counsel Betty Rubia, argued that Leliman knew that his fate as a police officer had been sealed. And that if IPOA agreed with Mwenda, then the officer would have been arrested, interdicted, subsequently tried, and jailed for misuse of a firearm and unlawfully wounding the victim.
Second attempt
After the traffic case against Mwenda was scheduled to be heard on June 23, 2016, Leliman mooted it as a perfect day to execute his murder plot.
A month earlier, he had approached Ngugi, who had consequently visited Mlolongo OCS Stephen Lelei and told him about Mwenda, and the senior officer's predicament.
On the last week of May, Leliman called Ngugi and requested a meeting at Connections bar in Mlolongo. He told Ngugi that the IPOA's case was drawing near and that he needed to silence the complainant.
On June 22, the two, who had become bosom friends and confidants, met again at Mlolongo police canteen where they firmed up the murder plot. Ngugi was to spy on Mwenda's movement while Leliman and his team prepared the perfect spot to execute Mwenda. He introduced Ngugi to his colleagues as a Mr Brown.
Lelei, meanwhile, registered two Airtel SIM cards using a lost ID belonging to one Moses Kariithi. Leliman gave Ngugi one card and remained with the other.
Mavoko Law Court
On June 23, at around 9am, Muiruri drove Mwendwa and Kimani to Mavoko law courts. Two witnesses testified against Mwenda. When the court adjourned, Ngugi, who was on the lookout, notified Leliman. The three were abducted soon after they exited the court and were held at Syokimau Police Station.
Lelei, meanwhile, instructed Ngugi to dispose of Muiruri's car.
Leliman's allies, colleagues Cheburet and Wanjiku, Justice Jessie Lesiit heard, failed to book the three to ensure they were not identified.
At around 7pm while at Connections bar on the same day, Leliman and Ngugi received a call from an unidentified officer who was manning the station that Kimani had reached out to his wife.
Kimani had written a note on a tissue paper and tied it on an electric socket holder and beckoned a boda boda rider who was passing by. The ridder's pillion passenger jumped out.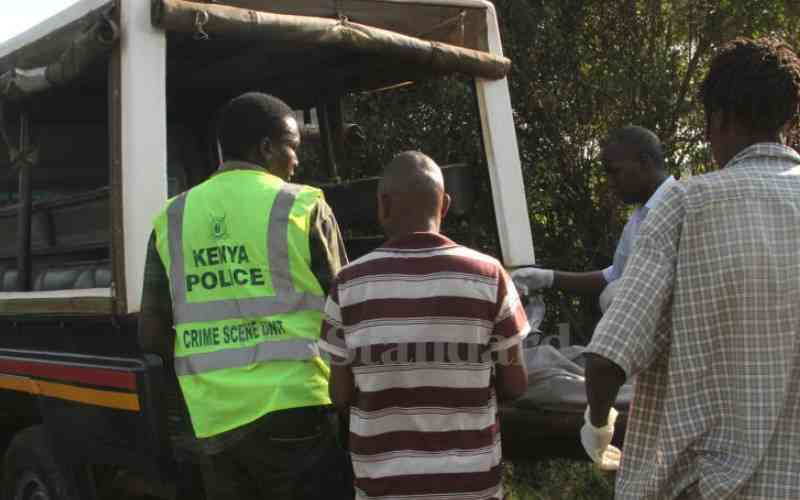 As the passenger was picking up the socket whose note had Kimani's wife's number, the lawyer told the passenger, "pigieni huyu simu akuje saa hii, tuko hatarini" (call this person, urge her to come now as we are in danger).
This troubled Leliman. The two left the bar and were joined by a Mr Kamenju. Kamenju remains a mystery and is still at large.
At the station, Leliman picked the keys from the day's sentry, opened the cells and ordered the three into the boot of a Nissan Wingroad.
He handcuffed them from behind and then drove to an open field along Mombasa Road, opposite Mastermind Tobacco Limited.
Murder
Mwenda was strangled to death using a rope and a polythene bag. His body was stashed in a sack and thrown into Leliman's car boot. Muiruri was strangled using a second polythene and his body was also stashed in a sack and thrown into Kamenju's car.
Kimani was the last to be killed. He was strangled using a rope and a polythene bag, and also stashed in Leliman's car.
The two cars then proceeded to Ol Donyo Sabuk River in Machakos County where they dumped the bodies. They then drove back to the bar where they ate and drank before dispersing.
Call data, eight cigarette butts, energy drink bottles at the murder scene and Ngugi's confession, however, gave them away after the murders came to light. A test conducted on the cigarette butts matched Ngugi's DNA.
While being detained, Leliman is said to have attempted to bribe Ngugi with Sh15,000 to omit his name but this too failed to work.
During the trial, the state called 46 witnesses and produced 117 exhibits. Leliman had 34 witnesses.
Related Topics