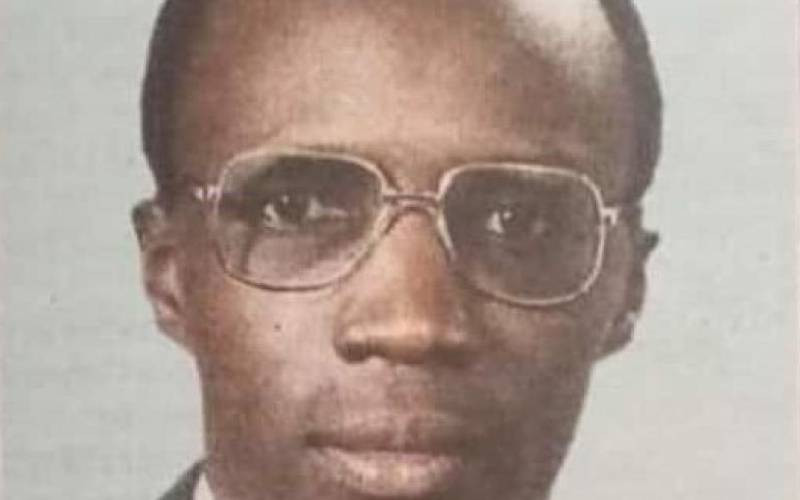 Mourners have eulogised former Education CS George Magoha's younger brother Richard Alex Nyabera as a kind and noble man.
Prof Nyabera died in the United States and was buried yesterday in his village in Gem, Siaya County.
The Magoha family was hit by tragedy when former Cabinet Secretary died of cardiac arrest on Tuesday last week while planning to receive his brother's body from the US.
The double tragedy came barely two years after the family lost another brother, Charles Agunga Magoha, in Sweden in August 2021.
Yesterday was, however, a day of celebration of life rather than a day of sorrow as family and friends hailed the late Nyabera at Yala Township Primary School, the venue of a mass.
Ms Janet Achieng, his widow, remembered him as a charismatic individual whose light and impact were difficult to summarise in a few paragraphs. "My husband was one of the most loving, sensitive and caring souls... If he ever saw a need, he would focus on fulfilling it. He seldom needed to be asked," she said in a message delivered by her elder sister.
"When I was expectant, his nurturing side would really show. Even though he started work at 7am, he would be sure to have breakfast ready and warm it up in the oven. That was the love of my life and friend."
Ms Achieng further noted that Richard was a committed, gentle family man who oozed kindness around his environment. "Alex loved his children, and they were the world to him. He was not just a father figure, but loving, involved and interested."
"He valued education and took great enjoyment in instructing his children, never missing an opportunity for a lesson. He was a man that our hearts will miss... Alex was a kind soul that even though gone, will never be forgotten," she concluded.
Richard's son, Mr Bernard Boniface Magoha 'Benny' described his father as a charismatic figure in his life where he learnt a lot of life values.
"Dad was everything for us. He was the best dad. He might not be here physically but spiritually I know he is here watching over us," said Benny.
Nyabera's brother Joseph Oyile remembered the departed professor as a 'father' who played a big role in raising him when both Prof Magoha and their father were away.
"Richard was like a father to me. He taught me how to be a man. From cooking, cleaning, grooming and looking after the cows. He was a father to me because George and our dad were out in the world trying to learn and earn a living to support us back home," said Mr Oyile.
"We the Magohas are not cowards. It is well and it shall be well because we do not fear transition to another phase of life. A Christian does not fear and therefore the Magohas shall live forever in death and in life."
Born on December 5, 1953, Prof Nyabera, the eighth born of 11 children, started school at Jina Primary School, joined Starehe Boys Centre before proceeding to the State University of New York.
Prof Nyabera, 69, had three children -- Crystal Sara Aloo, Ashley Agnes Atieno and Benny with Ms Achieng -- who all reside in the US.
He died of cancer on December 6, last year, in Allen, Texas, US, having been first diagnosed with the disease in August 2021.
Cancer of the bladder is a common type that affects older adults and begins in the cells of the bladder.
"He was in hospital for about a month as doctors fought to save some of his organs that were failing. He was not given much time to live due to the advanced stage of the disease," reads part of the obituary.
Former Defence CS Eugene Wamalwa delivered President Uhuru Kenyatta's message, paying tribute to the family for contributing immensely to the country's education sector.
"The Magohas will forever be remembered as a family which broke the ceiling in education... It is so heartbreaking to lose not only Richard but my good friend George," read Wamalwa.
Related Topics