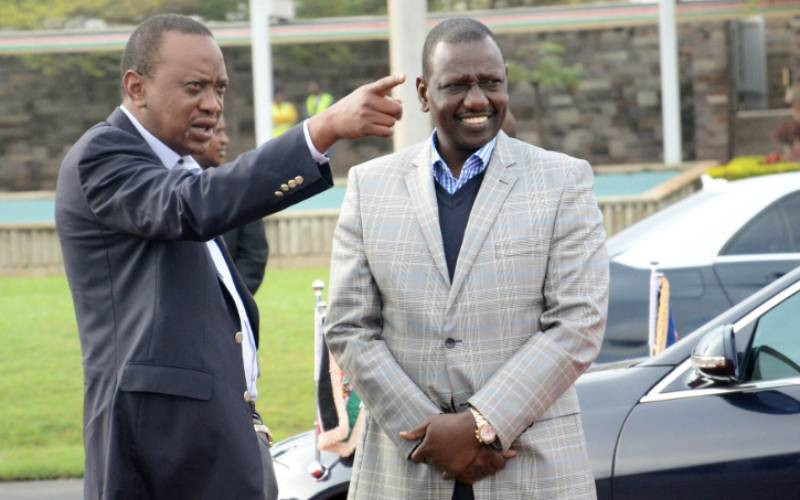 President William Ruto has made the same number of foreign trips as his predecessor Uhuru Kenyatta in the first 135 days in office.
Between September 13, 2022, when he was sworn into office as Kenya's fifth president, and January 23, 2023, when he made his most recent trip abroad, Dr. Ruto has made a total of 12 trips. That period is roughly 133 days.
On the other hand, Uhuru Kenyatta made 12 trips abroad between April 9, 2013 and August 20, 2013, a period of 134 days.
The head-to-head comparison, however, shows Ruto has made more trips outside Africa than Kenyatta did in the same period.
President Ruto's Foreign Trips
September 19-20, 2022: United Kingdom, London – State Funeral of Queen Elizabeth II
September 20-24, 2022: USA, New York – 77th Session of the United Nations General Assembly
October 6, 2022: Ethiopia, Addis Ababa – Launch of Safaricom operations in Ethiopia
October 8-9, 2022: Uganda, Kampala – Uganda's 60th Independence Day celebrations
October 9-10, 2022: Tanzania, Dar es Salaam – State Visit
November 6-8: 2022: Egypt, Sharm El Sheikh – 2022 United Nations Climate Change Conference
November 21, 2022: DRC, Kinshasa – State Visit
November 22- 24, 2022: South Korea, Seoul – State Visit
December 9-10, 2022: Eritrea, Asmara – State Visit
December 13-16, 2022: USA, Washington DC – United States–Africa Leaders' Summit
January 24, 2023: France, Paris – State Visit
January 25-26,2023: Dakar, Senegal – Summit on Food Security in Africa
President Kenyatta's Foreign Trips
April 27,2013: Tanzania, Arusha – East African Heads of State Summit
May 3, 2013: Ethiopia, Addis Ababa – 21st Extraordinary IGAD Summit
May 6-8, 2013: United Kingdom, London – Conference on Somalia
May 9-11, 2013: South Africa, Johannesburg – World Economic Forum
May 24, 2013: South Sudan, Juba – State Visit
May 25-26, 2013: Ethiopia, Addis Ababa – African Union 50th Anniversary celebrations
June 24-26, 2013: Uganda, Entebbe – State Visit
July 1, 2013: Burundi, Bujumbura – State Visit
July 14-18, 2013: Nigeria, Abuja – African Union HIV/AIDS Summit
July 18, 2013: DRC, Kinshasa – State Visit
August 4, 2013: Uganda, Munyonyo – AMISOM Summit
August 16-19, 2013: Russia, Moscow – State Visit
Kenya's third President Mwai Kibaki made a total of 33 foreign trips in his ten-year rule between 2003 and 2013, making him one of Kenya's presidents who travelled the least to foreign nations during his reign.
A president's foreign trip usually costs the taxpayers millions of shillings in accommodation, operations and transport.
For instance, in the Financial Year 2014-2015, President Kenyatta's 24 foreign trips cost the taxpayers Sh1.2 billion.
A president is usually accompanied by large delegations, including his security detail and senior government officials who draw hefty sums in travelling allowances.
Senior members of a presidential delegation reportedly receive a daily out-of-pocket allowance of up to $400 (Sh49,000), while the government pays for their food and accommodation.
The Controller of Budget report released in October 2015 showed that President Kenyatta's foreign visits accounted for more than three-quarters of the Sh1.57 billion total that the Foreign Affairs ministry spent on travel in 2014-2015.
Related Topics