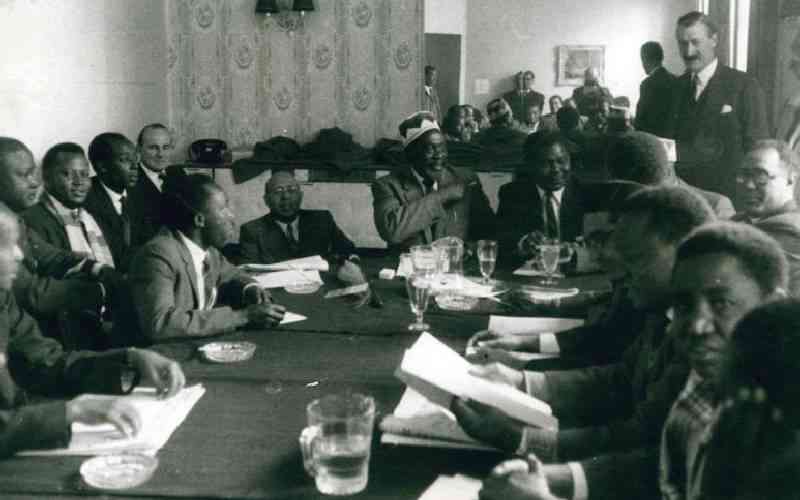 The specter of Kenyans sending large delegations to international government junkets did not start yesterday.
The second Lancaster House talks which began on Valentine's Day of 1962 at the Long Gallery, was as scandalous as was its conclusion; deadlock which resulted in a compromise document.
For 52 days, 98 participants comprising among others, Members of the Legislative Council (MLCs), tribal representatives, regional delegations and their advisors squared it out both in the halls as well as streets of London.
The location of the talks was itself a grand scam, away in cold Europe. The entire constellation of the Kenyan political class had been fished out of their comfort zones and planted in the heart of British civilisation to argue the case for their future.
The very grandeur of the halls they were meeting in was as intimidating as the streets of London which provided them succor and warmth.
The weather was something else altogether, and it was such a show to see tribal-clad leaders bestriding the streets, weather-beaten to the core.
"Lancaster House disoriented the African members; its physical grandeur and reputation for providing the rite of passage for colonies preparing for independence had the potential of mesmerising delegates and placing them in a subservient position," GG Kariuki wrote in his doctoral thesis Lancaster Constitutional Negotiation Process and its Impact on Foreign Relations of Post-Colonial Kenya.
The choice of delegations, each infused with colonial checkmates, was enough to create a perfect storm away from home. It was a sponsored deadlock all through the various plenaries to the advantage of the colonial government and disadvantage of the Africans.
British interests lured the delegates into London's nightlife, depriving them of the opportunity to make progress. In Nairobi, reports filtered of the chaos ensuing in London, especially of the divisions in Kanu.
"The public is disturbed at such news that it is only yourself and Mr Odinga who are working hard at the conference and that the rest of other Kanu members spend most of their time in bars," Kanu Nairobi branch chair AM Aketch wrote in an open letter to Kenyatta, obviously hitting at Tom Mboya's wing of Kanu.
In his report, GG said the conference "was attended by the largest number of participants after Nigeria's constitutional conference".
Related Topics