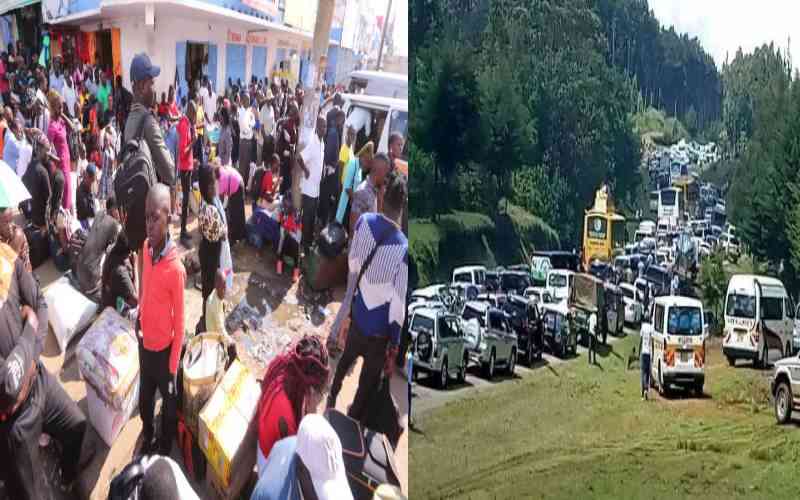 Chaotic scenes marked the final hours before Christmas Day as thousands of Kenyans scrambled to travel to various destinations for the festivities.
It has been a common occurrence every year for Kenyans to engage in a mad rush to travel upcountry to join family and friends for Christmas celebrations.
There was a shortage of public service vehicles as many passengers were stranded in traffic jams for hours.
PSV operators, as usual, took advantage of the rush and desperation of travellers to hike fares.
Along the Kisumu-Kericho highway, police officers had a hectic time controlling heavy traffic as some passengers were trapped in the snarl-up for over 10 hours.
Traffic on the Nairobi-Nakuru highway had been building up for the last few days, trapping in travellers to western Kenya.
So bad was the situation that several passengers who had started their journies on Friday spent the night in vehicles, on the road, as the traffic jam stretched several kilometres, from Kisumu town to past Awasi.
There was also a traffic gridlock between Ahero and Katito. Many families spent the night in the cold.
Similar scenes were witnessed along the Nairobi-Nakuru highway. This was before the traffic eased on Saturday morning.
Police officers had a hard time controlling the heavy traffic, with the situation being worsened by overlapping drivers.
A spot check by The Sunday Standard across several bus stops in the Nyanza region established that several passengers were stranded after failing to find connecting vehicles to their various destinations.
Kenya Railways also tripled its trips to the lakeside city of Kisumu to accommodate the huge number of travellers from Nairobi. By yesterday evening, the third train had arrived in Kisumu with hundreds of passengers on board. On normal days, only a single train makes a weekly trip to the city.
Kenya Railways officials said they were expecting the fourth train to arrive in Kisumu by 10pm yesterday.
"The number of passengers coming to Kisumu has increased. We normally do one train per week but now we are doing about four. And they are fully booked. Of the four, three have already arrived and the fourth one is expected here at 10pm," said a clerk at Kisumu Railway station.
The train is charging a constant Sh600 from Nairobi to Kisumu.
At the station, a few families were still sitting at the waiting bay after arriving from Nairobi. They said they were travelling home to celebrate Christmas with their families.
Maureen Nanjala, a mother of five who travelled with her entire family, said she spent the night at the railway station with her children after failing to find a matatu to Vihiga.
"We opted to return to the railway station to wait for a relative to pick us up," she said.
The going was a lot easier for those who used the train as opposed to those using road transport.
Traffic along most roads had eased up by 11am yesterday, after more than 12 hours of near inactivity occasioned by overlapping.
Suba North MP Millie Odhiambo was among those who found themselves in the nightmare. Ms Odhiambo, who was travelling from Homa Bay to Kisumu, said she spent more than six hours in the jam.
A number of travellers told The Sunday Standard of the horror they have had to endure after being stuck in the jam for several hours.
Rosemary Muganda said she got stuck in traffic since 3pm on Friday. She was driving to Kisumu from Nairobi.
"Nothing is moving. I have been stuck here since 3pm on Friday," she said at the time of being interviewed at around 8pm on Friday.
She had left Nairobi at 5am and expected to reach Kisumu within six hours. The journey normally takes five to seven hours in a private vehicle.
A number of motorists described the turn of events as unfortunate.
Maurice Owino, a father of three who was travelling with his family to Siaya, said he spent more than six hours in traffic.
He said the problem was worsened by the absence of traffic police officers who would have helped to control the movement of vehicles.
"There is no traffic police officer in sight. We do not know if we will be able to move at all. It is terrible, especially for those with children," said Owino.
The police attributed the chaotic scenes on the roads to a drastic increase in the number of travellers.
Nyanza region Traffic Commandant Mwangi Ng'ang'a said they have noted that there are many people travelling from cities to upcountry, causing the jam in the process.
"Road users have increased due to festivities and there's a lot of overlapping. There is no discipline on the road but our officers are trying to help," Mr Ng'ang'a said.
Apart from the jam, passengers also had to contend with hiked fares as PSV operators took advantage of their desperation.
The fare between Migori and Kisumu was hiked from Sh700 to Sh1,200, forcing some passengers to cancel their journeys.
At the Kisumu bus park, a number of passengers said they would wait for cheaper rides home after the few matatus available hiked fares.
Fred Okumu, who was travelling from Nairobi and was hoping to connect to Homa Bay, said he was asked to pay Sh900, an increase from Sh500 they normally pay.
"I did not get a direct vehicle from Nairobi to Homa Bay and did not anticipate the price to be so high," he said.
The fare from Kisii to Kisumu increased from Sh500 to Sh900.
Samson Ouma, who was travelling along the Nairobi-Nakuru highway, blamed overlapping by some drivers for the traffic mess.
"We have spent hours on the road due to the heavy traffic but we thank God we are safe and the vehicles are moving, though slowly," he said.
A trader, Enock Makori, said this is the norm every year as families leave for upcountry.
"We thought there was an accident but we have come to learn it is the usual thing as Kenyans rush home at the last minute," he said.
Naivasha OCPD Samuel Waweru said they had not reported any accident along the highway.
"We have positioned our officers in strategic positions along the road to control traffic and deal with those overlapping," said Waweru.
In Nakuru city, passengers were stranded after matatus hiked fares.
Mark Idel, who was to travel from Nakuru to Kisii, said the fare had been hiked from Sh800 to Sh1,200.
He had been waiting for the matatu since yesterday mid-morning and was hopeful of travelling.
Betty Moraa, a mother of three, said she was determined to travel to Nyamira. She said she had arrived at the bus park at 9am together with her sister and her children but had not travelled by 3pm.
Boniface Mutina, from Prestige Shuttle, said the fare to Nairobi remained constant but they were forced to hike the fare to Nyanza, Western and Uasin Gishu regions.
In Nairobi, there was a major scramble for the few available spaces in public service vehicles as Kenyans rushed home for Christmas.
Philip Ondiba was in the CBD by 9am hoping to travel to Kisii. By 1.30pm, he was still at Transline Services transport company, waiting to get a vehicle.
"I came here early hoping to travel to my village to celebrate Christmas. I found many people but few vehicles. I don't know what time I will travel but am still confident I will," said Ondiba.
Fares to Kisii had been hiked from Sh1,200 to between Sh1,800 and Sh2,000.
At Kinatwa and Makos sacco bus stages, which have vehicles that ply Ukambani routea, Sharon Mbithe was stranded with her two children.
"I came here an hour ago but getting a vehicle has been hard. There are many people and the fare is also high. Normally, we pay between Sh150 and Sh200 to Machakos. However, they are now asking for Sh400. But we have no option," she said.
Along Mfangano Lane where North Rift shuttles plying the Bungoma route,are stationed, few people were travelling.
According to a clerk, many people travelled between Monday and Friday, and the travellers were not as many yesterday.
Fares along the route had been hiked from Sh1,200 to Sh1,700.
[Reports by Harold Odhiambo, Clinton Ambujo, James Omoro, Antony Gitonga, Daniel Chege and James Wanzala]
Related Topics