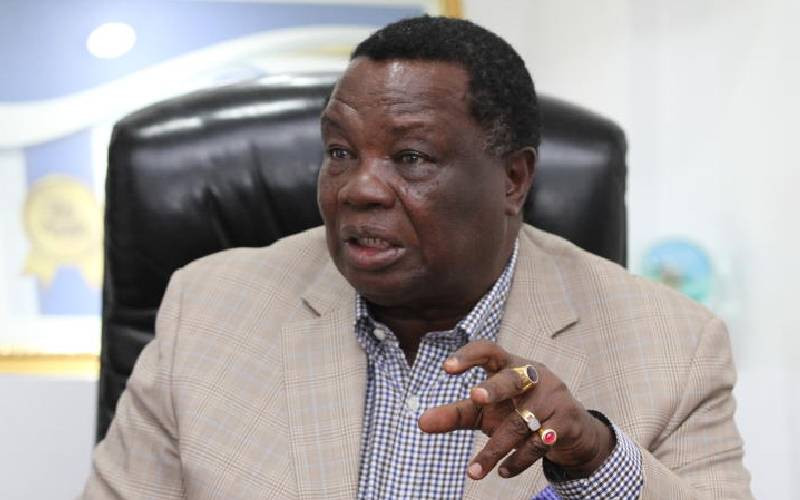 Cotu boss Francis Atwoli, a once harsh critic of President William Ruto, has defended his State House visit, saying it was for the sake of democracy rather than pledging loyalty.
As a senior unionist in the country and globally, Atwoli said it would be futile to remain politically partisan after the electioneering period was over and the country needed to move forward.
"I'm sure some of you saw me at the State House last week and are wondering what we talked about with President Ruto.
I paid him a courtesy call alongside Luhya leaders Musalia Mudavadi, Moses Wetang'ula, and Boni Khalwale," he said, explaining in part what happened behind closed State House doors.
"We mostly joked about the political jabs we traded during the electioneering period because we were in opposing camps, and it was all laughs, especially when I reminded him of the "kateni miti sugoi" (cut trees in Sugoi) phrase I used to discredit his candidacy, and he reminded me of how he loved to hit back at me with the Mzee wa manyororo (an old man who loves necklaces) line."
At a public event in Butere over the weekend, Atwoli said contrary to expectations, Ruto proved to be a "mature democrat who received me so well at State House".
Atwoli stated that he used the opportunity with the president to advocate for the passage of global trade laws that had yet to be domiciled in the country, as well as to call for an increase in sharable revenues to the counties.
The workers' boss admitted at a funeral in Khwisero constituency over the weekend that Ruto, who defeated his preferred presidential candidate Raila Odinga in the August polls, was indeed smart.
He urged Azimio supporters to find a place in their hearts to accept that.
"I implore you to take advantage of the good work that President Ruto's government is doing to improve your economic stability.
"You should not, for example, avoid the Hustler Fund simply because you are an Azimio supporter; this will not help because we need to grow even when we are opposed," he said.
"He (Ruto) beat us when we had President Uhuru Kenyatta's support. What makes you believe it will be difficult for him in 2027?"
At the same time, he urged the opposition not to abandon their call and duty of holding the government of the day accountable in order to provide better services to the people.
Kakamega Deputy Governor Ayub Savula (ODM) and Khwisero MP Christopher Aseka (ODM), who accompanied Atwoli, vowed to keep the government in check in style.
"We don't need to take to the streets to protest because that will tear the country apart after a hotly contested election. What we will do, particularly in Kakamega, is work efficiently for the people so that our county shines brighter than the counties that voted for Ruto," Savula said.
"Let the president play his national governance role wisely as well. He should, for example, vindicate the four suspended IEBC commissioners who are at his mercy, because sacking them will portray him as a vengeful leader and create unnecessary tension; after all, why sack them when the court declared him winner?"
Savula said they would meet with Ruto on December 8 in Kakamega to inform him that they are in the opposition and would present a county's wish list.
Aseka, a second-term MP, said being in opposition was not a death sentence, especially in the era of devolved units.
Related Topics