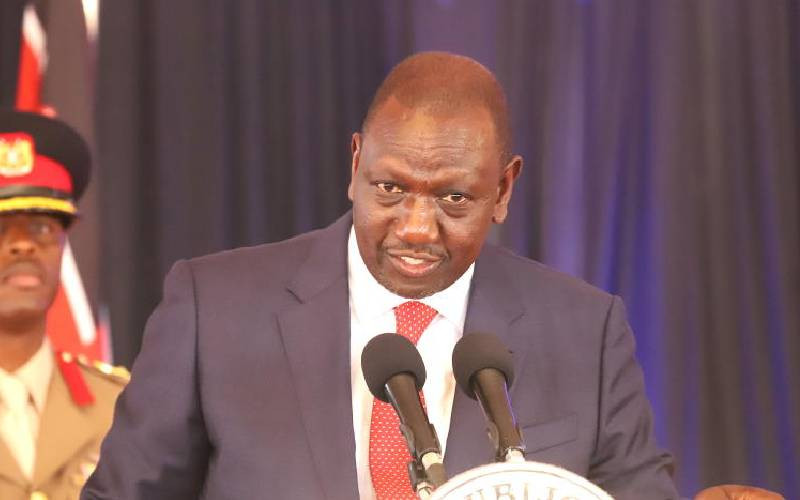 President William Ruto has said that he won't renege on plans to have NSSF contributions increased from the Sh200 flat rate to six per cent of workers' monthly salaries.
President Ruto made the remarks on Friday, November 4 at the Supreme Court Buildings during the release of the State of the Judiciary and Administration of Justice Report for the 2021/2022 Financial Year.
The Head of State said the move will allow Kenyans to have more funds upon retirement, and also inculcate a savings culture among the citizens.
This comes on the back of criticism by Azimio la Umoja-One Kenya leader Raila Odinga, who says the planned increment of NSSF deductions would worsen the economic hardship Kenyans are facing.
"I want to tell those in the opposition, who are against our plans, that there is no two ways about the [planned NSSF deductions] increment. They (opposition) have been asking us to borrow [funds] externally, but our government is not ready for that," said Ruto.
The Head of State said he's spoken with COTU-Kenya and the Federation of Kenya Employers, who have agreed to have the scheme rolled out after Parliament approves the proposal.
Ruto also asked the Judiciary to expedite ruling on tax evasion cases, urging judges not to entertain tax offenders.
"I want to ask the Judiciary not to give a safe haven to people running away from paying tax. We want every citizen to carry their portion of the burden of running the affairs of the country," said Ruto.
On his commitment to support the Judiciary, the president said he'll gradually increase funds to the courts over the next five years.
"Without a doubt, the low budgetary allocation [to the Judiciary] has affected critical projects and activities. It is with this in mind that I gave the undertaking to enhance annual allocation to the Judiciary for the next five years, in an effort to mitigate the opportunity cost of the accrued shortfalls," he said.
The Judiciary said it has 6,182 employees against a target of 9,417.
Related Topics