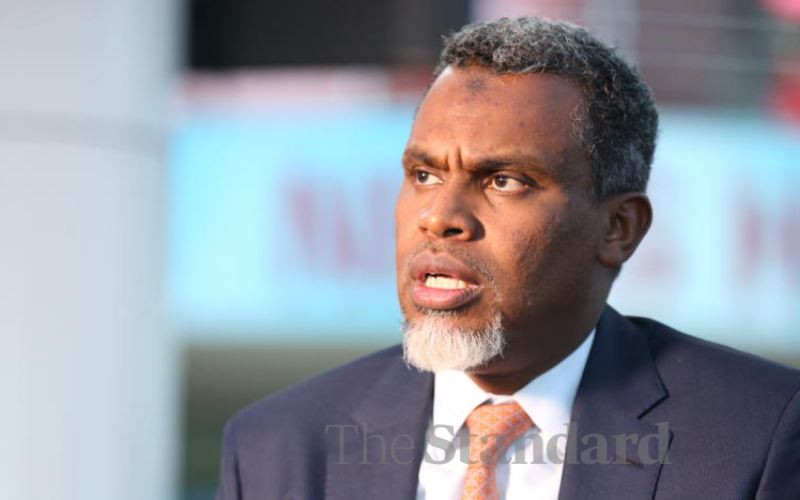 Director of Public Prosecutions Noordin Haji has, for the first time, opened up about his 'rough' four years at the helm of the institution.
He laid it all bare. From an attack on his home in the run-up to this year's election, and his strained relationship with former Director of Criminal Prosecutions George Kinoti.
In an interview during KTN's Checkpoint show on Sunday night, Mr Haji, claimed he was threatened in the course of discharging his "independent office" mandate.
He confessed the war on corruption, at some point, felt like a lost battle. He was stuck.
In the initial days, the DPP's joint act with Kinoti was marked with fire and fury.
Haji says he slowed down after the DCI "misused" his goodwill and trust, over the manner they packaged their evidence.
"We stood for what was right despite threats, and coercion. We all know my house was broken into, a few months before the election. I did not say much. I was made to feel like a second-class citizen in this country, despite the fact that I am a Kenyan. This was all because some people wanted to bend the Constitution to serve their own interests, but I stood firm despite all those threats," Haji said.
He revealed that at some point, he sought the help of former President Uhuru Kenyatta and some interventions were made.
However, things slid back to normal soon thereafter.
"It became a tiring story, and I wish more could have been done then," he said of the shortlived Kenyatta's intervention.
Gentleman's agreement
The DPP revealed that in the initial days, he worked on "gentleman's agreement" terms with Kinoti, accepting cases on a first-test basis (threshold test), believing the full evidence to sustain a trial would be coming.
"Over time, we discovered that the DCI was not serious in availing concrete evidence for cases. That is why we had a push and pull between the two offices. We could not proceed with cases that didn't meet our threshold. They lacked sufficient evidence to be presented in court," he said.
Haji noted that his office came up with draft 'guidelines on the decision to charge' which escalated the rift.
"Through the guidelines, we demanded that DCI completes all their investigations before we could move to court and press charges. We agreed we would no longer depend on good faith," he said.
Speaking about the recent move to withdraw corruption cases facing top politicians, Haji defended himself, claiming, "there is no appropriate moment to stop the miscarriage of justice."
"Why not now?" he posed back, explaining that if he had a sinister motive, he would have been more calculated in his withdrawals.
In the last few weeks, criminal cases investigated by DCI and prosecuted by his office have collapsed.
Two of them involved Cabinet Secretaries Aisha Jumwa and Mithika Linturi.
Linturi's case was withdrawn by the complainant.
Collapsed cases
The other case involved former Kenya Power boss Ben Chumo.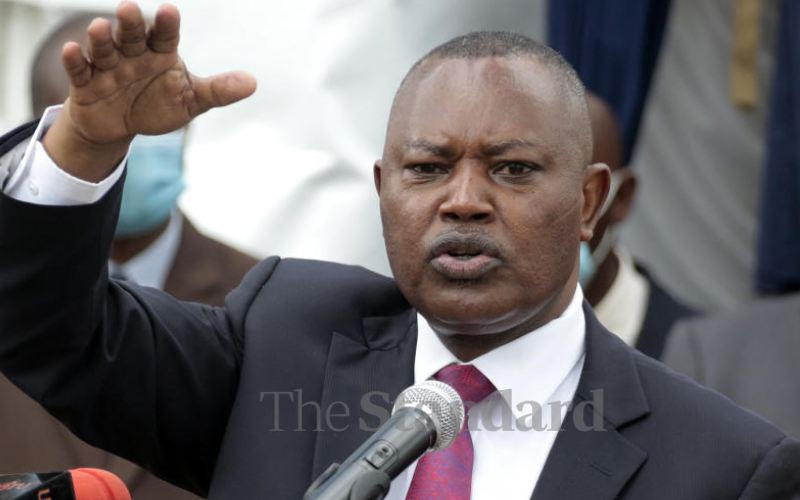 Haji said these cases collapsed long before the election and it was only a matter of time.
He said, even so, he withdrew them upon seeking leave of court, and using a section of the law that allows future prosecution once DCI obtains credible evidence.
"It just happens these individuals are prominent and the timing was probably not appropriate. If we had an ill motive, we would have done a great job and handled it in a different manner," he said.
He further revealed that he would formally withdraw the corruption case against Deputy President Rigathi Gachagua because it is built on 'quicksand'.
Again, he said his office was misled to believe there was concrete evidence against Gachagua, and that he was "pushed by the DCI himself, through the media."
Reiterating the "hot air" reference of the Supreme Court, Haji claimed they later realised Gachagua's case was a "wild goose chase affair since it fell into the pattern of misguided hubris."
The lead investigator in the case has since recanted the original affidavit saying he was pressured into doing it.
"On this one, I will not beat about the bush. If I have to go by that affidavit, I will withdraw, and I am not afraid of saying that. And I will stand by my word, and I am doing it honestly because there is a senior police officer saying this, I have to take it seriously. And it's unfortunate, but it is part of the rule of law," he said.
Haji said owing to the revelations that have come to the fore, he will now have to review all corruption cases that emanated from DCI.
He suggested that the new DCI will need to relook into the department of forensic examinations to ensure professionalism.
He said the forensic department at DCI had done "a lot of damage to the criminal justice sector" by robbing offices like his and courts of confidence and trust.
On his identity and recent changes in security dockets, Haji said people may not have appreciated the considerations at play, among them expertise and professionalism.
He said people always make a big and unnecessary fuss over the ethnic identity of officeholders undertaking national duties.
"First of all, I am a Kenyan as much as I am a Somali. I am not going to apologize for it. Together with my family, we have been very loyal to this country, extremely loyal," he said.
He said he's determined to hold senior security officers to account for the killing of Baby Pendo, who was killed during the 2017 post-election period.
"We can't always be prosecuting junior officers, yet those who issued the commands are left to go scot-free. Women were raped, and even disabled persons. Innocent people were clobbered. Justice will prevail," he said.
Related Topics