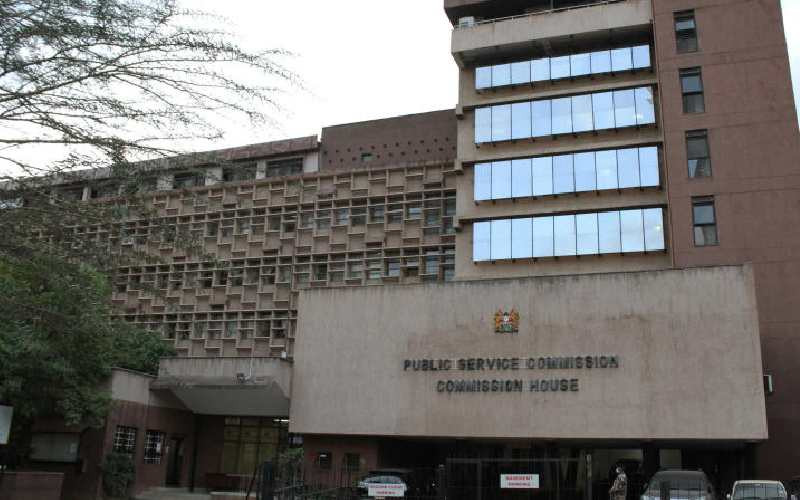 The Public Service Commission (PSC) has sent out a circular that requires government agencies to kick out any public servant found to have used fake certificates to get into office.
In what could herald mass sackings and prosecutions of culprits believed to be in the office on the strength of faked papers, the PSC chairman Anthony Muchiri directed State institutions to undertake an audit of academic and professional certificates of employees hired in the last 10 years.
"Dismiss from the service in accordance with the provisions of the Public Service Act, the Public Officer Ethics Act and the Leadership and Integrity Act any officer found in possession of forged certificates," Muchiri added in the circular dated October 19, 2022.
State departments and corporations (parastatals) have three months to implement the order that will clean out those with questionable papers from the realms of public service. This circular was apparently a follow-up to another issued on June 27 which required all authorised officers to authenticate academic and professional certificates prior to appointment and promotional decisions in all ministries, departments and state corporations.
To maintain the integrity of the public service, the PSC has called for an audit of academic and professional certificates for all officers appointed in the last 10 years. The institutions are required to submit their respective reports by January 31, 2023, to the PSC and then to establish a routine of regularly reviewing academic and professional papers submitted by those in their employ.
"The Commission notes that the (earlier) circular received little or no traction by all the institutions and stakeholders concerned. This has necessitated a general public perception of the integrity of academic and professional certificates of a number of persons holding public offices," said Muchiri.
The circular is copied to the Chief of Staff and Head of Public Service Felix Koskei, the Cabinet Secretary in charge of Public Service and Gender, the Commission for University Education CEO Mike Kuria, the Secretary of the Kenya National Examinations Council and all heads of human resource management in the ministries, State departments and agencies.
The Commission further asked the State institutions to continuously scrutinise academic and professional certificates prior to appointments and promotions.
"They (Institutions) will be required to file the same through the Compliance and Quality Assurance quarterly," the PSC said.
It is a directive that is likely to rattle the ranks of the civil service where recent years there has been widespread claims of officers building enviable careers on the strength of fake certificates.
While public officers found to be in breach of the law are usually allowed to stay and the matter hushed or they are eased out with minimum drama, recent years have seen a spike in public interest litigation to force out culprits based on the Chapter 6 provisions of the Constitution 2010.
Related Topics