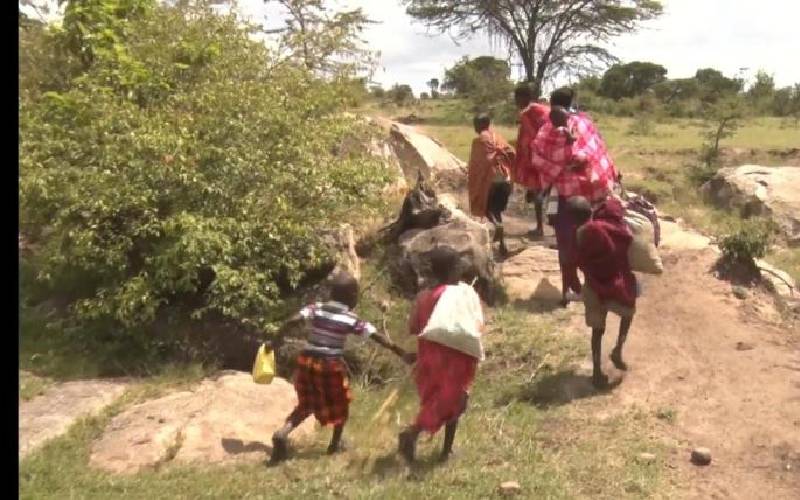 Kenya has increased security on the border with Tanzania in Narok, as Ngorongoro Conservancy evictees cross over.
Security personnel were deployed in Olposimoru to monitor movement of the Tanzanians, with reports of mass eviction of the Maasai community that had been residing in the conservancy.
Maasai leaders claimed the land had been sold to a Dubai investor and lawyers who spoke to the press recently threatened to sue the Tanzanian government.
Yesterday, Narok County Commissioner Mr Isaac Masinde, who also chairs the County Security Committee, said they had received more than 400 refugees in camps at Olposimoru.
He said there was need for Kenyan top leadership to discuss the matter with Tanzanian authorities. "We have channels the leadership can use and solve the problem with Tanzanian leaders. We warn those coming in not to carry any weapons. Our security officers are on the lookout," said Mr Masinde, adding that Kenyan laws must be followed to the letter.
He said the country will only receive refugees who are injured or have health issues requiring medical attention. "The sick and the injured will be offered treatment at Olposimoru health centre, while the critically ill will be taken to Narok County Hospital. The rest are advised to find their way back home," he said.
Mr Masinde warned politicians against politicising the matter, and urged them to keep off diplomatic issues being handled by the Ministry of Foreign Affairs and Tanzanian authorities.
"Kenya, as a country, has a way of handling such sensitive issues and not through politics," he said.
Ngorongoro Conservation area is Tanzania's primary tourism destination, as it attracts many visitors, investors, hunting groups, and hoteliers, all bringing millions of dollars through fees. It is located between the Serengeti and Kilimanjaro.
The Tanzanian government's renewed attempts to evict the Maasai in Ngorongoro was met with protests locally and abroad.
Behind the anti-eviction slogans chanted by the Maasai is demands for reforms, transparency and accountability from the government.
Since taking office last year, Tanzania's President Samia Suluhu has maintained the need for conservation, hinting at changing the multiple-land-use status of the area.
She has also toured United Arab Emirates, whose royalty has held hunting rights in Ngorongoro; and the US, which comprises the lion's share of visitors, inviting them to invest in the region.
Related Topics