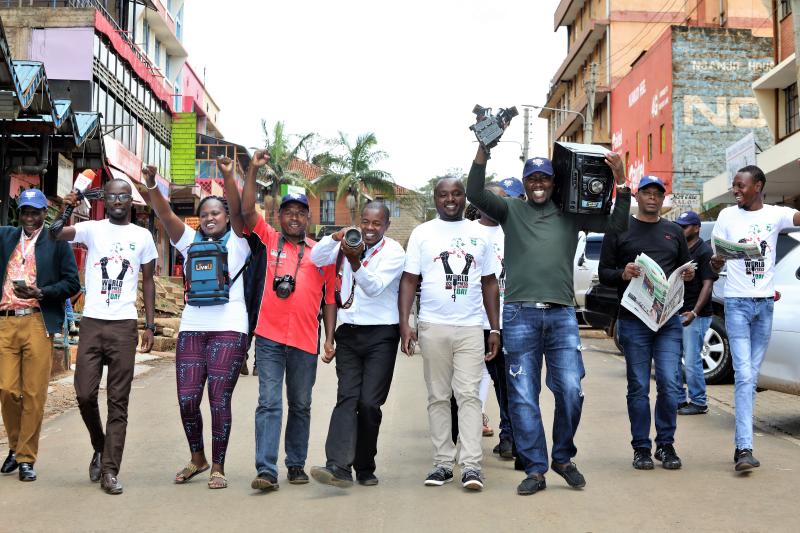 The World Press Freedom Day was marked yesterday with a call to governments to stop harassing journalists.
Scribes attending a conference in Tanzania said journalists were increasingly becoming soft targets while the Eastern Africa Editors Society (EAES) reiterated the bottlenecks placed by governments to frustrate journalism.
This year's theme was "Journalism Under Digital Siege", with a focus on impact of technological development.
Journalists attending Africa Media Convention decried frustrations in the profession, which has in turn eroded rights to freedom of expression and opinion, access to information, assembly and association and to political participation. "We recognise the urgent need for enhanced collaboration between media in Africa, governments to mitigate the effects of the digital siege on journalism and the media," the journalists said in a statement.
They resolved to collectively deliberate on and submit multi-stakeholder solutions to challenges facing media in Africa. "Commit to the achievements of Sustainable Development Goal 16.10 which calls on States to "ensure public access to information and protect fundamental freedoms, in accordance with national legislation and international agreements".
They agreed to jointly carry out an annual independence press freedom and safety of journalists' assessment based on indicators agreed on, advocate against laws and practices that hamper the ability of journalists to operate safely and freely, including in the digital domain; and strengthen the engagement between the African media networks and the African Union.
There were also calls to take strong steps to prevent and eliminate online attacks against journalists, who are especially violently targeted online and offline.
The region, according to EAES, has witnessed detention of journalists in Rwanda, Ethiopia and Eriteria since 2001, while in Kenya, media regulation is going through new stress. "In Ethiopia, Amir Aman Kiyaro of the Associated Press and freelancer Thomas Engida have been held for months since being arrested in November 2021 without any formal charge, although the police accused them of promoting terrorism," said Mr Churchill Otieno, the EAES chairperson.
In Uganda, authorities arrested eight journalists in March for "involvement in offensive communication and promoting hate speech". The editors' regional body identified the journalists as Mukose Arnold, Faridah Bikobere, Jeremiah Mukiibi, Tumusiimi Kato, Tulyahabew Roger, Nabukeera Teddy Teangle, Lilian Luwedde and Wabyona Jeje Jacob.
Somali journalist Abdiaziz Mohamud Guled was killed in a suicide attack last November while last month, freelance cameraman Zakariye Mohamed Mahamud Moalim was killed in Mogadishu.
Related Topics