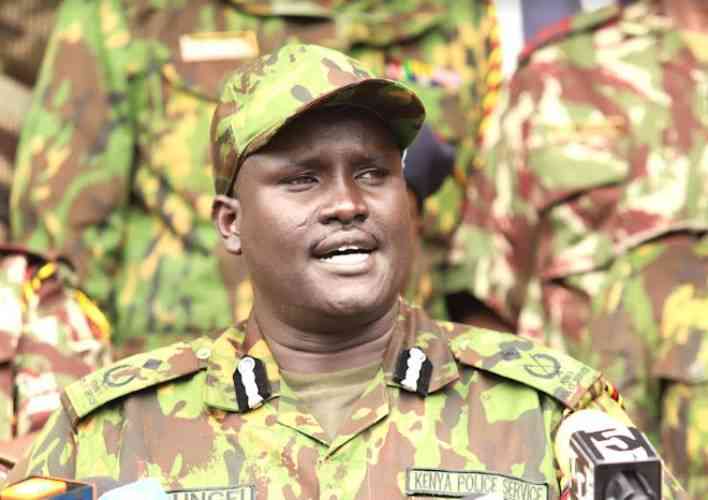 Nairobi police boss Adamson Bungei has issued a warning to Azimio leaders who plan to engage in mass action on Tuesday.
During a press conference held in Nairobi on Sunday, April 30, 2023, Bungei stated that although the Azimio team had given notice to the police beforehand, the right to assemble is not absolute under the Constitution.
"The Azimio protests were nothing but peaceful as such by this letter we are declining to allow Azimio team the go ahead to proceed with the demonstrations and any such demonstration will be dispensed by law enforcement officers," said Bungei.
Bungei declined to allow the Azimio team to proceed with their demonstration saying, any such demonstrations will be dispensed by law enforcement officers.
He observed that previous Azimio protests were marred by violence, with protestors armed with machetes attacking innocent members of the public and destroying property, resulting in the death of several Kenyans.
"The Public Order Act, Section 5a, seeks to regulate public meetings and processions by providing for the need to notify the Police Service and also the power of the Police Service to stop or prevent a public meeting where appropriate and where is obvious it will not meet the Constitutional objectives," he added.
Bungei's statement comes days after President William Ruto warned the Azimio la Umoja coalition against staging protests as bipartisan talks take shape.
Speaking in Kajiado on Friday, April 28, the Head of State called out the Raila Odinga-led coalition for the destruction of property and businesses in several parts of the country as a result of their previous demonstrations. Ruto warned that he had entertained their nonsense for too long and that enough is enough.
"I heard that they want to protest in the city center, let them try it. We have entertained their nonsense for so long. This time around I am saying enough is enough," Ruto warned.
Despite the warnings, Azimio leader Raila Odinga has maintained the coalition would resume protests after what he said was the government's failure to take the bi-partisan talks seriously.
Odinga has threatened to mobilise his supporters back to the streets on May 2, if their demands are not met by then.
While addressing his supporters at Kamukunji grounds, Odinga said that if the Azimio La Umoja team will not hear from President William Ruto on the way forward of their demand, Mandaamano will resume.
Related Topics