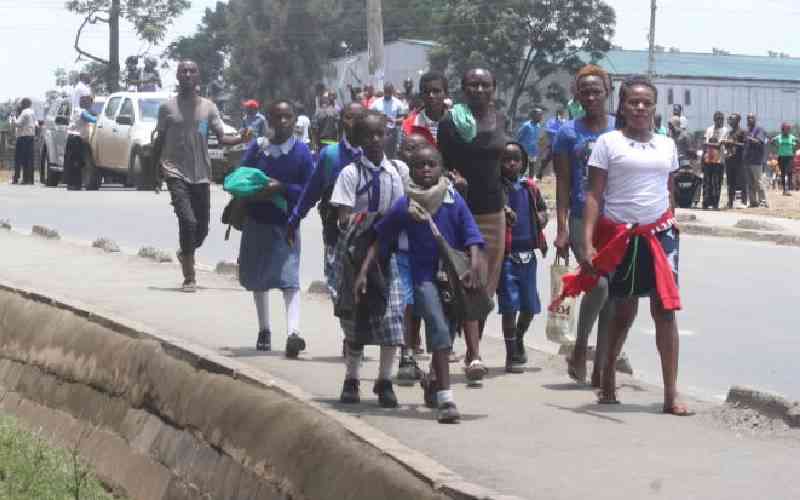 There was disquiet in most learning institutions in Nairobi as city schools remained deserted.
Parents had to collect their children as they feared for the security of their children.
This as Azimio la Umoja One Kenya Alliance leader Raila Odinga led protests for the second week.
The panic came even as the government assured the public that there will be enough security for learners attending classes.
Mostly affected were day schools surrounded by informal settlement. Parents with students in the Central Business District also complained of lack of transport means.
Bidii Primary School in Makadara, a school which has a population of over 2,000 students recorded a poor attendance.
A teacher from the school revealed that all classes recorded such poor attendance that would not warrant any lesson to take place.
''On a normal day, we usually have 60 students in a class but today all classes had between six and ten students which forced us to look for something to keep them busy the entire morning session,'' a teacher said.
She further observed that the school administration was forced to release learners to parents after realising that no meaningful activity was going to take place at school.
At Joseph Kang'ethe Primary School in Kibra, most pupils were absent from school. A teacher said even after the school administration appealed for students to report to school, learners declined to show up.
The school which draws the majority of learners from the Kibra slums, remained deserted as residents engaged security officers in running battles.
''We are in school as usual for class but the parents decided to keep their children at home. We have nothing else we can do, but to suspend learning,'' she said.
The same situation was witnessed at Olympic Primary School where the school remained deserted the entire day.
''The situation around here is not conducive for any meaningful learning to take place,'' a teacher said.
But even for those who were present, the schools administration had to hurriedly make arrangements of how learners would get back home before the normal day programme.
At Consolata School, Westlands, school principal Grace Murianki urged parents to take their children back home.
''Owing to the current uneasy situation, we request that you pick your son/daughter at 1.30pm today March 27, 2023 to ensure an uninterrupted journey home. We sincerely apologize for the inconvenience,'' Murianki said.
The same was replicated at Loreto Convent Msongari, the school principal, Mary Mutuku had to make a communication to parents of an abrupt interruption of classes.
''This is to inform you that learners will be released at 2.00pm today. This is due to the uncertainty of the day. You are requested to make arrangements to pick your child then, learners on the school transport, will be dropped off early,'' Mutuku said.
Other schools decided to offer remedial classes for learners who reported to school.
''We have been listening to the happenings on the ground and we have come to the conclusion that even if the roads are clear now, no one can predict what will happen later in the day,'' reads part of the communication.
''We humbly request that the pupils stay safe at home as the school organises how to recover today's work. As for those who managed to come to school we are alert to the surroundings and should be picked by 2.30pm.''
Mary Akinyi, from Kibra said allowing her second born son to school will depend on the development of the day.
''Aim weighing the situation before I decide whether I will allow my son to school tomorrow because the sight of these security patrols is an indication that it may not end up well,'' Akinyi said.
Faith Wanjiru, Education Officer, Lang'ata Sub County noted that the majority of schools reported over half population attendance saying it is only those schools domiciled in Kibera which were affected.
''The other part of Lang'ata apart from Joshua Olum Primary which recorded 30 percent, the other schools have recorded between 50 to 80 percent attendance,'' she said.
According to Wanjiru, the data from head teachers indicate all schools including St Mary's Karen Primary and Ngei Primary Schools.
Related Topics