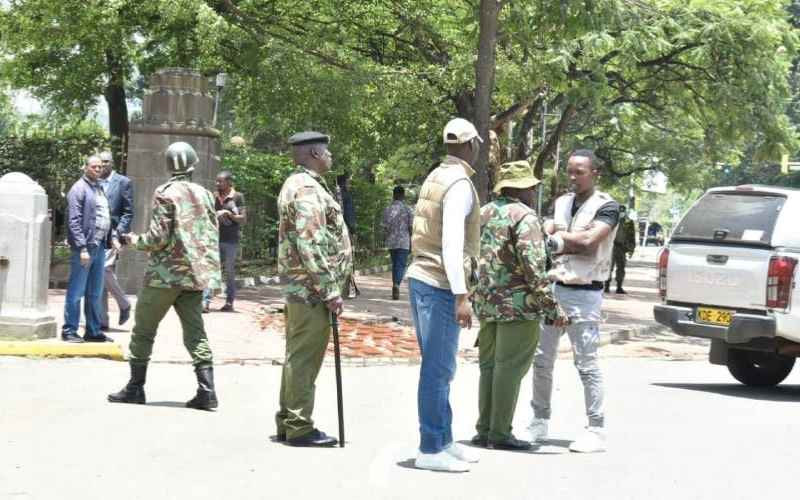 Journalists covering the Azimio protest in Kibra, Nairobi, have been attacked by goons and their property stolen.
The incident has left one of Citizen TV crew members injured and a mobile phone stolen.
The Standard's photojournalist Denish Ochieng says a reporter from an international media house who was in the company of the Citizen TV crew was also caught up in the incident.
"This thing happened so fast and people scattered for safety. One of the crew members got hurt, lost his phone and Citizen TV's car was also vandalised," he says.
Royal Media vehicle vandalised
Pictures circulating on social media show a Royal Media Services vandalised. Citizen TV senior Political Reporter Seth Olale who was part of the crew has confirmed the incident via a tweet saying, "we have been attacked,"
Security authorities have not commented on the incident and attack on journalists covering the protests. The Standard has learnt that an Inooro TV reporter and a cameraman are among those injured.
At the same time, Africa Uncensored co-founder and veteran journalist John Allan Namu has criticized police hostility towards journalists covering the protests. Two Africa Uncensored journalists had been arrested while on the line of duty in Mathare slums.
"Our @afunceensored journalists, Calvin Rock and Clint Obere have been arrested by police while covering protests in Mathare. We aren't sure where they are being taken at the moment. This is uncalled for, an affront to our freedom to do our jobs. They need to be released now," Namu's tweet reads in part.
Elsewhere, a Nation reporter covering the protests in Nairobi CBD complained of police harassment. On its live blog, Nation Africa reported that the journalist had been asked by police to delete images captured and destroyed their press cards.
Related Topics