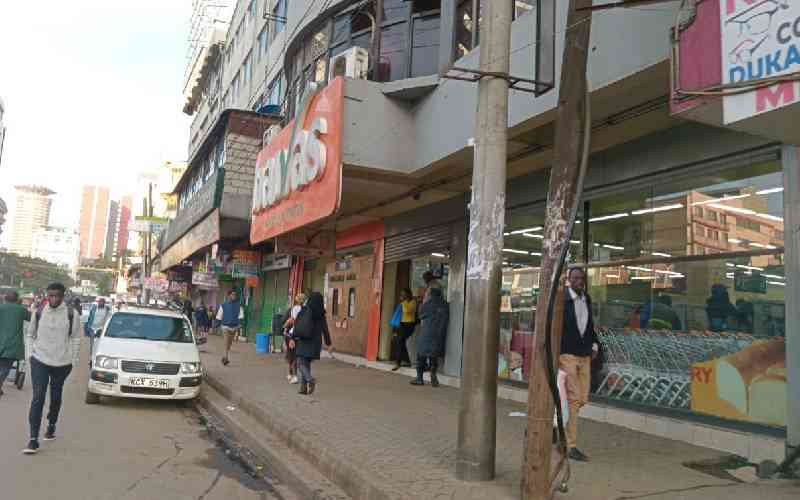 As the anti-government demonstrations in Nairobi enter the second week, all quaters seem to be ready for any eventuality.
A spot check by the Standard on the city routes and the city centre paints a different picture compared to last week.
From Moi Avenue towards the Central Business District, Anti-riot police are stationed with the majority standing outside Hilton Hotel, where job seekers usually rest.
"They were here as early as 6am. It is very different from last week when the officers arrived much later," a security guard along Mama Ngina Street told The Standard.
"We hope there will be no disruption because our businesses will be affected," Andrew Kibe, a trader along Kimathi Street, said.
On Sunday, Inspector General of Police Japhet Koome reiterated that the protests by Azimio remain illegal.
In a briefing to journalists on police preparedness on Sunday morning, Koome warned that anyone found breaching the law will face consequences regardless of societal status.
Koome said the issues being agitated by Azimio leader Raila Odinga are political issues that should be handled through the appropriate political channels.
But Raila maintained that peaceful mass action will proceed as planned.
While dismissing Koome's remarks that termed the protest illegal, Raila said the movement had served the police with the mass action notice in time.
The grand standing has caused anxiety especially among businesspersons who fear that their premises would be broken into.
While a section of electronic shops in downtown were not opened as usual, some have opened, but staff watching from outside.
Some supermarkets within the centre were open for early morning customers among them those along Ronald Ngala Street.
In uptown, the cops were seen patrolling in two's armed with teargas on their waists and clubs in hands ready for the day.
On city routes, some matatus were spotted parked on petrol stations while a few operating as usual.
In Eastlands, city residents who rely on Commuter trains were notified that normal services would not be available.
Around Wakulima and Muthurwa markets, activities were usual as traders offloaded goods from parked tracks.
Wakulima market Chairman Cyrus Kaguta said traders usually protect their wares whenever there are such demonstrations.
"Traders around Wakulima and Muthurwa markets usually protect their goods from opprtunists unless in few areas along Haile Selassie," Kaguta said.
Raila said the Monday and Thursday will continue until President William Ruto's regime lowers the cost of living.
"We will not have a country if we do not fight against bad governance. We are not looking to cause anarchy in the country; we are fighting for our rights and we have the right to tell Kenyans the truth," Raila said.
Related Topics