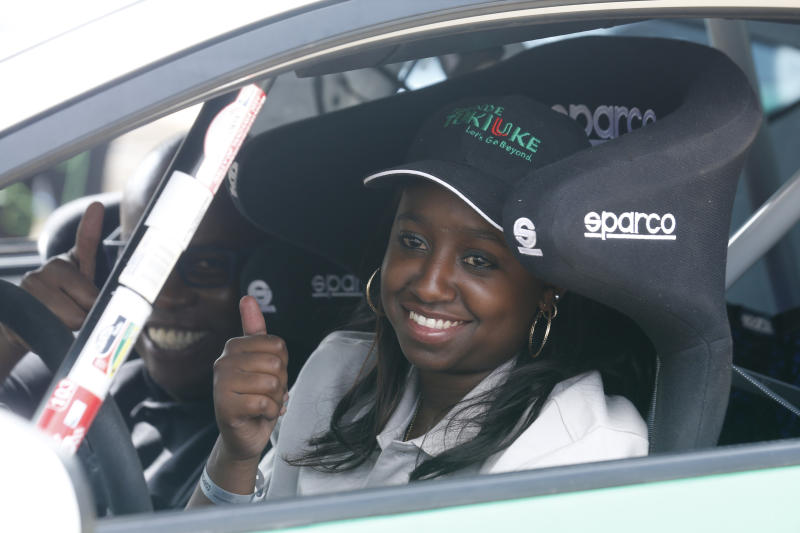 Lioness Rally champion Maxine Wahome cannot keep calm after receiving a brand new Ford Fiesta R3 beauty from world motorsports governing body FIA.
With the present, the former national motocross champion feels her time has come to shine in the sixth leg of the World Rally Championships, the Safari Rally, in Naivasha next week.
"The vehicle has boosted my confidence to the rooftop. I'm so much excited. I can't wait to see how the new beauty performs in Naivasha," she told Standard Sports.
Wahome had a feel of the road warrior at the Kasarani Stadium on Friday where she was part of the four FIA Young Stars Program drivers supported by the mobile services providers Safaricom and national carrier Kenya Airways.
The companies renewed their support for the drivers to a tune of Sh25 million and Sh20 million respectively.
"The funds will help take care of our training to be better drivers, in the end we also plan to pass the skills to other upcoming drivers in the game," she said.
Wahome has tried the vehicle, flown direct from the manufacturers M-Sports plant in Poland, with no serious testing so far.
"I'm confident the car will not be a piece of work to handle during the Safari Rally. The vehicle will be a whole new experience, I'll get to know more about it's performance day by day," said Wahome.
Kenya Motor Sports Federation and FIA have also flown in rally legend Tapio Takkunen to help service the cars that will be used by the FIA drivers during the Safari Rally.
"I plan to do some serious testing before the rally, even though the venue is still unknown. I will also have a great interaction with the car during the recce in Naivasha tomorrow," she said.
Wahome's target in her second outing in the Safari Rally is a top 20 finish.
"I have planned to end the championships with a better ranking this year," she underscored.
Wahome feels proud to have finished the rally last season even though local drivers were barred from taking part in some stages on basis of their speed which could have clashed with performance of some top WRC drivers who were battling for honours in the competition.
"Last year's event was very smooth for me, I had a Subaru Impreza N10 which did the job very well," she said.
"But this year, I expect to surpass that performance as I have a better machine that is ready to roar in the Naivasha jungle."
Wahome is also taking into account some of the lessons learnt in the Safari Rally last year, key among them is the consistency in performance.
Related Topics