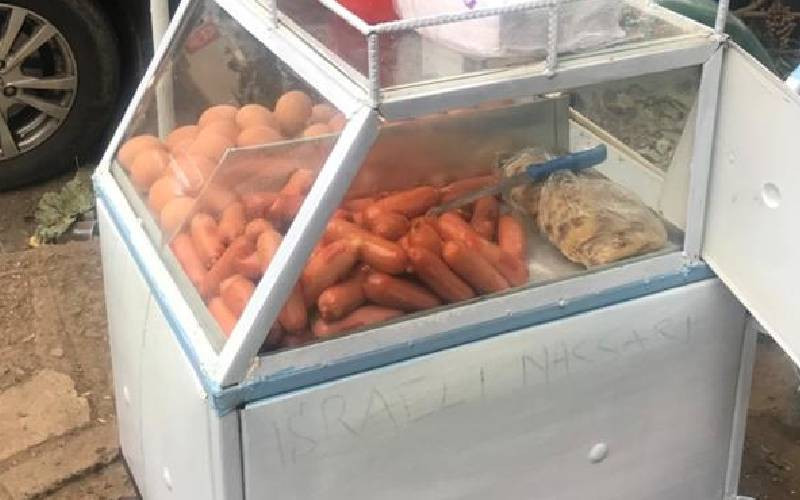 This trolley is a mobile hotel. Let us start by congratulating its designer. I hope he has a patent for it. Notice the three wheels for mobility and stability? Notice the compactness and compartmentalisation? The top is for commonly used items such as salt, sauce and serviettes.
Below is where you place food – well enclosed and affordable. You can see boiled eggs, sausages and chapati, none of which is sold at above Sh30. He even has a dustbin (in green) and an improvised sink on the far left!
You are unlikely to have paid much attention to this trolley, perhaps you think it's a blot on the clean city. But after the following few sentences, you might pay attention. Here is why.
Pay attention to innovation and job creation. Someone designed and fabricated it. These are jobs! And it's proudly made in Kenya. Kenya's elite will not have time for this trolley, they would prefer a hotel – it's "cooler" and more prestigious. In that hotel, they will discuss job creation!
The food sold through this trolley is faster than fast food. Why sit when you can pick your bite and go? This cart is equivalent to M-Pesa. It helped us skip debit and credit cards. It allows us to skip fast food for the fastest food, which is healthier.
The killer punch: "How much do you make in a day?" I asked the young man behind the trolley who preferred conversing in Swahili. 'Between Sh5,000 and Sh7,000," he answered. I quickly did my maths. If what he said is true – which I have no reason to doubt based on the customers who passed by as we talked – he could be earning more than me!
He does not have to wait till end month – we eat daily. And his customers are plenty. With an economy ravaged by inflation, more customers are likely to pass by this trolley compared to a five-star hotel.
Let's stop our idealism and accept that small things drive economic growth, some we ignore or fail to notice like that trolley or millions of hoes that till the land to feed us. We can't see viruses or germs, they are so small but wreak havoc on our lives.
The many small firms like this trolley grow our economy and improve our lives. It's a fact the next regime must keep in mind. Do you own such a trolley? Talk to me.
Related Topics