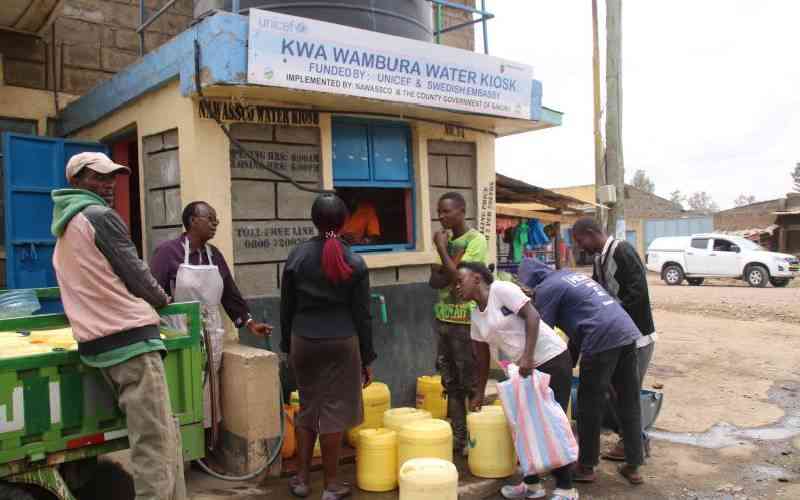 Experts are calling for the conservation of water towers in Western Kenya as a vital mitigation measure against climate change.
According to the experts, the depletion of water catchments in Kakamega, Mt Elgon and Cherangany should be addressed.
Big rivers that originate from the three water catchment areas are drying up as springs face renewed threats.
Mt Elgon and Cherangany Hills forests are among the five major Kenya water towers that give rise to several rivers.
"Climate change is real and we need to move with concerted efforts to conserve the Kakamega ecosystem, Cherangany and Mt Elgon water towers that are facing threats as a result of human activities," said Humphrey Buradi, The Water Project regional director.
He went on: "Mt Elgon and Cherangany water towers have been adversely affected by a population explosion that has created a demand for more land for cultivation. This has seen water supply downstream decrease over the years and biodiversity support system being affected."
According to Mr Buradi, the Kakamega ecosystem is also under threat from human activities such as encroachment of the forest boundaries, charcoal burning, gold extraction and deforestation.
"I am calling upon Kenyans to plant more trees to give every county a forest cover of 10 per cent and above. The trees we plant should be the right species and on the water catchment areas. Let's plant trees like bamboo," said Buradi.
Tom Musungu, the Lake Victoria North Water Works Development Agency Corporate and Communications manager, said that as a result of depletion of the three water catchment areas, water service providers are experiencing low water levels in rivers and asking the locals to use it sparingly.
"That's not a good sign. Its not the Kakamega ecosystem alone that has been affected, but even other forests in the country. The government alone cannot put in measures to solve the crisis. It calls for concerted efforts," said Musungu.
He went on: "The government is developing infrastructure of ensuring water is available but we may not achieve much if the water towers will be destroyed."
Janet Kayi, the Western Water Sanitation Forum director, said that in order to conserve the three water catchment areas, institutions involved in conservations initiatives should be strengthened through capacity building.
According to a report by the Kenya Forestry Research Institute, the Kenya forest ecosystems contribute around 3.6 per cent of the country's GDP but due to climate change, it is increasingly threatened.
Related Topics