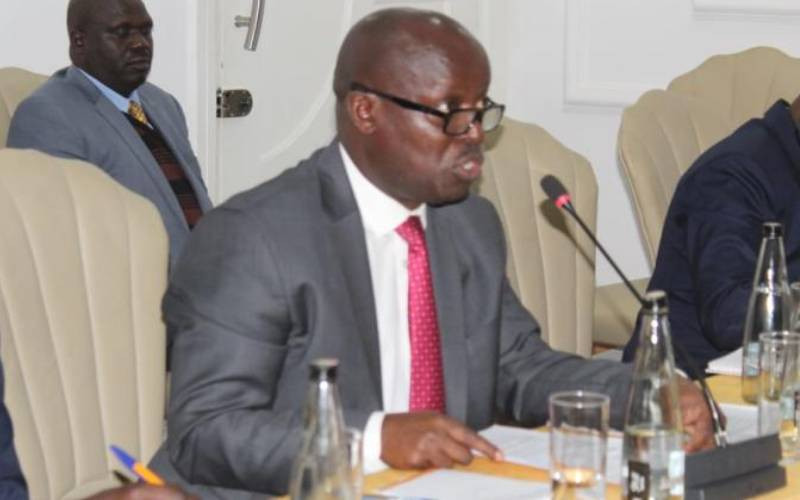 Kenya Seed Company (KSC) Managing Director Fred Oloibe had a hard time Thursday before the Parliamentary Committee on Social Welfare and Agriculture.
The committee, led by its chairman Emmanuel Wangwe, took him to task to explain how he has been able to deal with issues of ethnicity in the parastatal that is based in Kitale, Trans-Nzoia County.
The committee of 15 members sat at Weston Hotel in Nairobi together with three auditors.
''The question of ethnicity as I said Mr Chairman is a historical one but we are making progress in addressing it through affirmative action and we also advertise vacancies in national newspapers,'' said Mr Oloibe.
Oloibe said he rose through the ranks to be confirmed managing director in 2021.
Ethnicity was just among 16 audit queries raised by Auditor General Nancy Gathungu in the 2018 -2019 financial year report.
According to Gathungu, more than half of the seed company's employees are from one ethnic community.
This, she said is a breach of a legal requirement for diversity in sharing of jobs in public entities and state-owned firms under Mwongozo Code of Conduct.
The report found that out of 351 permanent employees, 202 (58 per cent) are from the Kalenjin community.
Other audit queries were an unconfirmed investment in subsidiaries of the company including Simlaw Seeds Kenya, Kibo Seed Tanzania, Simlaw Seeds Uganda and Kenya Seed Rwanda.
Failure to appoint managing directors and company secretaries for subsidiaries was another audit query, in addition to unmitigated financial losses
Ownership of land, where parcels measuring 364.99 and 192 acres located in Entebes and valued at Sh186.5 million were not provided for audit.
Missing logbooks and irregular procurement of consultancy of services were also listed among audit queries.
Others were long outstanding imprests, the irregular composition of the board of directors, irregular salaries increase by top management and failure to transfer unclaimed dividends amounting to Sh9 million to the unclaimed Financial Assets Authority(UFAA) as required by law.
''Going forward, we are now well guided and we shall not increase salaries without the guidance of the Salaries and Remuneration Commission(SRC). What they have not given us we are not going to touch it Chairman and I can assure you from that time to now, nothing of the nature has been done,'' said Oloibe.
The MD said the government through Agricultural Development Corporation (ADC) hold majority shares at 52.88 per cent.
''This is followed by Kenya Farmers Association (KFA) at 15 per cent, Soit Kenya Ltd at 4 per cent and others less than 1 per cent,'' he said.
Mr Wangwe said they will call back the MD and his colleagues after 14 days to shed more light on queries that were not clarified
''The serious issue we have noted is of governance. The corporation is existing without a full board of directors, with no non-independent director existing. They should be nine as per Mwongozo yet they are only four and this is due to failure by the previous government to appoint them and it's upon President William Ruto to do so,'' said Wangwe.
''We also found another issue of governance where Kenya Seed Company board members transgress to become board members in the subsidiaries outside Kenya.
Wangwe said they have given the MD 14 days to avail them of the company's organogram, occupancy and position details in terms of ethnicity so that they can be able to look at and recommend the way forward on the same.
He added KSC is the fifth State parastatal among the 109 they are doing a report on, which they expect to be complete by June 15 for Kenyans to know their current status.
He said they have already done this for NCPB, Kalro, KEPHIS and NHIF, NSSF, KNH, and KMT among others are next.
Related Topics