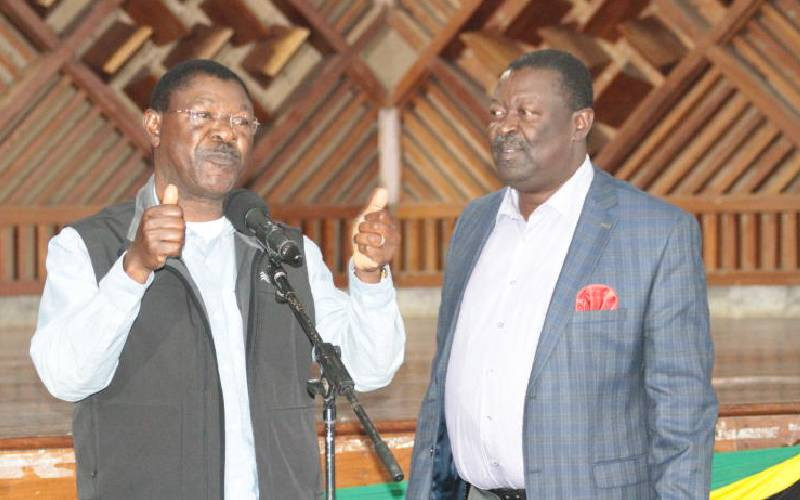 Expectations run high for Prime Cabinet Secretary (PCS) Musalia Mudavadi and National Assembly Speaker Moses Wetang'ula in the Western region.
They are under pressure to deliver for Kenya Kwanza administration in the expansive region considered to be Azimio leader Raila Odinga's political stronghold save for Bungoma County which voted for President William Ruto to the last man in the August 9, 2022 polls.
Some residents and a section of elected leaders feel Mudavadi and Wetang'ula are not doing much in ensuring Western gets its rightful share of the national cake.
A section has challenged the duo to push for the implementation of 30 per cent of government as captured in a pre-election agreement reached between them and Ruto.
Led by former Kakamega governor Wycliffe Oparanya and other politricians majority elected on an ODM ticket said Mudavadi and Wetang'ula should explain to the region the progress made so far on the implementation of pre-election pledges the president made in the run to the polls.
"Ruto pledged to give Western 30 per cent of government if he emerged the winner, we expected the region to get more government appointment slots, however, that did not happen because we got only three cabinet slots out of 22 instead of at least seven," Oparanya said at a thanksgiving party for Khwisero MP Christopher Aseka.
According to Oparanya, Western deserves its rightful share allocation from the government as a region whether the campaign pledges are met or not.
"We got a raw deal in government appointments but we demand our share from Kenya Kwanza administration without conditions," argues the former county chief, a close ally of Raila.
His sentiments were echoed by MP Aseka saying the region expects the government to revive collapsed industries, and development projects including tarmacking of at least 1, 000 kilometres, and more appointments of people from Western into government as earlier promised.
The lawmaker said they are looking up to Mudavadi and Wetang'ula to ensure that the promises are fulfilled to the letter.
"We would like to see more of our sons and daughters absorbed in government and our industries up and running among other things," he said.
Former Defence Cabinet Secretary Eugene Wamalwa in his sentiments said Western must let the past pass and focus on the future of the region.
According to him, leaders must see to it that industries are revived to help create job opportunities.
"We must also have a university in each one of the five counties across the former large Western province, so far, only Trans Nzoia lacks a university," he said.
The leaders further challenged Mudavadi and Wetang'ula to champion the region's political and development agenda.
The two leaders have been making visits to counties in a bid to consolidate their base and ensure the people of Western work with the government of the day.
Wetang'ula was at Lirembe Friends church in Kakamega County last weekend accompanied by lawmakers and a host of MCAs allied to both Azimio and Kenya Kwanza political formations.
They challenged Wetang'ula to ensure favourable laws and Bills are passed in parliament for the good of the region's development.
Mudavadi, who was expected in Busia County on Friday, is arguably the highest-ranking politician from Western and local leaders believe he has all it takes to prop his image and become the politician to beat in the 2032 presidential race.
The former ANC party boss will meet elders in Busia ahead of President Ruto's planned tour of the border county which overwhelmingly voted for Raila in the last elections.
He is expected to reach out to local leaders and convince them to jump ship and work with the government.
Ruto's planned visit has divided Busia leaders over the wish list to be presented to the head of state next month.
Both Mudavadi and Wetang'ula have challenged local politicians and residents to embrace unity for the region to benefit from development projects.
Wetang'ula argues that the time for politics is over and that leaders must work together and agree on how to improve the lives of the people "and that can only be realized if we read from one script."
"We have bigger numbers compared to Nyanza and Rift Valley but other regions take advantage of our disunity to benefit as we watch, Bungoma alone tilted the presidential results in favour of the Kenya Kwanya Alliance when Kakamega, Busia, and Vihiga appeared to take a different direction."
Wetang'ula has vowed to traverse Busia, Kakamega, and Vihiga to engage locals and convince them to put their votes in one basket together with Bungoma and Trans Nzoia in 2027 and 2032 respectively.
Mudavadi had earlier told local leaders and residents that their support will give him the much-needed bargaining power in government. Both leaders have assured the region that promises made by the president will be delivered.
Related Topics