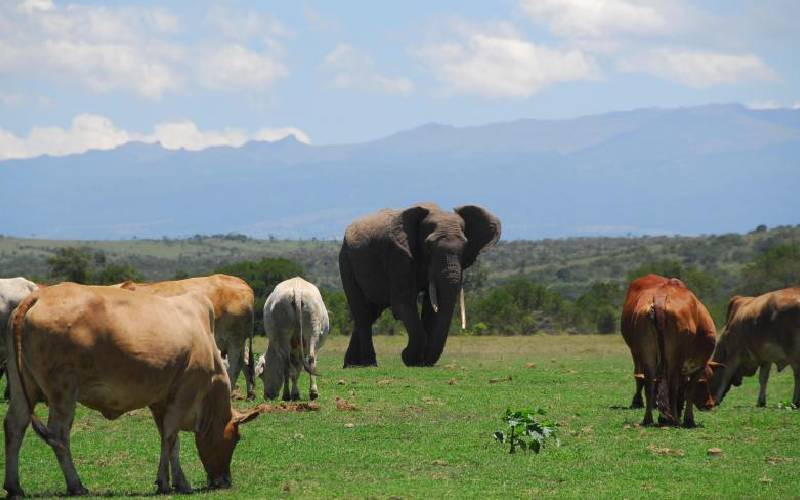 When wildlife conversation issues come up, most people quickly think about animals and their forest habitats. They rarely relate the debate to their own livelihoods.
However, Paul Wachira, a Community Development Officer at Loisaba Conservancy in Laikipia county, says it is very much about improving people's quality of life.
"Conservation isn't really about animals; indeed, it is about people. Without people, there would be no need for conservation," says Mr Wachira.
Loisaba Wildlife Conservancy has been in existence since the 1970s, and the local population have been key to its success.
In this 57,000-acre wilderness, locals not only exist in harmony alongside wildlife, but they also enjoy the benefits of conservation.
Despite the county's natural beauty, Laikipia is prone to cattle rustling pitting several pastoralist groups.
However, Loisaba conservancy has made a valuable contribution to security, as residents can call on Loisaba's team of rangers, tracker dogs and patrol aircraft in case of trouble.
Radio operator Linet Mukoma says in response to a community emergency call, she "passes on the information to the head of department who immediately deploys a ranger squad."
In 2021 alone, Loisaba security teams recovered over 360 stolen livestock and arrested 18 suspected bandits. The rangers also assist in countering human-wildlife conflicts, and last year they responded to 93 per cent of such incidents.
Laikipia is home to semi-nomadic pastoralist communities who rely on their livestock for survival.
Due to the harsh, semi-arid environment and overstocking of animals, the communities find themselves in unsustainable and overgrazed spaces.
In response, Loisaba has set up a livestock grazing programme whereby the conservancy allows pastoralists, mainly from the Samburu community, to herd cattle into its pastures, even during the dry seasons.
It also 'adopts' cattle steers, which are then fattened up and eventually sold for beef. The proceeds are then passed back to the owners.
In 2021, Loisaba's grazing programme supported over 500 households, a scheme that has continued during the ongoing severe two-year drought.
The current drought has hit Laikipia hard; pastures have dried out, causing the death of thousands of livestock. The coronavirus pandemic also saw most cattle markets close down, grounding the pastoralists' main source of income.
Livestock are a major source of income for pastoralist communities and the backbone of their predominantly milk and meat-based diet.
The conservancy, in partnership with Pankaj Moyo Foundation, has been offering food aid to residents.
Care packages are given to families, which Mr Wachira estimates can last one household two to three weeks.
In recent years, Loisaba has also made major contributions to the county's education sector by awarding full scholarships to 63 children, while also providing 570 students with school meals for a year.
Promising students are also supported through university as part of the education scheme.
Jennifer Muchiri, a student now at Masinde Muliro University, remembers being unable to pay her university fees.
But after applying to the conservancy's bursary scheme, Muchiri was able to raise the fees, and also pay for rent and food bills.
Loisaba further devotes substantial funding into Amani primary school where children from the Samburu, Pokot and Turkana communities receive education.
The school provides an opportunity to break down barriers and promote peace between the different pastoralist communities.
Moreover, the conservancy provides access to medical care to pastoralist communities in the area.
Every month for the past two years, there has been a series of outreach clinics bringing medical treatment closer to community members.
It deploys its team of nurses to treat pregnant women, children and the elderly.
Nurse Kartuma Darbaso says the clinics provide care for up to 250 people in a single day.
The clinics mostly target children, pregnant women, and the elderly. If a patient's condition is serious, the clinic will refer the individual to the nearest suitable hospital.
The conservancy creates other opportunities, including jobs and training for community members, and local procurement of goods and services.
It achieves this while also helping to protect Kenya's cultural and natural heritage, including its rich wildlife.
Related Topics