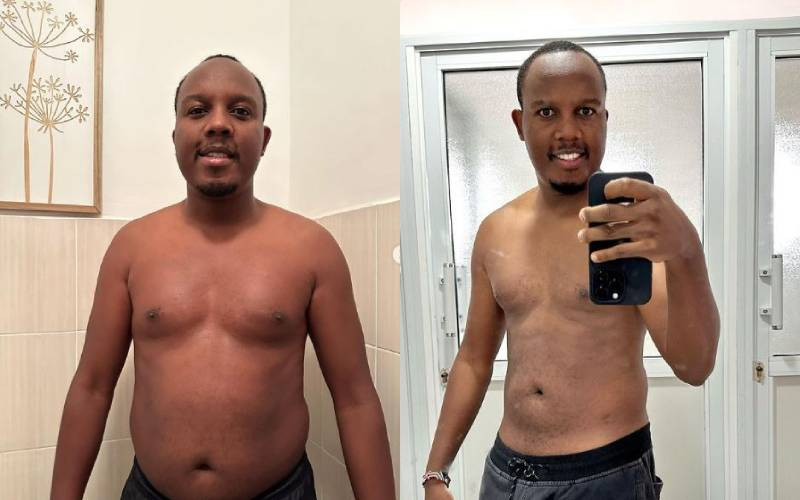 In a recent Instagram post, actor-turned-YouTuber Abel Mutua left his fans astonished as he shared his remarkable weight loss journey.
The celebrity took to social media to recount the pivotal moment that motivated him to embark on a transformative path toward better health.
In his post, Mutua humorously recalled an incident involving a friend and her young son. As he met them, his friend asked her son if he recognized the actor.
To Mutua's surprise, without any hesitation, the little boy enthusiastically exclaimed, "Gavana Waititu!" (Governor Waititu). This hilarious mix-up served as an eye-opening moment for Mutua, propelling him to take charge of his well-being, saying, "That's when I knew I had to do something."
Motivated by this incident, Mutua expressed his determination to make a change. The actor credited three individuals who played a significant role in his successful journey, expressing heartfelt gratitude to each of them.
First and foremost, he expressed his appreciation to his partner, Judy Nyawira, whom he fondly referred to as "love." Mutua thanked Nyawira for being his unwavering gym partner, emphasizing that her support and dedication were pivotal in his progress.
View this post on Instagram
A post shared by Abel (@abelmutua)
With a touch of humor, Mutua playfully admitted that without her, he might have thrown in the towel as early as the third week.
Mutua also acknowledged the indispensable contribution of his personal trainer, Muiruri Karanja, who pushed him beyond his limits.
He urged his followers to seek out Karanja's expertise, recognizing him as a remarkable professional dedicated to helping others achieve their fitness goals.
Lastly, Mutua expressed his deep gratitude to Njeri Wa Gitau, an expert in meal planning all the way from Bidenland (the United States).
He thanked her for providing him with nutritious diet plans and delicious shakes, which perfectly complemented his workout routine. In jest, Mutua confessed to occasionally indulging in these shakes even in the middle of the night.
Mutua's post quickly garnered significant attention and support from fellow celebrities and devoted fans, solidifying his place among the growing number of Kenyan celebrities who have prioritized their health through successful weight loss transformations.
Related Topics