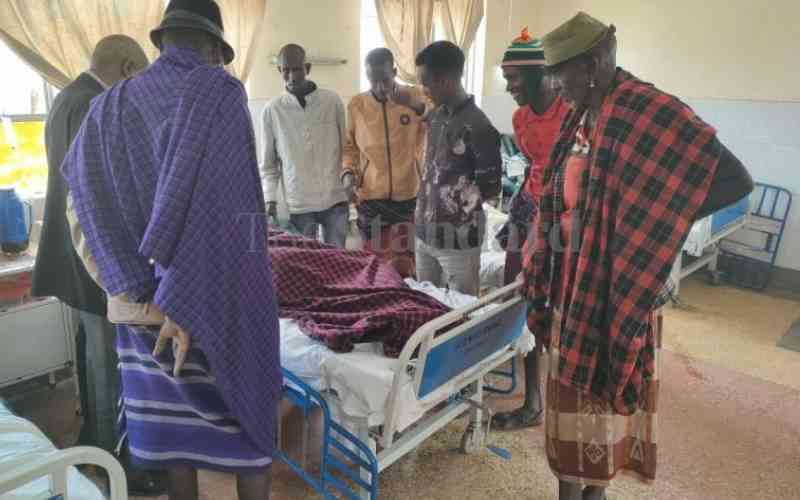 A 10-year-old boy has been killed by suspected bandits at Sarmach along the border of West Pokot and Turkana counties.
The latest attack brings to four number of people killed in Sarmach with more than 400 cattle stolen in two weeks. On Tuesday night, two people were shot dead at Sarmach and Nasacha villages by suspected bandits. This comes a few days after Defence Cabinet Secretary Aden Duale visited the region.
Tension continues to build after banditry and cattle rustling resurfaced despite ongoing security operations undertaken by a multi-agency security team.
Residents of Kainuk have deserted their homes for fear of revenge attacks. Among the affected villages are Sarmach, Lami Nyeusi, Kases, Kambi Karaya, Ombolion, Lorogon, Chesegon, Masol, Marich, Lous and Orwa.
Musa Alingura, a resident of Sarmach, says the cause of recent attacks is not known as the bandits don't steal any cattle but abduct children.
"Bandits have resorted to dirty tactics because they believe by abducting and killing children, they do away with those who take revenge on them in future. No parent wants to see their child go through torture in the hands of bandits," he said.
Many residents narrated how banditry has shattered their dreams and called on the government to fulfil its pledge to restore calm. "We are tired of killings and raids along the Pokot-Turkana border... We don't sleep in our houses. I have not slept in my house for the last seven months," said Paul Lokwata.
Locals accused leaders of incitement, which has led to animosity between the two communities. They now want the government to compensate victims of attacks, saying their livelihoods have been destroyed.
Another resident, Jacinta Longuliamuk, said they are saddened by the loss of lives and destruction of property along the volatile border. "The government is not doing enough despite our losses. Why kill innocent children and women? I feel bad for our children we bore from our wombs, who are mercilessly killed," she said.
Sekker MCA Jane Mengich called on the government to deploy enough police reservists. West Pokot Senator Julius Murgor said the government should provide security to affected schools.
Related Topics