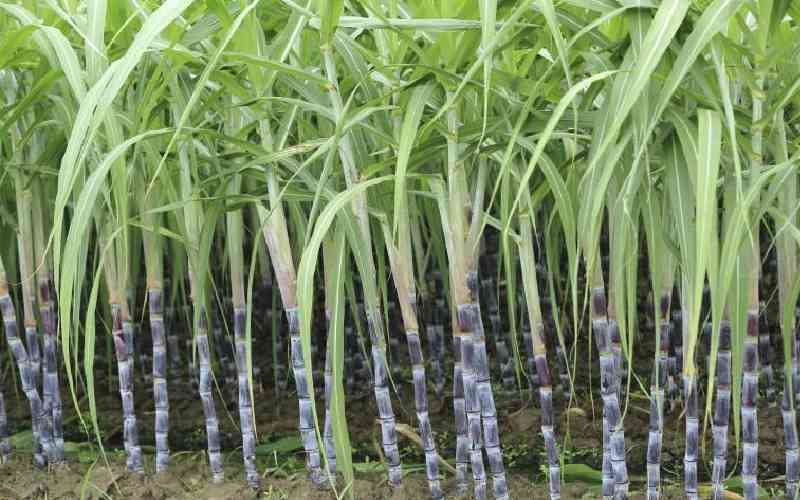 Some maize farmers in Nandi are shifting focus to sugarcane farming, pushed by the unstable maize market and high cost of production.
For several years, the northern parts of Nandi County have been traditionally maize-growing zones. Maize farming has been an economic mainstay for the local residents.
But the perennial challenges that have been ailing the maize sector in the country have forced the farmers to switch to sugarcane farming.
The revival of West Kenya and Nzoia sugar companies in western Kenya have also influenced Nandi farmers to ditch maize farming and in place adopt sugarcane, which they claim is more profitable.
Daniel Metto, a farmer in Kipkaren, said he has hived-off his five-acre piece of land to explore sugarcane farming.
"We found that it is relatively cheap to cultivate sugarcane than maize since we have readily available market. The sugar factories in neighbouring counties are providing farm inputs, and they have successfully won more locals into sugar farming in the region," he said.
It is estimated that over 500 farmers have registered with sugar companies and started planting the crop. The farmers are provided with seedlings and fertilszers, and majority of the locals are growing between one and 10 acres.
"Sugarcane farming is not as costly as maize farming. For the last five years, government stopped fertiliser subsidies, and we had to buy fertilisers at Sh6,000. The general economic situation made maize farming unprofitable," said Mr Metto.
Mary Sang, a resident of Salient village, said sugarcane takes up to 18 months to mature.
"Sugarcane farming is not labour-intensive and returns are much better, unlike maize where post-harvest management is costly," she noted.
The cost of sugarcane farm inputs is between Sh25,000 and Sh30,000. Mrs Sang is optimistic that in the end, the venture will pay off handsomely within the two-year period.
"A tonne of sugarcane averages Sh4,500, and we anticipate to harvest 60 to 70 tonnes per acre of land. We can get over Sh300,000 profit in one harvesting season. We have found the sugar sector as a lucrative farming activity than anything else," she said.
Paul Kerich, also a maize farmer, said the fertiliser subsidy recently introduced by the government will not entice locals to resume to maize farming.
"We have already tasted the sweetness of sugarcane farming; I'm looking forward to major on it. I will only grow some maize for subsistence use and put sugarcane on the rest of the farm," Kerich said.
Nandi Governor Stephen Sang has supported farmers to adopt other sustainable cash crops to enhance their social and economic standards.
"The residents should not be too conservative, rather employ new farming techniques and crops. We no longer expect maize farmers to perennially complain and demand the government to buy their produce, yet we have other crops like sugarcane, avocado and other crops which have readily available market," Sang said recently.
Related Topics