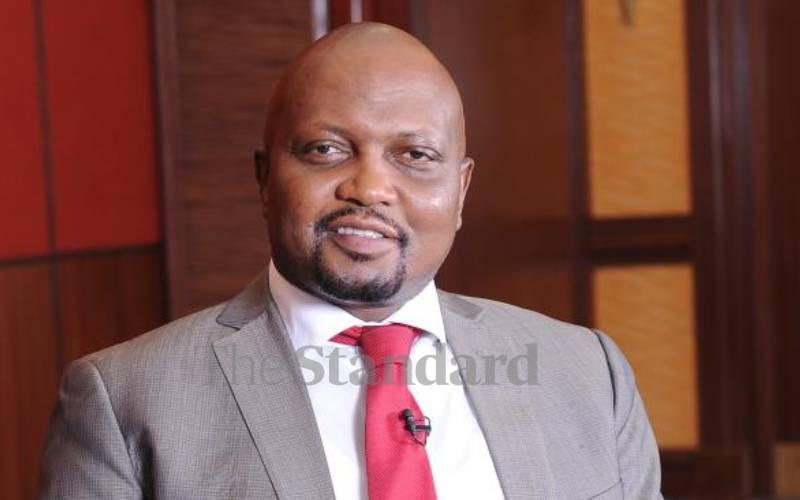 Investments Trade and Industry Cabinet Secretary Moses Kuria is a man with many faces.
To some, he is vulgar -the face of reckless talk and ethnic chauvinism. To others, he is brilliant, articulate and a strategist.
Today, the CS is in the middle of a storm following what Deputy President Rigathi Gachagua among other leaders have cited as arrogance and insensitivity to a citizenry that is battling a high cost of living made worse by increased fuel prices.
Kuria, however, remains unapologetic and has vowed to continue 'advising business based on science not truthful voodoo'.
On Sunday, a perturbed Gachagua warned public servants, without naming Kuria, against chiding Kenyans over the high cost of living. He asked public servants to exercise caution when they 'address their employer; the people of Kenya'.
"Responsible leaders should be sensitive and inspire hope in the people, talking down on the people and demoralizing those who look up to them for solutions and a way out of the difficult situation they find themselves in is not good leadership. Do not spite the people of Kenya," said Gachagua in a statement.
The DP's statement appeared to be in response to Kuria's prolonged harangue on Kenyans on Saturday over increased prices of fuel. Kuria seemed to be 'out of touch' with a disturbed population that needs understanding.
"I repeat. Petrol will be Sh260 by February 2024..." He wrote " El Nino is coming in three weeks which will last till March. These are global and climate change driven,"
In a video that has since gone viral, the CS had also dismissed Kenyans on social media for spending their days complaining. He is seen telling them to drill their own oil well.
"Ukishinda umesema bei ya mafuta imeongezeka kutoka asubuhi mpaka jioni, si uchimbe kisima chako? (When you keep on complaining that the price of fuel has gone up, why don't you just drill your own oil well?)" he said.
And despite Gachagua's statement Kuria through his X account Wednesday defended his stand. He maintained that what he has been saying is based on science and not truthful voodoo.
"August fuel stocks will land in October. The cost is well known and it's scientific". He said, "September shipments will land in November. Costs are also known. From there, we move to Winter in the US and expected stockpiles."
He went on, "And then the bilateral arrangements between Saudis and Russia on one side and China and India on the other hand plus ongoing oil cuts. As Minister responsible for the Private Sector mine is to advise business based on science not truthful voodoo," Kuria said.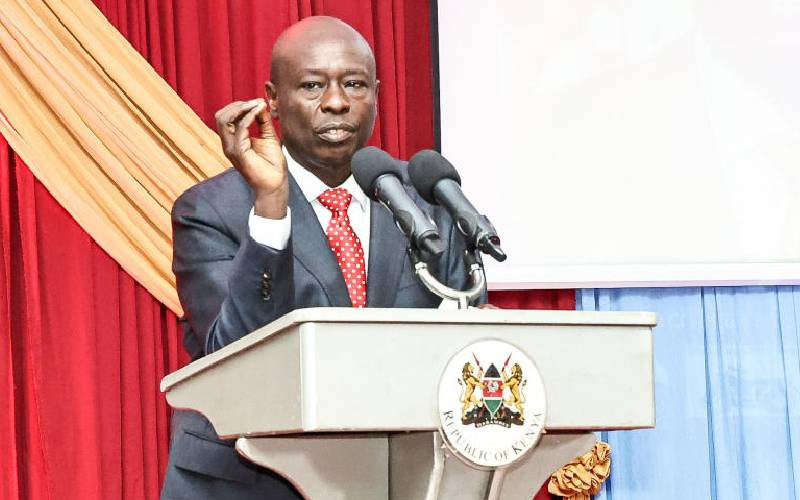 This is not the first time Kuria's acerbic tongue is setting up a duel between him and Kenyans. Many Kenyans have over time termed his remarks reckless and lacking in wit, which perhaps has been his intent all along.
In June, the Cs was at loggerheads with media houses when he compared them with a quote from Thomas Baldwin's 'The Prerogative of the Harlot,'. He said that is 'how the media operates in opposition to what true journalism is'.
While lobby groups, media houses and the Opposition called out Kuria over his remarks, President William Ruto, while attending the Naivasha Safari Rally, came to his defence. He asked the press to simply swallow the bitter pill. Will Ruto this time come to his minister's defense? Kenyans are now asking following Kuria's remarks on fuel prices.
"We must defend the media, the free media. We must defend their right to criticize, to say whatever they want to say, even to write propaganda, even to say the wrong things. We must defend that right." President Ruto said and added
"We must also defend the right of those who hold the media to account. When the media goes rogue we must also defend the rights of people like Moses Kuria to speak their mind the same way we are defending the media to say all the things they want to say including the wrong ones," Dr Ruto said.
Kuria's tongue has also landed him before court to battle charges of hate speech and incitement to violence.
In 2015, Kuria who rose from an altar boy, to a banker and then to Former President Uhuru Kenyatta's MP, and a friend turned foe, was charged for inciting his constituents to use pangas to slash his opponents.
All charges of hate speech were dropped after his lawyers successfully argued that the section of law relied on by the Director of Public Prosecutions to charge their client was rendered null and void by the High Court.
Despite being touted as a rabble-rouser, controversial and a loose cannon, Kuria has had a solid defender in President Ruto. The President has described him as an effective Minister who will drive 'his industrialization, manufacturing, agro-processing and value addition agenda.
Ruto has said the Ministry was key as it contained part of his flagship agenda and that when Kuria does not discuss politics he is "a very serious professional and I have confidence that he'll deliver on our agenda."
"Kuria is a good brain and I have confidence in him," The President said a few months after he appointed him CS " forget about the noise he makes, I promise you he is a good brain and we shall work together in this space,"
In yet another forum, Dr Ruto described Kuria as an effective Minister who had travelled to over 20 countries in Africa on the subject of integration to push for a tripartite free trade area agreement that would give a population of 720 million people a market and the building block into the African continental trade area.
On Wednesday, Kuria, in a phone interview with The Standard, exonerated himself from accusations of being arrogant and insensitive, he maintained that the time has come for people to be truthful and not to give Kenyans false hopes.
"You see, if I lie to Kenyans that the price of fuel will be better, what will I tell them next month when the prices will spike to over Sh220? We must brace for tough times because that will make our people adjust," he told The Standard on phone.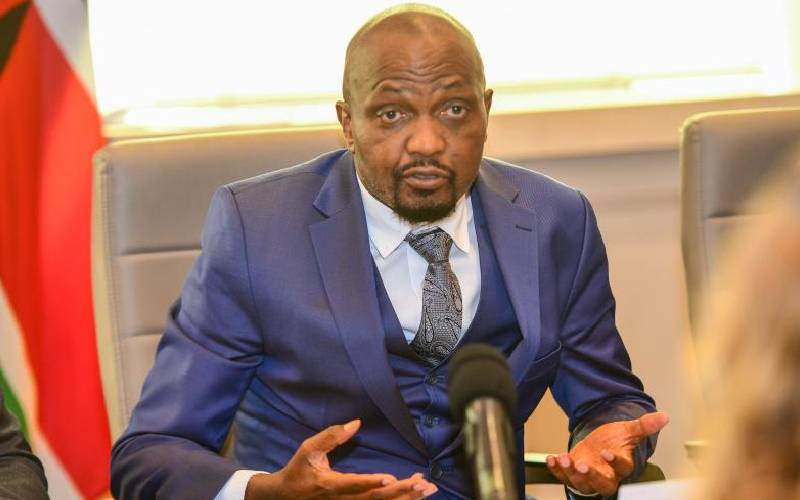 According to the CS, Kenyans from the grassroots were content with his truthfulness and only a few were having issues with him.
Asked about Gachagua's warning to public servants against dressing down Kenyans, Kuria said 'That was his personal opinion and we must respect every opinion'.
Political leaders that have suffered the wrath of Kuria's acerbic tongue include Kiambu Woman Representative Ann Muratha. The MP however says Kuria was 'the only politician who could insult you and continue being friends'
The CS appears to posses the gift of the gab which many believe has been his strongest asset which unfortunately has been cutting him both ways- it also emerges to be his biggest liability.
"I would admire to sit with you (referring to Kuria's mother) so that you can share your journey with Kuria because he is a kind of person who will insult you and you will continue loving him, during campaigns he could insult me unprintable names despite me being a wife of a pastor," Said Muratha during Kuria's thanksgiving ceremony in April.
However, pundits believe due to his mobilization oomph and ability to bond and connect with people, Kuria's 'insanity' is just but a façade.
According to Charles Njoroge, a political analyst, Kuria's political capital is Mt Kenya region where he presents himself as their defender hence the njamba ya ruriri (the community's warrior) title.
"He is like a naughty but very resourceful child whose parents fear for his ability to divide a family, that is why the President may be fearful to crack the whip," said Njoroge.
He noted that while the debate caused by his remarks was hot, Kuria was in Laikipia to launch the County Aggregation and Industrial Park which brought together county leaders. He told the locals that he was whipped from the Transport Committee of the National Assembly by the former President for defending the community's interests.
"By coming across openly as an ethnic Kikuyu chauvinist. This ferocious tribalism he propagates is a deliberate and calculated act which makes him the darling of his community." Said Njoroge "He is just an ugly reminder of the kind of people we love to choose to be our leaders and the President is fully aware of the same,"
During the function in Laikipia on Wednesday, Governor Joshua Irungu and Senator John Kinyua vowed to stand with Kuria should he face any political turbulence.
"We shall stand with you even if you will have to carry your cross for anything. By coming here, you have proved to stand with us as a county and as Mt Kenya region, he who caters for your interests in times of need is your friend and we shall reciprocate with kindness in case of anything," Kinyua said.
Irungu said, "When you need us, we shall be right there to stand and support you because you have been good to us."
The leaders appeared to hint and the possible emerging pressure against the government for the President to fire Kuria - will President Ruto succumb to the pressure? It remains to be seen.
Related Topics