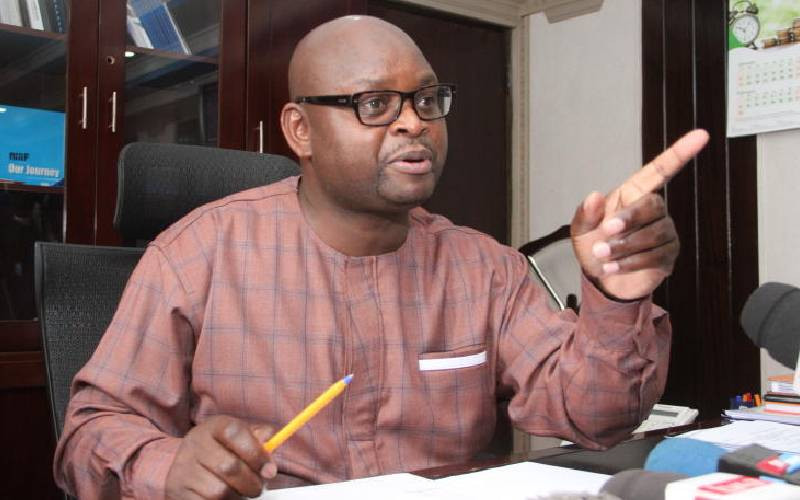 United Democratic Party (UDA) deputy chairman (strategy and planning), Seth Panyako, has resigned citing the plan to pile taxes on Kenyans through the Finance Bill, 2023.
Speaking at the funeral of Maendeleo Party Leader Amisi Omuganda, a brother of Higher Education PS Beatrice Inyangala, on Saturday, Panyako accused Kenya Kwanza leadership of going back on their campaign pledges.
"When we were seeking the presidency just a few months ago, we rode on the promise of making life affordable for the masses whom we baptised 'hustlers' but everything has changed and the party is turning life unbearable for the said 'hustlers'.
"This is the reason I choose to step aside to be on the right side of history, to fight and speak for the liberation of the suffering masses," he said.
Panyako said he first called President William Ruto to inform him of the decision on Friday night after his efforts to share the views of the suffering masses were ignored.
"We told you that the price of unga would drop, promised jobs and everything including bringing down your cost of living has that happened?" he posed to the masses at the funeral.
Azimio leaders Eugene Wamalwa and Wycliffe Oparanya said the cost of living is getting out of hand that even the price of salt - one of the most affordable commodities in poor Kenyans households - has gone up.
Oparanya said the government has lost touch with wananchi and keen on politicking. "President Ruto and his Cabinet members are debating the Finance Bill at a time the public should be debating. Why can't they let the public decide before they comment? The Ruto regime should borrow from the Mwai Kibaki regime," he said.
Bumula MP Jack Wamboka, his Navakholo counterpart Emmanuel Wangwe and Kakamega deputy governor Ayub Savula welcomed Panyako to the "liberation" struggle and asked Kenyans to reject MPs who would vote for the Finance Bill.
While introducing Ruto's appointees and later, during his address, Khwalwe's speech was drowned by shouts of "unga unga".
"If he (Ruto) doesn't tax counties will not run. The president has also delayed bringing county funds," he said.
UDA Secretary General Cleophas Malala confessed that it was true the cost of living had risen and called on consensus among leaders to deal with the mess.
"Most of the MPs in this funeral frequent the State House but hardly mention the rising cost of living to the president. They only cut private deals that don't involve the masses," he said.
Education CS Ezekiel Machogu, who represented the president in the funeral, characterised taxes as a medical jab that the country could not evade if it needs to cure.
"We all know Kenya was sick and we need to give it a jab to heal," he said.
Related Topics