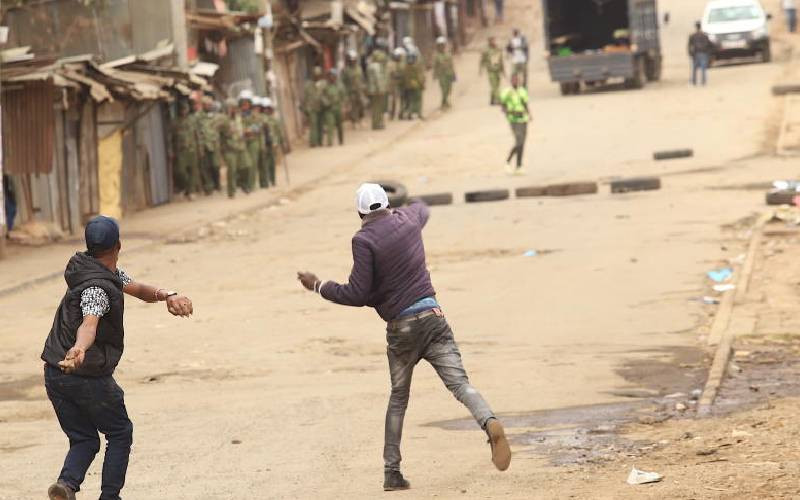 Fears among President William Ruto's allies that dialogue with Opposition leader Raila Odinga will disrupt their succession plans and push them to the periphery are among reasons they are opposed to the talks.
Politicians and pundits argue that personal interests among hardliners in the two camps are another reason the country is still stuck in the campaign mode.
The Azimio leader and his allies have maintained that Ruto's government is illegitimate and he should step down.
"We cannot and we will not participate in a handshake with an illegitimate regime," said Raila even as he told off clergy calling for dialogue. "Our answer to the clergy is in the Gospel of John 8:32."
Last Tuesday, Raila, announced that the anti-government protests will be held twice a week (Monday and Thursday) in response to "public demand" to remove Ruto from power, lower cost of living and electoral justice.
The Opposition chief said he wants the four Independent Electoral and Boundaries Commission who rejected President William Ruto's win and have since left the electoral agency reinstated. He also wants the IEBC servers opened to allow audit of the results.
"Fellow Kenyans, in response to public demand, we will now hold protests every Monday and Thursday beginning next week," said Raila, flanked by his allies Martha Karua, Kalonzo Musyoka, Eugene Wamalwa, Wycliffe Oparanya, and Edwin Sifuna, who have maintained a hard-line position that Ruto was in office illegally.
"Ruto seeks to return Kenya to the old dictatorship. We have put together a team of security and legal experts to determine the orders given by the police that led to the brutality," Raila told the media.
Among Ruto allies who have publicly rejected calls for dialogue are Deputy President Rigathi Gachagua, Prime Cabinet Secretary Musalia Mudavadi, and Interior Cabinet Secretary Kindiki Kithure, who believe that a possible handshake with the Opposition leader will allow him to exert influence over future elections. Other hardliners are UDA MPs who have blamed former President Uhuru Kenyatta for sponsoring the protests.
"If you still assume they are your juniors, you better wake up to reality, and the earlier for you, the better. You can do absolutely nothing to stop them from governing the country," said National Assembly Majority Leader Kimani Ichungwa.
The four hardliners believe Raila is using protests to blackmail the Kenya Kwanza government into a handshake and to ensure that officials of the former Jubilee regime who committed crimes are not prosecuted.
"Talking about a power-sharing deal cannot happen. If they want to call us hardliners, then there is no problem," Gachagua said in Murang'a on March 23.
Political commentator Javas Bigambo said the opposition's demands are meant to whip up emotions since the cost of living cannot come down immediately and that Raila should provide Form 34-A to support his demands for servers to be opened.
Personal reasons
"What Raila is doing is whipping up emotions for political and personal reasons," Bigambo said, adding: "Those calling for talks are not telling us what Ruto and Raila should talk about."
Some Ruto loyalists agrees with Bigambo, claiming that Uhuru was funding demonstrations to make it difficult for Ruto to govern.
"It's high time you accept that Ruto, who was once your deputy, and Rigathi, who was once your assistant, are now the president and deputy," Ichung'wa said.
Ruto has maintained that Azimio has no reason 'whatsoever' to call for protests and that no one is above the law. Gachagua, Musalia, and Kindiki have echoed Ruto's sentiments that the law should be followed, and Raila should accept he lost the elections.
"You want to say that people who nearly cost this country their lives should be reinstated under what law?" posed Mudavadi.
Sources within Kenya Kwanza said Gachagua, Mudavadi, and Kindiki believe that any agreements between Ruto and Raila might make the opposition an equal partner in government and limit their influence as key policymakers.
"The government assures the public of their safety and advises every one to continue with their activities uninterrupted and allow security agencies to discharge their mandate of maintaining law and order," the Interior CS told the press last Monday at the steps of Harambee House, Nairobi, adding: "Any person who incites public disorder or otherwise breaches the peace in any part of Kenya shall be prosecuted."
The four hardliners have maintained that the government will not engage in dialogue with the Azimio leader, whom they accuse of planning to destroy Kenya's economy.
"There is nothing new that Raila is doing. He has never been content with any sitting government since the days of Moi. He has done the same things with the rest of the governments, and he is at it again with the Kenya Kwanza government. All he does is destroy people's property," said Gachagua in Kisii on Friday.
"There was nothing like peaceful demonstrations, and there will never be in this country as long as they are led by Raila," he added. The four hardliners are among leaders already strategising to build a formidable force for future polls.
"This man tried everything, including going to court, but he failed. How do you want to have a dialogue with the sitting president to reinstate people who tried to subvert the will of the people in the 2022 General Election? That cannot happen," Mudavadi said.
"Odinga is blackmailing us into talks, but we cannot fall into that trap. Tell Mr Odinga to stop the destruction of property, the looting of goods, and destroying the economy," the DP said. The President maintains Azimio's planned mass action would yield nothing substantial but only wreak havoc and further destabilise the country's economy. "The protests will not lower the country's high cost of living," Ruto said.
Related Topics