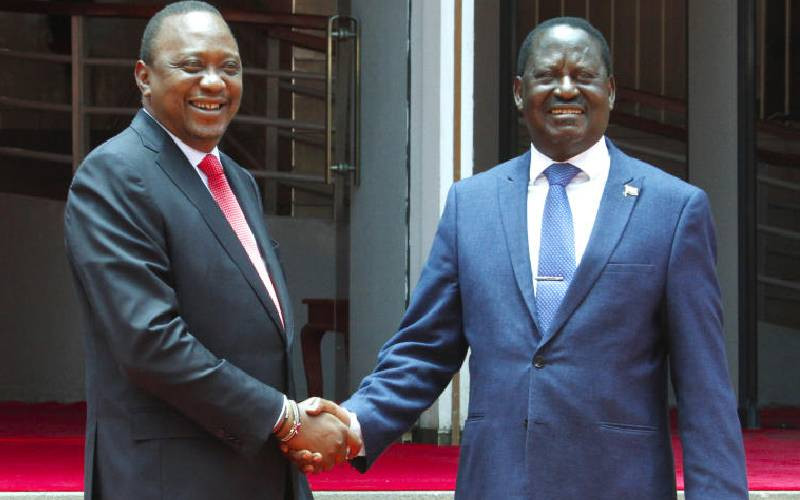 The blast tore through the room. Terrified screams and groans of pain were muffled by a loud bang. The wooden door blew into smithereens as shattered glass flew across the yard. Onyango, covered in soot and blood, dashed out, his huge frame shaking, his legs trembling. His wife and two children staggered behind him.
We silently watched from a distance. Mrs Onyango let out a frightening yelp when her eyes settled on the mess that was her husband and children. Onyango's shirt was torn to shreds. Blood gushed from a gaping wound above his left eye. We eyed each other with satisfaction before sauntering away. We had just actualised our revenge.
Onyango was probably the strongest man in the estate. No one had ever seen him fight, but his sheer height and massive muscles were enough to dissuade even the best fighter from taking on him. He however, gave us children grief. He was the only adult who hated our football. Whenever our ball landed at his door, he would pick it up and cut through it with a knife, then gleefully throw the remains at us.
Tired of his disdain, we decided to exert revenge. We picked up live bullets from the military shooting range and spent cartridges from the urban abattoir. When his wife was lighting the jiko for a weekend meal, we threw our arsenal under the furnace and closed the tiny metallic door. We watched as she carried it into the house to prepare the family meal. Slowly and steadily, the heat gathered, then Boom! We had exercised our collective power. Onyango never crossed our path again.
Fighting for my space in the tough neighbourhood taught me key lessons about power. I grew up studying and observing teachers and politicians. I was lucky too to have grown up in Nakuru, a political hotbed during the reign of Jomo Kenyatta. Our actions against Onyango, were akin to the demonstrations and pressure for change that civil society and the opposition exert on governments.
Onyango, with all his muscular power, couldn't withstand the onslaught and strength of an army of urchins. Since colonial times, Kenyan politics have revolved around power, natural resources and government coffers. Our politicians are the most vicious, cunning and selfish creatures. They quarrel and fight in public, while privately looting and sharing their spoils. They make their followers slaughter each other then shake hands and throw private parties.
The Mau Mau uprising, which was sparked by the ill treatment of communities around Mount Kenya, coincided with the wave of freedom across Africa. The white man had forcefully taken indigenous land and turned Africans into slaves. Men were beaten, brutalised and humiliated. Women were raped and their sexual rights violated. The British atrocities were countless.
Then, immediately after the Declaration of Emergency on October 20 1952, many Kenyans were arrested and transported to detention camps across Kenya. In April 1954, the colonial government launched Operation Anvil, more detention camps sprung up. As the British intensified their brutal crackdown on alleged Mau Mau members, young supporters, and sympathisers, escaped into the forests where, they joined the fighting units of what Mau Mau war general Dedan Kimathi called the Kenya Land and Freedom Army.
Operation Anvil was a reactionary move by petrified colonial forces. The British soon realised that their grip on Kenya was fast slipping away. Professor B.A. Ogot in his contribution in Decolonisation and Independence in Kenya, 1940-93, observes that their military occupation of Kenya could not last indefinitely, "but neither could they return the country to the status quo ante states."
At independence, Mzee Jomo Kenyatta became Kenya's Prime minister and founding president. Mzee Kenyatta needed goodwill from fellow Africans to rule. He also required to marshal support from across Kenya. Before his detention, he had traversed Ukambani to meet an influential Kamba chief Kasina wa Ndoo, to be on his side. During his incursion to Ukambani, he would go with Oginga Odinga, Daniel Moi and other leaders who had galvanised support from smaller communities under Kenya African Democratic Union (Kadu) joined hands with him. He had already consolidated power.
Kenyatta set the stage and pace of power sharing. Being the founder, his actions would prepare the behavioural pattern of subsequent leaders to make promises and proclamations they knew couldn't be achieved. Jomo promised to fight; poverty, illiteracy and disease which he described as the three worst enemies Kenya faced. As he settled into the trappings of power, corruption set in and priorities changed.
With time, Kenyatta sidelined his fellow detainee, Bildad Kagia. Kungu Karumba died and his remains disappeared. Close associates were systematically assassinated. Jaramogi disagreed with him mainly on matters land and he was isolated. Tom Mboya played a major role in Odinga's isolation. Then Mboya was killed. In 1969, Jomo and Odinga clashed in public and they went separate ways. Odinga had been lured into politics by Kenyatta. He was the Manager of the Luo Thrift and Trading Corporation and a leading member of the Luo Union.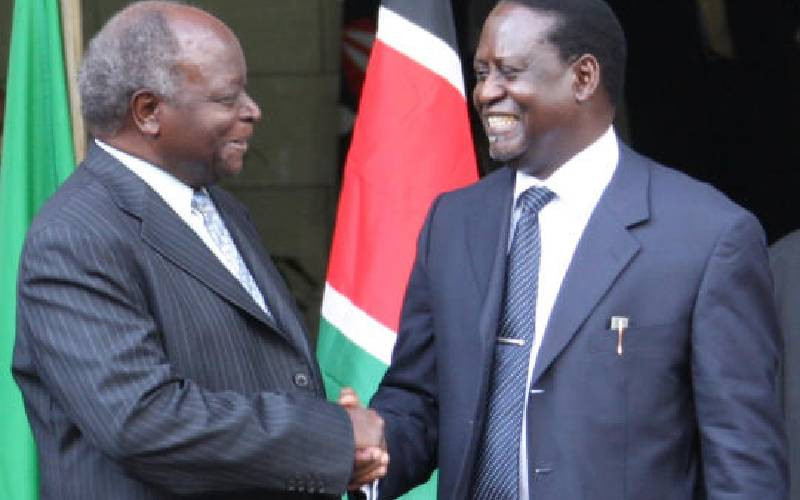 October 26, 1969, the history of Kenya took a vicious turn. Ignoring security warnings, Kenyatta, went to open the Russian‐built Kisumu Provincial Hospital. Intelligence reports indicated that the ground was hostile in the lakeside town. Mboya had been murdered only three months earlier and people believed the government was behind the assassination. The President's party pulled up in Kisumu from Kakamega to a hostile reception from the mobs chanting; Dume! Dume!, the clenched fist salute of Odinga's opposition KPU party, and asking Wapi Mboya? Wapi Mboya? (Where is Mboya?).
Kenyatta was driven to where the red carpet had been laid out and majestically walked to cut the symbolic tape. Odinga and the Russian Ambassador were on hand to receive him.
During the dying minutes of the function, however, all hell broke loose. The President was walking to the dais after unveiling the commemorative plaque when stones were hurled in his direction. The presidential guard immediately formed a circle around him and began to move him to safety. All chairs had been turned into "flying missiles" by the security detail to push back the threatening mob. An adamant crowd continued throwing stones and broken furniture. The presidential guard drew their pistols. Kenyatta was escorted by the security detail to his car and the presidential convoy began its journey out of Kisumu. Crowds of people surged forward to stop the convoy. The sheer weight of the mass of people, the rocks, stones, bricks and branches, smashing in the presidential motorcade, was frightening. Kenyatta was covered in the back seat of his car.
Former head of civil service Geoffrey Kareithi says that, several 504 station wagons had been fitted with automatic weapons and were manned by commandos on each side of the convoy. They opened the cars doors and boots and opened fire directly in to the crowd clearing a path out of Kisumu by sheer weight of gunfire. The state, said Kareithi, couldn't have allowed the crowd to lynch president.
Despite the frightening events in Kisumu, Kenyatta said: "I am not bitter about him. I like Odinga. When I first met him, he was a successful businessman. Then I persuaded him to come into politics. Now I think he should go back and be a businessman again. That would be good for him and good for Kenya."
"Believe it, Kenyatta meant every word of it. I knew it early in the 1970s when Odinga applied to be allowed to establish the only gas cylinder manufacturing firm in the region and through government funding under the Kenya Industrial Estates. Some people in Kenyatta's inner circle thought Odinga must be joking. To their surprise, Kenyatta ordered that Odinga be given a go ahead and be facilitated in his business venture." Recalls Kareithi, adding that neither Kenyatta nor Moi touched or interfered with Odinga's family businesses.
While granting Jaramogi the business license, Jomo had jokingly said: "Now that we have closed his channels for Russian and Chinese money, we should not deny him a chance to make some clean money of his own".
"Odinga's business thrived and it is a family flagship to this day. We never interfered even as he waged his political battles elsewhere. Neither did it bother Kenyatta that Odinga's son, Raila, was working for government institutions, the University of Nairobi and later the Kenya Bureau of Standards." Says Kareithi
Kenya's history is replete with men who opposed government and had their businesses completely destroyed. The Odingas, remain the only family that viciously opposed all governments, had family members incarcerated, but whose businesses were left intact. They are also the only family to have had a handshake history with all past four presidents.
Kareithi adds that; "I had met Odinga for the first time, in 1962, when I was DO 1 Kisumu. I had attempted, for two hours, to convince him of the benefits of land consolidation and giving each individual over 18 their own title to land. After he had heard me out, he paused and thought for a while, then he told me with quiet finality, 'the communal system of land ownership in Nyanza cannot be changed as it is part of Luo culture'."
Moi became Kenya's second president. He had to fight off vicious resistance from the Kikuyu mafia to ascend to the office. Two men stood by him; head of civil service Geoffrey Kareithi and Attorney General Charles Njonjo. When the 1982 coup happened, the two were hurriedly discarded. Njonjo through a painful commission of inquiry, looking into his alleged role in the coup. New alliances were formed.
The 1982 attempted coup changed Moi's character. He became vicious and ruthless. He started putting together new political alignments. Old friends, including his own Vice President Mwai Kibaki, were sidelined. Civil society started to pile up pressure for constitutional reforms, and expansion of democratic space.
Moi mended fences with Jaramogi who had described him in his memoir, Not Yet Uhuru, as "a Giraffe" that sees far. The two leaders had a political handshake that ushered in an era of cooperation. Moi appointed Jaramogi Chair of the Cotton Lint and Marketing Board. The two started holding joint rallies and inspecting development projects. Moi had ignored Jaramogi's son's 'sins' against his regime. Moi would later shake hands with Raila and even appoint him minister for Energy. Initially, Moi incorporated former enemies into his cabinet, appointed Mwai Kibaki to keep Kikuyu in check. When he was done with Kibaki, he dropped him as VP and appointed Dr. Josephat Karanja and later Prof. George Saitoti.
History is full of curious chapters. In the 1960s, Jaramogi Oginga Odinga, while talking to Milton Obote, who became Uganda's president, saw the economic section of Obote's party manifesto. Obote told him it was written by Mwai Kibaki. Thoroughly impressed, Jaramogi drove to Makerere University in Uganda, and convinced the young economist to return to Kenya and join Kanu. Odinga ensured Kibaki received his first car from Kanu and eventually joined elective politics. Is it any wonder that Odinga's son, Raila endorsed Kibaki's presidency through his famous Kibaki Tosha slogan in 2002?
Between 1982 and 1988, Raila was detained following charges of treason. He then joined the second liberation group in demanding for expansion of democratic space. In 1990, together with Kenneth Matiba and Charles Rubia, he was incarcerated for calling for the return of multiparty politics. He was released in July 1991. He was thereafter elected Deputy Director of Elections in Ford Kenya. In 2001, he led NDP into a merger with Kanu becoming the Kanu Secretary General. This was another handshake moment.
In October 2002, Raila joined the National Rainbow Coalition (NARC), a political machine that brought together various opposition leaders to dethrone Kanu. During a huge political rally at Nairobi's Uhuru Park, he sealed his colleague's fate when he declared Kibaki Tosha. Kibaki had been introduced to politics by Raila's father. Kibaki was also Uhuru Kenyatta's godfather.
Kibaki signed a Memorandum of Understanding with his colleagues, Raila, Kalonzo Musyoka and Moody Awori. In the MoU, Kibaki was to appoint Raila Prime Minister while Kalonzo who was in the Liberal Democratic Party (LDP), was to become Vice President. As soon as Kibaki was sworn in, he turned his back against those on whose backs he climbed to the top. He formed alliances with men from Mount Kenya region and abandoned the rest of Kenya. The Anglo Leasing and other scandals were thus, born.
Kibaki betrayed the constitutional review process. The draft constitution he had forced on Kenyans suffered defeat at the 2005 referendum after which he fired Raila and Kalonzo from the cabinet. After the referendum, the Orange Democratic Movement (ODM), was born. Kenyans went to the 2007 general elections with the 1963 constitution that gave Kibaki absolute powers. Under the cloak of darkness and the old constitution, he was hurriedly sworn in. The country burst into flames of bloody violence. Mediation by prominent persons led by UN Secretary General Kofi Anan, forced Kibaki and Raila into a handshake and a political marriage. They formed a Government of National Unity with Raila serving as Prime Minister and Kalonzo as Vice President.
David Musila in his memoir, Seasons of Hope says of Mwai Kibaki's betrayal; "The leopard never changes its spots. In the moment of Kenya's crisis, we trusted Kibaki once more with another MoU signed together with myself and Muthama on Kalonzo's side and Kimunya and Michuki on Kibaki's side. It was not honoured"
The MoU stipulated among other things, that the government would address the historical injustices of the Akamba and other marginalized communities in Eastern Kenya. The region was to get a certain number of ministries.
"I have no idea what made me trust Kibaki with another MoU after the debacle in 2002. It was akin to testing the depth of a river with both our feet. The pattern in 2008 was similar to that of 2002, we were locked out of the MoU yet again as soon as Kalonzo was sworn in as Kibaki's Vice President," says Musila
During Kibaki's first term, Uhuru was in ODM. However, towards the end of the term, he shifted back to the Party of National Unity (PNU). Uhuru, returned back home. With the ICC noose around their necks, Uhuru Kenyatta and William Ruto found themselves in the same boat. Uhuru, a prince born and bred in State House and having grown with trappings of power; Ruto, a peasant boy, who had become streetwise, cunning and smart in amassing both power and wealth. They had one enemy, the ICC. They needed to gain power, and stand together. They galvanized support around the issue of sovereignty of Kenyans in their public and prayer rallies. Since theirs was forced love, they soon fell apart. however, the constitution couldn't allow a divorce. As they endured abuse and domestic violence in the leadership house. Uhuru stretched his hand to another prince whose family has remained close to that of the Kenyatta's despite always acting as opposition. A handshake with opposition leader Raila Odinga happened.
The rivalry between Ruto and Uhuru became intense. Ruto was cornered and though in government, found himself playing the role of opposition. He joined hands with a handful of politicians among them Ford Kenya's Moses Wetang'ula, and Amani's Musalia Mudavadi to form the Kenya Kwanza Alliance.
Uhuru and Raila backed by the State and numerous billionaires from Mount Kenya, formed a formidable Azimio la Umoja One Kenya Coalition. The 2022 general election was theirs to lose. Ruto beat them to the red tape. Raila filed a petition at the Supreme Court of Kenya. The apex court after listening to all sides, upheld Ruto's election dismissing some of the petitioner's evidence as 'hot air'
As Ruto settles into office, Raila has gone back to what he does best. Organising demonstration and piling pressure on government. The same pressure piled on Uhuru to necessitate a handshake. After all, Raila has had handshake deals with; Moi, Kibaki and Uhuru Kenyatta. Since politics in Kenya are self-centred, he might just cut a deal, do another handshake and move on with life waiting for another election. He may just need to reduce the arsenal and avoid doing to Ruto what we did to Onyango.
Related Topics