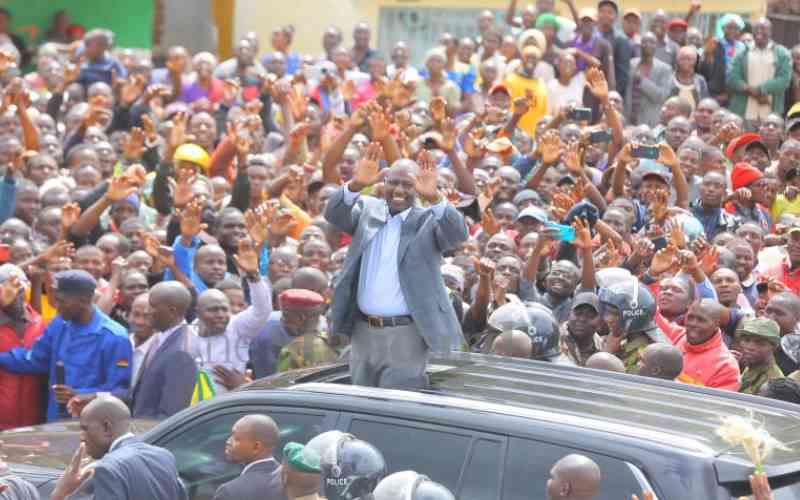 President William Ruto has called on the Opposition to give him time to deliver on his campaign pledges.
The President, however, appeared to open a door for dialogue on what he described as a 'development agenda and not on sideshows'.
Speaking in Kisii on Thursday, Ruto said demonstrations would not revive the economy.
"Kenyans went to the ballot to elect leaders on six different seats. It is the same Kenyans who rejected those planning demonstrations. The country is ready for an economic take-off. A time has come for us to unite and ensure we have achieved what we promised our people," said Ruto.
He called on the opposition to tone down on mass action. "We are ready to engage every leader on the development agenda and not on sideshows," he said.
As he spoke in Kisii, Raila led his troops in Nairobi to rally Kenyans to turn out in their numbers for next Monday's mass action.
In Gusii where Ruto is to pitch tent for the next three days, the President appears keen to wrestle the support Raila enjoys in the region.
While his allies believe the visit is a development tour with little political undertones, Raila's allies in the region believe the move is part of a wider strategy to raid the Azimio leader's support bases.
And today, as the President will be launching projects in Kisii, Raila will also be in the same region to attend a funeral in a region that has backed him for several years.
Armed with a bag of goodies for the region, the President urged residents to support his administration. He outlined some of the plans he has for the country.
Ruto said the government had disbursed Higher Education Loans Board (Helb) funds to students across the county as part of the efforts to strengthen higher learning.
He made the announcement a few hours after reports emerged that about 140,000 students missed the loans after Helb ran out of funds.
Speaking at the Kisii National Polytechnic, the President downplayed the claims and said that his administration had released funds to support the student loans.
"We have allocated enough money in the budget in the last two weeks. You now have money for Helb so that you can continue with your education," said Ruto.
At the polytechnic, the President commissioned a digital lab to enhance digital literacy among the youth.
More than 33 Technical and Vocational Training Institutes have so far received similar labs.
The President said the training would pave way for self-employment in the country. "I want to ensure that we have created more than 1,000 jobs within one year. We will change the region and the country."
Ruto said the Digital Empowerment Centres are to be used to improve digital capacity among the youth and boost plans to digitise government services. Later, the President commissioned the Kegati Water Project in Nyaribari Chache, which will serve both Kisii and Nyamira counties.
Related Topics