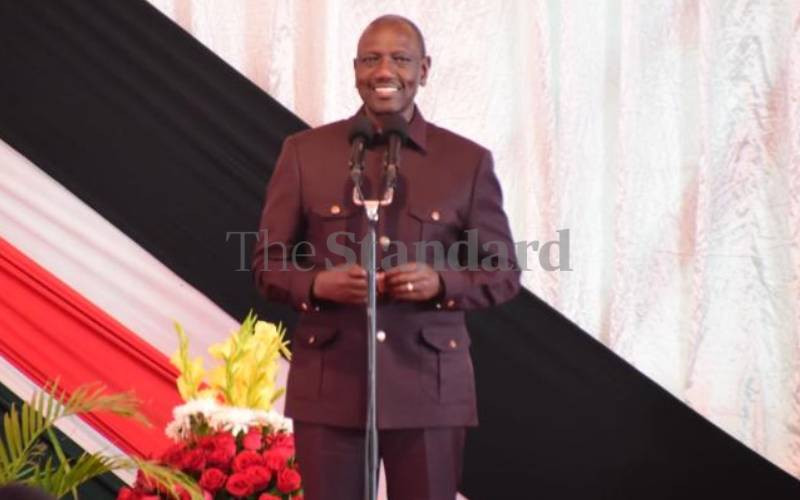 Kenya's political arena is no stranger to spectacle. From opulent campaign launches to grandiose rallies, politicians spare no expense in their quest for visibility and power.
Lately, however, the political class seems to have kicked things up a notch higher. The ubiquitous use of A-frame tents for political gatherings has turned into a near-daily spectacle across the country.
After consulting with experts, it's clear that hosting these colossal tent gatherings comes at a considerable cost, encompassing expenses for seating arrangements, red carpets, washroom facilities, lighting, video, and sound systems. A conservative estimate pegs the cost of each event at Sh10 million, but some organizers have claimed that, with all the embellishments, the price tag could soar to as high as Sh30 million per gathering.
These staggering figures don't even account for the expenses related to transportation, including fuel-guzzling vehicles and helicopters, nor the substantial sums of cash distributed as "contributions." Despite the attendant costs, these events are only growing in frequency.
Burgeoning cost-of-living crisis
This is unfolding against the backdrop of a burgeoning cost-of-living crisis and stern warnings from the Controller of Budget Margaret Nyakang'o, who asserts that the government is living well beyond its means.
In the wake of these developments, the extravagant expenditure by public officials on political events is now under intense scrutiny. Critics argue that these lavish gatherings not only deplete public resources but also erode the government's credibility, particularly as senior officials continually implore Kenyans to exercise fiscal restraint and tighten their belts.
Dr Patrick Muinde, an economist and financial expert, says public officers are oblivious to the economic situation in Kenya because they are cushioned against it:
"When you look at the Controller of Budget's report, you will find that leaders are cushioned from the economic pain Kenyans are feeling. For example, in the year that has just ended, the government spent about 3.9 billion on fuel and spent another almost 2 billion shillings on motor vehicle maintenance," he says and adds
"The tragedy of all this is that while the Executive continues to waste these kinds of resources, they continue to tell the public to sacrifice more and tighten their belts. Yet Kenyans know that the pain that we are suffering on the pay slips and on taxes is going to fund this kind of waste,"
Francis Gaitho, a vocal government critic who has been amassing a significant following on TikTok and YouTube among like-minded individuals, offers a sceptical perspective on these political gatherings:
"In my opinion, this administration's excessive use of spin and evasion tactics has led to propaganda taking precedence over tangible results. They seem to believe that by continuously participating in high-profile events with simultaneous live TV and social media coverage, they can effectively campaign for the 2027 elections," says Gaitho.
Gaitho suggests that these political gatherings, while intended to showcase and expand Kenya Kwanza's political influence across the nation, may inadvertently achieve the opposite due to their failure to grasp the economic hardships faced by many Kenyans:
"The intention might be to engage and captivate audiences, but it often keeps them in a perpetual state of anxiety, which negatively impacts the overall productivity of the population when they are inundated with toxic, divisive, and polarizing political rhetoric. These premature campaigns come with significant economic consequences, from the wastage of funds to the cumulative psychological toll," he postulates.
Former Mukurweini MP, Kabando wa Kabando, takes an even more critical stance towards the cash-soaked political gatherings that occasionally occur under the guise of prayer events. Given Kenya's economic woes, the former MP holds a dim view of the religious figures who seem unconcerned at the significant amounts of money involved:
"These so-called interdenominational religious thanksgiving ceremonies serve as ostentatious and offensive platforms for those enjoying the benefits of state largesse to flaunt their opulence and indulge while the impoverished masses look on. These are platforms for corruption culprits to vomit on the heads of barefooted village dwellers," he contends.
"The individuals adorned in religious attire have transformed into mere supporters of vitriolic rhetoric. It is a widely known fact that, despite being aware of the truth, we often refrain from confronting these 'M-Pesa pastors' due to fear of pastoral reprisals or political backlash. They have sold their soul to perpetrators of criminal enterprises. You can observe them cheerfully applauding as the politicians they host unleash unprintable insults and ethnic slurs," asserts the former MP."
Debt that we have never seen before
When asked to comment about whether the government was sending mixed signals on the matter of austerity amid unprecedented levels of debt, many prominent figures within the Kenya Kwanza administration, including a high-ranking Statehouse official, opted not to provide on-the-record statements. "Allow me to make a pass on this," was the reply from one notably vocal official.
However, speaking on Wednesday in Nakuru while presiding over a multi-sectoral consultative workshop on the post-election law reforms, Prime Cabinet Secretary Musalia Mudavadi took refuge in a familiar refrain:
"We cannot run away from the fact that the previous regime over-borrowed. They put us in a serious financial crisis. To get out of it, it's going to take us, at a minimum, maybe three years because we are seeing debt that we have never seen before. The only thing we can do is really to coalesce, talk, and work together and then start dealing with these issues," said the Prime CS.
Mudavadi however added that there were glimpses of optimism sprouting in the economy:
"Good signs are beginning to show. We are seeing the prices of basic food commodities beginning to decline. Statistics from the Kenya National Bureau of Statistics are showing that the rate of inflation has dropped to 6.7% despite the Shilling having gotten a beating," he elaborated.
However, the same report from the Kenya National Bureau of Statistics (KNBS) revealed a contrasting picture, with several commodities affecting household paint points registering substantial price hikes. According to KNBS, fuel prices surged by 14.2%, sugar recorded a staggering 61.4% increase, and the cost of electricity skyrocketed by an alarming 68.7%.
Not far from Ghana
Noted economist David Ndii, who serves as Chief Economic Advisor to President William Ruto, has openly conveyed his deep exasperation regarding the rampant wastage and alarming absence of financial accountability within the government's corridors.
"The government is very wasteful. There is no single day that I am not irritated by not just how wasteful it is, but also how deliberate and unbothered people [in the government] are in wasting the funds," said Ndii in April.
"There is nothing anyone can do [currently] to stop the wastage. No institution or administrations can help change the situation, but what can be done is come up with systems that can try and put value for money, and also strengthen the Auditor-General's office so that it can do more on value for money," said the economist.
Referring to the ongoing multi-day protests in Ghana, ignited by economic hardships that have engulfed the nation, Dr. Muinde, the economist, asserts that it's high time for the government to recalibrate and allow economic realities to take precedence over political calculations:
"If the government does not make the right adjustments, the economy and the people will get to a breaking point and the equilibrium will have to be restored. If we get to that point it will be very painful. We've seen what is happening in Ghana. I still feel we're not far from there if we do not take remedial actions," he warns.
Related Topics