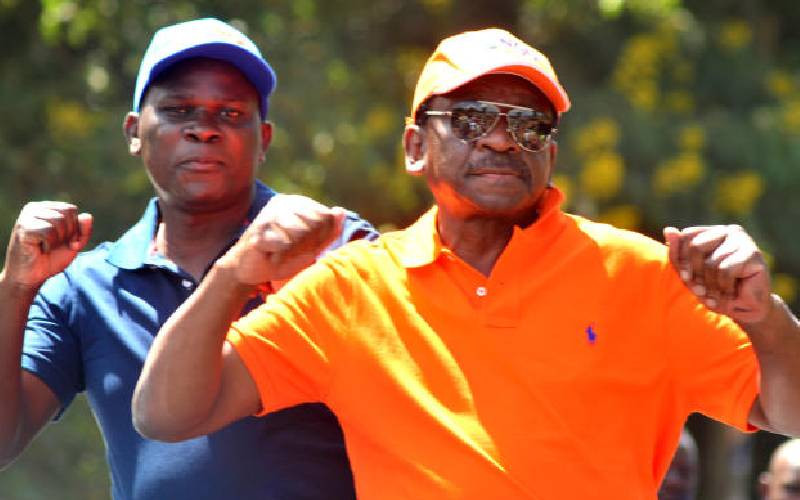 Politics has been proven over the years to be a game of numbers, where the smartest candidate armed with numerical strength emerges victorious, regardless of their policies.
This holds true at both the national and county levels where candidates often select running mates based on their ability to garner votes from specific communities or regions. However, this practice frequently results in governors being paired with deputies who possess differing political views and ambitions, leading to conflicts and infighting within county governments.
One prominent example of this discord occurred between former Kiambu Governor Ferdinand Waititu and his deputy James Nyoro. Their conflicting agendas often manifested during public gatherings, resulting in a blame game between the two leaders.
Eventually, Waititu faced impeachment, and Nyoro assumed the position of governor after Waititu was charged with corruption. Similarly, Governor Anne Waiguru and her first-term deputy Peter Ndambiri experienced a fluctuating relationship that eventually deteriorated into a full-fledged rivalry, coinciding with an impeachment motion against her. In Nyeri, Governor Mutahi Kahiga openly acknowledged a discord with his former deputy Caroline Karugu, expressing regret for appointing her due to their falling out, which resulted in her absence from various county events.
In 2022, several governors faced challenges from their deputies shortly after being sworn into office. The rivalry between Governor Erick Mutai and Deputy Fred Kirui in Kericho County escalated, with Kirui revealing disagreements regarding the management of county affairs.
The power struggles between the two leaders appear far from resolved going by the governor's recent appointment of Chief Executive Member (CEC) for Water, Rosemary Rop, to oversee county operations in his absence, disregarding his deputy.
Similarly, a conflict is emerging in Baringo as Governor Benjamin Cheboi and Deputy Felix Maiyo Kipng'ok find themselves at odds regarding the selection of nominees for Chief Officer positions. Kipng'ok resorted to social media to voice his discontentment with Cheboi's choices, exacerbating the tension. In Siaya, the fallout between Governor James Orengo and his deputy William Oduol has already triggered early succession politics immediately after the 2022 polls.
The people of Siaya and other counties facing leadership wrangles surely deserve far better than what they are currently experiencing. They deserve leaders who can set aside their personal differences and work collaboratively for the greater good. They deserve leaders who are genuinely committed to improving their lives, rather than prioritizing their own power struggles.
These recurring clashes in leadership are deeply regrettable and require strong condemnation and permanent resolution. The impact extends beyond the individuals involved and has negative repercussions for the entire county.
When leaders are unable to work together harmoniously, addressing the needs of the people becomes increasingly challenging. It is imperative for governors and deputies to have a clear understanding of their roles and responsibilities, as well as a willingness to collaborate and achieve common goals.
When governors and deputies hold divergent visions for their counties, finding a compromise becomes essential. This necessitates both leaders being open to relinquishing some of their own ideas in favour of a collective approach. These leadership clashes pose serious problems and have a detrimental effect on the entire country. If Kenyans want to enhance their democracy, holding elected officials accountable for their actions is paramount.
Kenyans must redirect their attention towards the issues that truly matter if they aspire to create a better future for themselves and future generations.
Related Topics