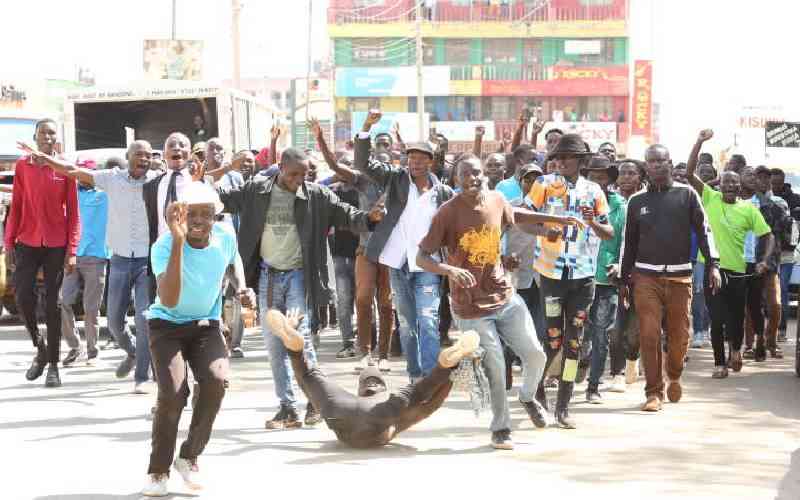 There is a good reason why the drafters of our Constitution saw fit to have the right to picket, demonstrate, and present petitions to authorities enshrined in the Constitution. Kenyans must thus stand up for and give meaning to this clause, despite its demonisation. It is understandable that if anyone mentions Article 37 of the Constitution now, people will only think of the politics of the day. However, the article does not just exist for politicians. It exists for all citizens, and Kenya is replete with victories that have been borne through picketing and protests.
Just a few weeks ago, we saw thousands of Nairobi businessmen take to the streets to protest infiltration of their businesses by foreigners. The next day, they were in a meeting with the Deputy President, Rigathi Gachagua, who took note of their concerns. It was the quickest way they could get his attention. What about the Meru University students? It took just a few hours of protest to have their Vice Chancellor, Prof Romanus Odhiambo, reinstated after what was considered an unfair dismissal.
A Kenyan teacher who lived through the days of Ambrose Adongo and Wilson Sossion will tell of how much street agitation and picketing it took for them to even have an insurance cover. As a "mtoto wa mwalimu," I saw it all. The Constitution is a product of a combination of civil action and political settlements.
In the politics of the day, the significance of Article 37 cannot be underestimated. The ruling Kenya Kwanza Alliance has a near-supermajority in Parliament. That means the opposition does not have the muscle to successfully take on the government on matters of policy. Everything passed by Cabinet is likely to be introduced in Parliament as a formality. A good example is the Privatization Bill that seeks to bypass Parliament in the sale of state corporations. Another example is the high cost of electricity. Come April power bills would go up by 63 per cent and no institution is likely to come to Kenyans rescue. In that case, the only way becomes the street or silence.
Kenya is not the only country that has taken this path in recent weeks. We have had demonstrations in France, Tunisia, South Africa, and Senegal, among other countries. In Sudan, we know that demonstrations led to the fall of former President Omar El Bashir.
While at it, a great deal of responsibility befalls both the organisers of the upcoming demonstrations and the state. It is up to the organisers to ensure that the protests do not infringe on other human rights and thus affirm the place of Article 37 in Kenya's democratic space. However, more restraint is required from the state because it has a monopoly over the legitimate use of the instruments of violence. The state must uphold the Constitution, including Article 37.
The writer is anchor at Radio Maisha
Related Topics