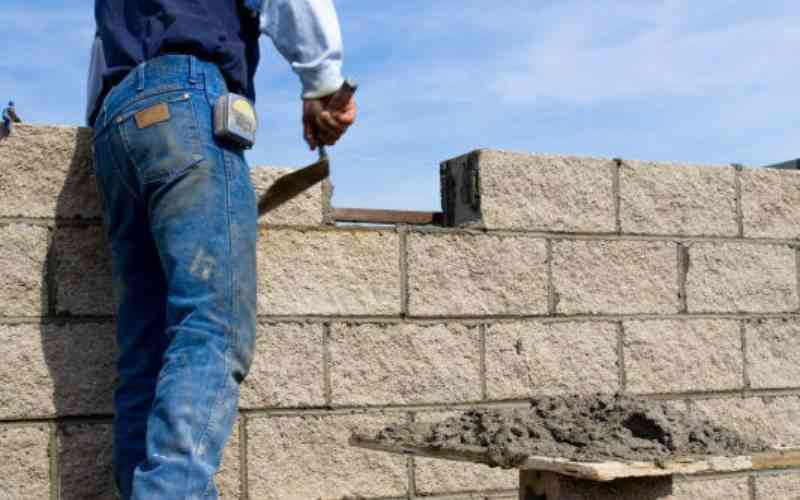 Construction is one of the fastest-growing economic sectors in Kenya and indications are that it is likely to become even more significant in the future. Only two years ago, the country's construction market size was valued at over Sh2 trillion and projected to grow annually by 5 per cent for the next three years.
Last year alone, the National Construction Authority received some 8,154 applications for project registration, according to the Architectural Association of Kenya's Status of the Built Environment Report. This year, the ambitious government affordable housing projects are likely to propel the sector's strong performance.
The anticipated construction boom presents an opportunity to relieve the burgeoning youth unemployment crisis but this could be hampered by lack of adequate preparation. There is a glaring shortage of skilled artisans as highlighted by the Kenya Federation of Master Builders data which shows there are 2,000 plumbers, masons and painters against 5,000 engineers.
Although the government has initiated major reforms in vocational education and training and created an apprenticeship framework to shift towards workplace-based learning, its implementation could take a while.
The intervention of a Swiss development agency promises to provide the first steps towards the transformation that could harness youth potential and deploy it in the construction sector.
Last year, Swisscontact and the Hilti Foundation, launched a project to accelerate the dual apprenticeship model of learning that links plumbing and electrician trainees to employers in the construction sector in Kenya. The dual apprenticeship mechanism seeks to create a supply of competent young workers for the industry to respond to the growing demand for premium quality electrical and plumbing installation and maintenance.
The programme, better known as the PropelA Project, was started in November 2022 to provide young people with competitive skills for self-employment or jobs in construction, and to make vocational training appealing to the youth while addressing unemployment as well as the shortage of technical skills in domestic and commercial sectors.
It targets to train 1,000 youth with skills and competencies to develop a long-term perspective for their lives, and have them secure employment, as well as graduate at least 300 while the rest are still being trained.
Although 20 leading electrical and plumbing companies have signed contracts committing to the programme, it is expected that at least 70 leading firms in the country will be actively using apprenticeship mechanisms to recruit, train and fund the education of their apprentices at the end of the first phase of the programme.
Moreover, 200 company mentors/supervisors will be trained to deliver training in-company with at least 50 trainers of training institutes expected to be trained in dual apprenticeship.
Ms Ndegwa is Country Director at Swisscontact. [email protected]
Related Topics