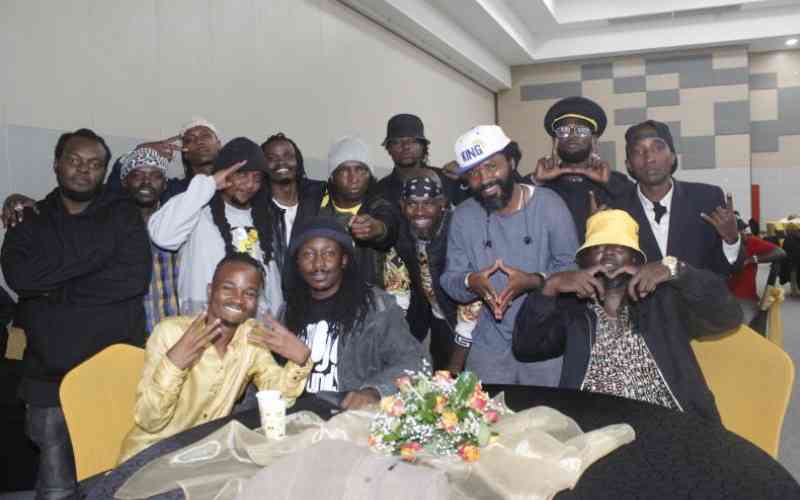 As hip hop turns 50 this year, Kenya was not left behind in the celebrations, with a 50-year birthday curated event going down at the Alliance Française, Nairobi.
Nazizi, Abass, Sharama, Nafsi Huru, Guru Gang, and a cocktail of Ukoo Flani Mau Mau artistes headlined the show, which would have sat comfortably in Bronx, New York.
The fashion, B-boying, deejaying, freestyling and energetic performances, a mirror of the typical hip-hop scene.
Speaking to Nafsi Huru about the influence of the American-born genre here, the rapper who recently dropped an album named Uhuru wa Nafsi says, "Rap is probably the only music genre that paints the perfect picture of day-to-day life exposing things that cannot be spoken about openly without compromise.
"The artiste is at liberty to talk about everything, that's why youth feel well represented by rap music since the genre gives them freedom."
Smallz Lethal agrees, saying; "I used to love the idea that hip-hop artistes have used the genre to depict real life. Just like 2Pac used it to voice civil right activations, to speak boldly against police brutality and to also voice women's rights. Hip hop is deeper than rap."
He believes the genre is accepted internationally because the content is timeless and affects the world in different ways.
Nafsi was attracted to the genre because it offered an opportunity to craft words.
"I have always been impressed with the art of playing with words and the capacity to express deep thoughts rhythmically."
Hip hop head, rapper, sound engineer and videographer Ananda says hip hop is marketed well for impressionable African children who want to look cool, especially the fashion sense of baggy jeans and t-shirts, arm and head bands, sneaker collection and Timberland boots.
"Its relatability could be linked with western doctrines, media influence and fashion brands' marketing strategies for instance Gucci using big artistes to push their brands, even Kenyan rappers would (wear) the baggy jeans to look like another rapper they saw on telly!"
He believes the genre connects so well with the target market, all through its look and feel.
"Those who consume rap music are youth, making them the right target market for fashion brands. We all know those who are actively after trendy stuff are the youth who mostly listen to hip hop so it's the right platform to push their products and all..."
Besides artistry, fashion and language, other elements like crime and violence have also been imported.
"Rap is more than rhyming words. It is the central part of a powerful cultural movement ("hip-hop") that influences the way young blacks walk, talk, dress, and think. The key element is aggression -- manifested in the rappers' body language, tone, and witty rhymes - that often leaves listeners hyped, on edge, and angry," said a four-page report published in 1995 by the US Department of Justice, Office of Justice Programs, titled 'Gangsta Rap Promotes Violence in the Black Community',
Mirror that with a research paper by Carol Linda Makena Njue, a Masters Degree Candidate at Jomo Kenyatta University of Agriculture and Technology, and Professor Hellen K. Mberia of the School of Communication and Development Studies, who looked into the relationship between rap music and behaviour of organised criminals gangs in Embakasi.
It concluded as, "character roles, language use and rap music videos viewing duration had a significant and negative influence on the behaviour of organized criminal gangs."
From Jay Z to Nas, Tupac to Notorious, rap lyrics have been flowered with gang violence.
"Hit her with a little Biggie 101: how to tote a gun, and have fun with Jamaican rum," BIG rapped on Party and Bullshit.
"But I bet if I was peelin' your cap back with a two-shot Dillinger," RZA said on W.W.T.
"Guns and the sneakers made Jada," Jadakiss rhymed on Jada's Got a Gun, while Pusha T, known for making a rap career out of his previous career selling cocaine, has rapped, "Started with Yosemite Sam, with the gun in the palm of the hand, what couldn't I demand?" on Lord Willin.
Related Topics